41st Annual Eastern Shore Medical Symposium
Monday-Friday, June 18-22, 2018, Rehoboth Beach, Delaware
The Eastern Shore Medical Symposium combines quality education with a great location. If you are a primary care physician, family practitioner, advanced practice nurse, or other health-care professional, take advantage of this comprehensive update on relevant medical topics in a relaxed, collegial atmosphere.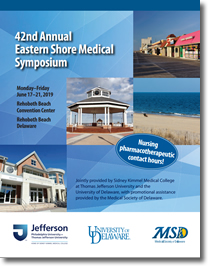 Topics covered at the 2018 symposium:
New hypertension guidelines
Heart failure
Gastroenterology update
Opioid epidemic
Cancer screening and prevention
Immunization update
Diabetes management
Special features
Outstanding, expert, accessible faculty
Relaxed, informal learning environment
Small group workshops to promote interaction and individual attention
Attractive beach resort location
Access to information about new products and equipment
Target audience
Primary Care Physicians
Family Practitioners
Pediatricians
General Practitioners
Internists
Advanced Practice Nurses
Physician Assistants
Professional Nurses
Excellent programs and faculty, great beach location!