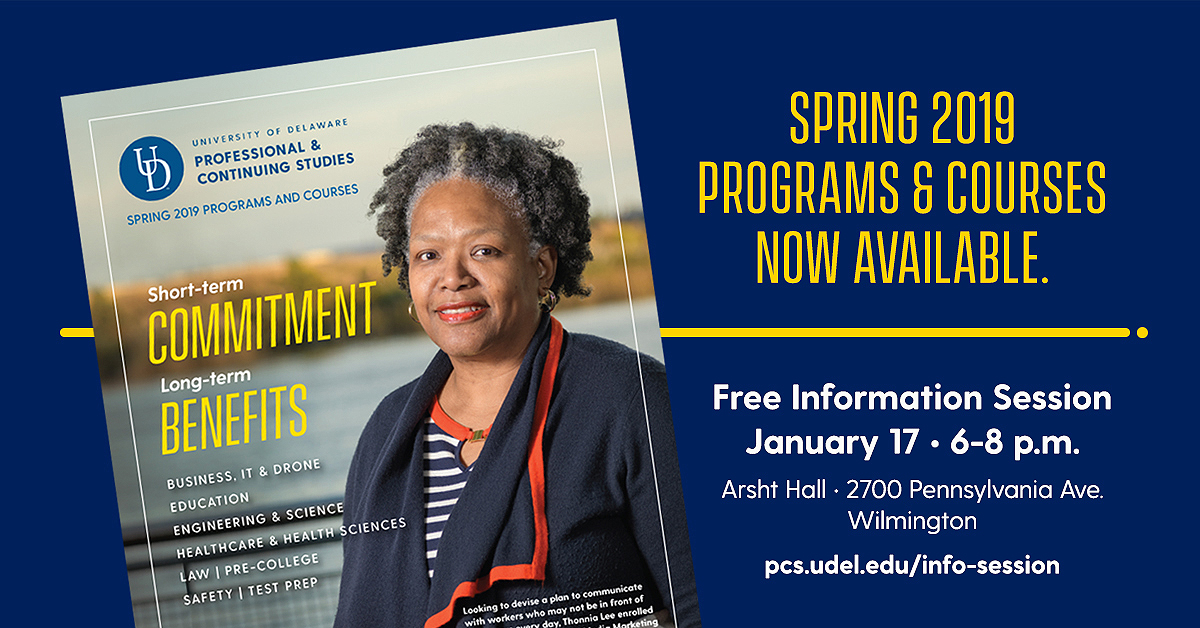 Learn about professional development courses focused on business, healthcare, and IT topics
A free information session highlighting Spring 2019 professional development programs will be held Thursday, Jan. 17 from 6-8 p.m. at Arsht Hall on UD's Wilmington Campus, 2700 Pennsylvania Ave.
Professional Development Information Session
Jan. 17, 6-8 p.m.
Arsht Hall, Wilmington
Learn about professional development programs and educational opportunities for adult students. Refreshments will be served.
Hosted by UD's Division of Professional and Continuing Studies (UD PCS), the information session provides high-level program overviews and gives prospective students opportunities to network with faculty and program graduates so they can ask questions and learn more about the programs.
Purposely held after traditional working hours, the information session includes refreshments and presents short-term programs that provide in-demand business-, IT- and healthcare-focused skills and credentials that enable professionals to advance in their careers:
Most programs can be completed in about three months, with classes held at UD's Arsht Hall in Wilmington or on UD's Newark campus. Some include online class meetings, and some are offered totally online.
Discounts or scholarships are available for most programs and include military, group, early registration and professional association discounts.
Click here to RSVP online for the free information session, call 302-831-7600 or email continuing-ed@udel.edu.