Step up to a .NET/C# or Java coding career with the 100% Online UD PCS Coding Bootcamp!
Earn Coding Bootcamp Badges to learn software development one skill set at a time

Coding bootcamps put you on a fast track to a programming career. By providing immersive training on a compressed schedule, you can speed your way to project-ready skills. Not everyone can reserve three or more months for nonstop training, so UD PCS, in conjunction with The Software Guild, offers Coding Bootcamp Badges. We help you master .NET/C# or Java—one skill set at a time.
Learn on your terms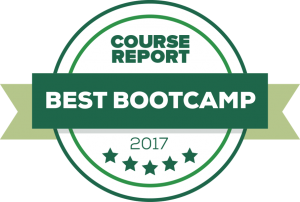 Our Coding Bootcamp Badges offer an affordable, flexible way to learn software development.
Learn in stages – Begin with the Level 1 badge to learn programming basics in .NET/C# or Java. After earning your first badge, you'll have a new credential for your resume and LinkedIn profile. But don't stop there. Earn all four badges to develop full-stack skills that can launch your coding career.
Learn when you want – You can obtain every Coding Bootcamp Badge in as fast as 10 months or take a brief break between badges. This flexible schedule helps you keep your job while you learn to code.
Learn where you want -Education takes place online, giving you freedom to learn wherever you choose. Collaborate with instructors and classmates from home, school or anywhere you have internet access.
Read success stories from bootcamp graduates!
Pay as you go…Earn discounts along the way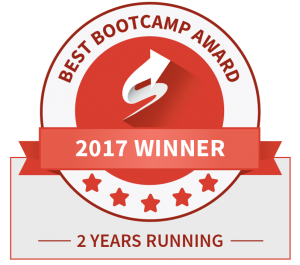 In our budget-friendly program, we divide tuition into four stages. Pay smaller fees one badge at a time, with the option to pause the program between badges. You can earn the next badge — and develop your next set of skills — when you're ready. For each badge you earn, we provide a helpful discount for your next badge. For example, after you earn a Server-Side Web Development badge, you will qualify for $500 off a Full-Stack Development badge. Discounts total up to $1,000 as you pursue all four badges!
Scholarships Available
Various scholarships from The Software Guild are available to qualified students.
Women Who Code Award: The $2,000 award is available to female enrollees. Female students qualify based on self-identification.
Veterans Who Code Award: The $2,000 award is available to eligible military personnel in the following groups: reservists, veterans, and/or active-duty service members. To qualify for the award, students must present proof of eligibility defined as military original statement of service or certificate of release or discharge.
Terms and conditions: Scholarship recipients must successfully complete the admissions process and be admitted into the fully online coding bootcamp program and begin the course prior to December 31, 2019 to be granted award funds. Students must also be in good standing, as defined by The Software Guild and University of Delaware Division of Professional and Continuing Studies. The award will be noted as a reduction to the total course fee and will be applied to the payment required to complete course registration for the full coding bootcamp program. Scholarships may not be combined and will not be paid directly to the student.
BUILD YOUR RESUME WITH IN-DEMAND SKILLS!
Our master instructors teach coding skills and technologies that employers want most. We offer tracks in .NET/C# and Java. Learn more below.
CLASSES START MONTHLY! CONTACT US NOW TO LEARN MORE AND/OR TO BEGIN THE ENROLLMENT PROCESS!

Submit the form below to contact an enrollment counselor. He or she will contact you to answer an questions, review requirements, and help you start the program.