The next Medical Aspects of Sports Seminar is set for early 2022. Event details will be available in fall 2021.
2020 Presenters
---
Johnny Owens, BS, MPT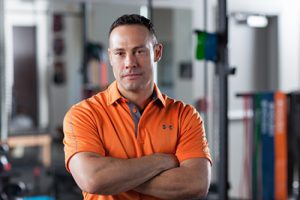 Johnny Owens BS, MPT, is CEO and Director of Clinical Education for Owens Recovery Science, a corporation recognized in the INC 500. He manages a research portfolio of over 40 clinical trials being conducted worldwide primarily studying the effects of Blood Flow Restriction Rehabilitation in clinical populations.
Owens is the former Chief of Human Performance Optimization at the Center for the Intrepid (CFI) at San Antonio Military Medical Center and continues to serve as a consultant and clinical researcher at the CFI.
He completed his undergraduate course work in biology at the University of Texas at Austin and earned his Master's in Physical Therapy at the University of Texas Medical Branch. He serves as a medical consultant for teams in the NFL, NBA, MLB, NHL and collegiate sports. He is involved in numerous clinical trials involving regenerative medicine, sports medicine, blood flow restriction and high-energy trauma.
Owens has been published extensively in the peer-reviewed literature, regularly speaks at the national and international level and his work has been featured on 60 Minutes, Time magazine, NPR, Discovery Channel and ESPN.
[Read the article: UD sports medicine conference to feature game-changing BFR rehab therapy.]
Steven Browne, MS, ATC, LAT
Steven Browne is currently in his first year as the Assistant Athletic Trainer for the University of Delaware. Sporting responsibilities include football and women's and men's golf. Previously, he completed a graduate assistantship at UD (2016-2018) working with the football, rowing and volleyball teams. He received his BS in athletic training (2011-2015) from Merrimack College in North Andover, MA.
Collin Francis, ATC
Collin currently works as the assistant athletic trainer for the Baltimore Ravens. He has been in this position for the past two years. After graduating from the University of Delaware in 2010, Collin headed to Clemson University as a graduate assistant, working with swimming, diving, and football. He completed a master of science in youth development leadership at Clemson in 2012. From Clemson, Collin did a one-season internship with the Carolina Panthers, and then in 2013 he was named head football athletic trainer at Morgan State University in Baltimore. He landed in the position of assistant football athletic trainer at Indiana University in February 2015, and was recently named interim head football athletic trainer. Collin swam competitively growing up, and stays involved with the sport as an athletic trainer and medical consultant for the USA Swimming National Team. He was on the staff for the 2013 World University Games in Kazan, Russia.
Shawn Hanlon, MS, LAT, ATC, CSCS
Shawn received his degree in athletic training from Rowan University and his master's degree from the University of Delaware and is now pursuing a PhD in biomechanics and movement science at UD under the advisement of Dr. Karin Silbernagel. Prior to starting his PhD, Shawn served as Director of Sports Medicine and Head Athletic Trainer at Lincoln University. Shawn has presented peer-reviewed research nationally and internationally and is currently undergoing a large NIH funded 5-year study comparing Achilles tendinopathy exercise treatment between men and women.
Christina Rasnake, MS, CSCS, USAW, FMSC, RPR Level 2
Christina Rasnake joined the Blue Hens in January 2017 as a strength and conditioning assistant coach. She works primarily with the men's lacrosse, field hockey, track and field, and cross country. Rasnake is also the Sparta Science Coordinator for the Sports Performance Team assisting with all of Delaware's varsity sports.
Rasnake arrived at the University of Delaware following two years as the assistant director of strength and conditioning at Missouri State University, where she worked with the men's and women's soccer, women's track and field, cross country and field hockey squads. She also assisted with the baseball, softball, and men's and women's swimming and diving teams for the Bears. Rasnake served as the assistant strength and conditioning coach at Dartmouth College from 2012-14, administering and developing programs for 13 sports. Previously she was the head strength and conditioning coach at Bloomsburg University from 2010-12.
Rasnake began her career as the assistant strength and conditioning coach at La Salle University in 2007, working with nine Explorers squads. Rasnake is a NSCA certified strength and conditioning specialist and a USAW Level 1 sports performance coach. She has many certifications including CSCS, USAW Level 1 Sports Performance Coach, FMSC, and RPR Level 2. Rasnake earned a bachelor's degree in recreation management from Lock Haven University in 2007 and a master's degree in exercise science from Bloomsburg University in 2012. A student strength and conditioning coach at Lock Haven, Rasnake also completed an internship at Velocity Sports Performance in Cherry Hill, NJ, in 2006. Rasnake is currently pursuing her MBA in strategic leadership at the University of Delaware.
Michael Stant, MS, ATC. CSCS
Michael Stant started as an Assistant Athletic Trainer at the University of Delaware in July 2018. Stant serves as the athletic trainer for the baseball and rowing teams and is in charge of evaluation, rehabilitation and prevention of athletic injuries. Prior to starting in this position, Stant worked as a graduate assistant athletic trainer at Sacred Heart University. At Sacred Heart, Stant was the top assistant athletic trainer for the football team and the primary athletic trainer for women's lacrosse. Stant also completed a summer internship with the Carolina Panthers. Stant also co-authored "Ailments of the Ankle: A Contemporary Approach to Ankle Sprain Prevention and Treatment" for the Advance of Physical Therapy and Rehab Medicine magazine.
Additionally, Stant also served as a Division I athletic training student while he was an undergraduate at Delaware. Stant worked with the football, men's lacrosse, and women's track and field teams. Stant graduated from Delaware in 2016 with a bachelor's degree in athletic training, and went on to earn his master's degree in exercise science and nutrition from Sacred Heart University in 2018.
Sheila Taylor, DO
Sheila Taylor, D.O., joined the ChristianaCare Sports Medicine team in August 2017. Dr. Taylor is board certified in family medicine and sports medicine. A native of Philadelphia, she earned a bachelor's degree in biology from Fordham University in the Bronx, NY. She graduated from the Philadelphia College of Osteopathic Medicine in 2012. She then completed family medicine residency at Reading Hospital and went on to complete a sports medicine fellowship at WellSpan York Hospital in York, PA.
As an osteopathic physician and former Division I collegiate rower, Dr. Taylor has strong interest in musculoskeletal and sports medicine. She enjoys providing musculoskeletal care for patients of all ages and all levels of activity. Her clinical interests include diagnostic and procedural musculoskeletal ultrasound, female athlete issues, concussion, and sports performance and weight management counseling. She has diverse sports coverage experience, having worked with USA Weightlifting, International Weightlifting Federation Masters, York Revolution Baseball, Marine Corps Marathon, collegiate teams in all sports and multiple high school sports teams. Her specialized skills include Tenex percutaneous tenotomy, platelet-rich plasma (PRP), ultrasound-guided injections of joints and tendons, treadmill stress testing, gait analysis and osteopathic manipulation. She is a member of the American Medical Society for Sports Medicine, American College of Sports Medicine and American Academy of Family Physicians.
Daniel Watson, MEd, ATC
Dan Watson, who is currently in his 13th season with the University of Delaware athletic training staff, was promoted to the position of assistant director of athletics for athletic training and head athletic trainer in September 2013. He had previously served as assistant athletic trainer at Delaware from 2004-2010 and associate head athletic trainer from 2010-2013.
Watson earned his degree in athletic training with honors from the University of Delaware in 1995 after serving for three years as an athletic training student and working with the UD football, men's lacrosse, women's soccer, and baseball programs. He moved on to the University of Virginia where he earned his master's degree in education, athletic training, and sports medicine in 1996.
He began his career at Hampden-Sydney (Va.) College as a graduate assistant in 1995-96 before moving on to Yale University in New Haven, Conn. where he served as assistant athletic trainer, working with the football, ice hockey, and track and field programs from 1996-99.
While at Yale, he was active as medical coordinator with the National Youth Sports Program while providing free physicals to underprivileged children and also assisted at the Yale Physical Therapy Clinic where he designed and administered rehabilitation programs for the faculty, staff, and students.
Watson moved on to Rutgers University in 1999 and served with the Scarlet Knights athletics program for five years before returning to Delaware. While at Rutgers, he worked with the men's soccer, wrestling, baseball, and track and field programs and also had teaching duties within the athletic training field. He has presented a variety of topics at numerous conferences, including at the NATA Annual Symposium. He previously served as clinical coordinator of the UD Athletic Training Education Program (ATEP) and as president of the Delaware Athletic Trainers Association (DATA). Currently, Watson serves the athletic training profession in several positions at the state and regional level.