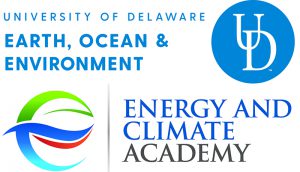 The University of Delaware and the Danish Energy and Climate Academy (ECA) have jointly created an Offshore Wind Skills Academy (OWSA). OWSA builds on both the ECA's experience training over 2,000 European wind power professionals and UD's College of Earth, Ocean, & Environment's research and graduate education in U.S. offshore wind power.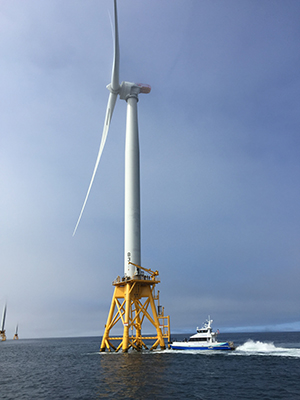 The OWSA is targeted for professionals from traditional energy industries, supply chain companies, regulators, investors, consultants and any others wanting an in-depth knowledge of this industry. (OWSA is not targeted to trades, managers, planners, vessel operators or craftsmen; training for them is being developed at the local level.) OWSA's lecturers are industry experts with European or North American experience. The OWSA fills an important gap in the path to develop and rapidly expand this new industry in North America.
Completed January 2020 Course

Project Development from A to Z
January 27-29, 2020 – Advanced development permitting, vessels, supply chain, deployment, operations and maintenance, and decommissioning. Download a PDF with additional details.
Cost: $2,400
Costs include light breakfast, catered lunch and course materials.
A limited number of support scholarships are available. Please contact Rebecca Cox to see if you qualify and to receive the discount code.
Location
Newark Campus
University of Delaware Science, Technology and Advanced Research (STAR) Campus
540 S. College Ave.
Newark, DE 19716
Instructors
The OWSA draws on experienced wind industry professionals from Denmark and the United States who have contributed to building projects and developing the industry. The list of instructors below have taught previously and will be updated for the upcoming course soon.
Lars Høst Johansen, M.Sc. Mechanical Engineer
Before joining the Ørsted wind department, where he serves as senior WTG development specialist, Lars Høst Johansen spent close to 10 years as a product engineer at Vestas.
Kaj Lindvig
Kaj Lindvig has been a top executive and board member within the offshore wind power business for 15 years. He has deep experience in the offshore wind sector and formerly served as CEO of A2SEA A/S and chairman of the board for K2 Management A/S.
Deniz Ozkan, Ph.D., MBA, Americas Valuation Lead at Shell New Energies, Offshore Wind
Currently working on Mayflower Wind Project, Deniz Ozkan was previously with Atlantic Grid Development. Along with his experience in energy investment and cost of electricity analysis, he has extensive technical knowledge and spent 13 years in energy and power markets, utilities, RTOs, transmission planning and grid integration. He also analyzed transmission and interconnection for AGD and cost of energy projections for New York and Massachusetts.
Jordan R.P. Shoesmith, PMO and bid development for Vineyard Wind, Business Developer for Copenhagen Offshore Partners
Jordan R. P. Shoesmith has expertise in U.S. offshore wind, New England Class I REC markets, large-scale renewables, renewable energy procurement and contracting, and ISO New England-administered wholesale markets.
Lauren Burm, Head of Public Affairs and Communications for Ørsted North America, previous positions with Entergy and state of Massachusetts
Prior to offshore wind, Lauren Burm worked in nuclear power public affairs. She is currently conducting stakeholder outreach and public affairs for offshore wind projects, such as South Fork and Block Island.
Stephanie McClellan, Ph.D., Founding Director for Special Initiative on Offshore Wind and Director for Renewables Consulting Group
Stephanie McClellan wrote the influential March 2019 "Supply Chain Contracting Forecast for U.S. Offshore Wind Power." She has expertise in coordinating multiple entities in the energy sector to achieve common goals.
Tim Mack, Business Development, EEW Steel Trading Offshore Wind, Petro Steel LLC, ArcelorMittal
Along with deep knowledge of the supply chain for foundations and other steel components, Tim Mack has an understanding of how state policies affect development in the supply chain.
Kris Ohleth, Senior Manager of Stakeholder Engagement at Ørsted
Kris Ohleth was previously an environmental specialist at Ecology and Environment, executive director of the Mid-Atlantic Regional Council on the Ocean, and director of Environmental Programs at Deepwater Wind. She has a master's degree in ocean and coastal policy from the University of Rhode Island.
Aileen Kenney, Principal at Bask Energy, LLC
Aileen Kenny has extensive U.S. experience working with federal and state agencies, local Native American tribes, and fishing and environmental organizations. She successfully permitted the Block Island Wind Farm and transmission system, including developing measures to protect the endangered North Atlantic right whale. She previously was head of development and permitting for Ørsted U.S.
James Bennett
James Bennett brings nearly 40 years of experience in the environmental and energy sectors to his current position overseeing federal offshore renewable energy activities. Previously, he led the Bureau of Ocean Energy Management (BOEM) Division of Environmental Assessment ensuring its compliance with the environmental laws for federal Outer Continental Shelf (OCS) programs, including oil and gas, sand and gravel, and renewable energy. For the past five years, he has served as the program manager for offshore renewable energy focusing on the birth of an industry while witnessing an explosion of interest in and activity around offshore wind energy, particularly in the promising waters of the Atlantic.
For more information or questions regarding the Offshore Wind Skills Academy, please contact Rebecca Cox at rlcox@udel.edu or 302-831-2336.