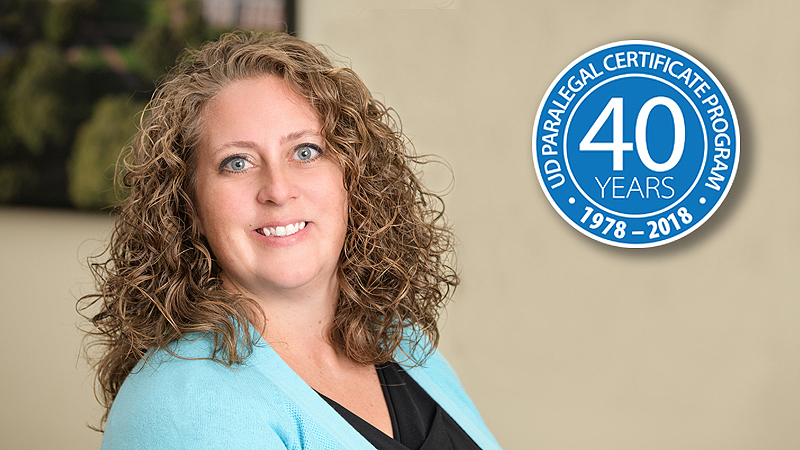 Graduates achieve success in variety of legal occupations
The National Association of Legal Assistants traces the development of the paralegal career to the late 1960s, when law firms and individual practitioners were seeking to improve the efficient and cost-effective delivery of legal services. Assisting lawyers in this role, paralegals' duties often include conducting legal research, preparing presentations, interviewing clients, drafting legal documents, and guiding law office administration.
Paralegal Certificate Program
Sept. 5, 2018 – July 22, 2019
Wilmington, Del.
Prepare for a career as a paralegal or legal assistant.

The first paralegal training programs were established in the early 1970s, and the University of Delaware was near the forefront with the introduction of its curriculum in 1978. Originally offered in Wilmington and Dover on evenings and weekends, UD's initial paralegal studies program consisted of six courses with the following objectives: develop an understanding of those essential legal concepts which impact the legal community; enable students to acquire legal research and writing skills essential to proper performance as skilled members of a legal team; foster an understanding and appreciation of the role concept of the paralegal; provide trained paralegals who are prepared to work in a supportive capacity; and enhance the service capability of the legal profession through the use of paralegal professionals.
While the syllabus has been regularly updated over the last four decades, the goals have remained mostly intact. Led by experienced attorneys, the program allows students to earn the career credential in less than a year. Divided into six modules, topics include Introduction to Law for Paralegals, Legal Research and Writing, Civil Procedure, Torts, Contract Law, and Criminal Law and Procedure. Celebrating its 40th year in 2018, the next Paralegal Certificate Program offered by the University of Delaware's Division of Professional and Continuing Studies (UD PCS) will run on Monday and Wednesday evenings, Sept. 5 – July 22, at UD's Arsht Hall in Wilmington.
Supportive classmates
Students proceed through the program in a cohort, and the benefits from the relationships formed have proven to be invaluable. "I still maintain friendships with most of the other students," said Katie Eide, a 2014 graduate. "We have all gone our separate ways, but we keep in touch through Facebook or a random text saying something like, 'I was just thinking of you; remember that time in class this came up?''' In addition to doing their homework and studying together, Eide and her classmates provided each other with emotional support. "Anything is possible to happen in someone's life throughout the year, and it was nice to have that shoulder to lean on," she said.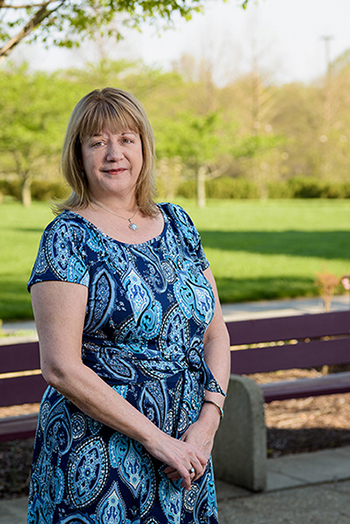 Thanks largely to a recommendation by one of her classmates, Sandra Kece was able to land a job as a legal secretary with a Wilmington law firm, Swartz Campbell, before she even completed the program in 2003. Shortly after earning her certificate, Kece was promoted to paralegal and remained with the firm for 13 years. "I was lucky because somebody I was actually taking the class with was able to get me into a firm," said Kece. A couple of years into her tenure at Swartz Campbell, Kece paid it forward and enabled some UD paralegal students to get their feet in the door by reaching out to the program when part-time assistance was needed.
Paralegals do not just work for attorneys
While Kece was working at Swartz Campbell, she was performing transcription work for a criminal defense attorney. When the attorney left the firm to go into private practice, he continued to utilize her services on a freelance basis. This led to opportunities to do transcription work for other lawyers, and the next chapter of her career developed from there. She left Swartz Campbell in 2016 to devote her full-time attention to her business, Juris Scribe Services, and said it has been awesome ever since. Aided by several assistants, Kece does legal transcription of interviews, wiretaps, prison calls, court hearings and anything else that needs to be transcribed.
"It's really no surprise that I ended up working for criminal defense attorneys because my favorite class was Criminal Law and Procedure," said Kece. "We had Judge [Charles H.] Tolliver [IV] as our instructor, and he was extremely animated and had us in stitches. The instructors really made a difference and gave us a great glimpse of the different legal fields."
Eide also began her paralegal career working for an attorney before making a shift to her current position as an insurance coordinator for a construction company. "I never expected to get into the construction side of the field, but I Iove what I do," said Eide. "What makes me get out of bed in the morning is the fact that I truly love my job and the people I work with."
Though she does not have the word "paralegal" in her job title, Eide regularly utilizes the lessons learned at UD when working with insurance claims and dealing with attorneys. "The paralegal program really helped me understand the timeline of what we have to do when we receive a claim, including what information we need to get to the attorneys hired by our insurance company as fast as possible," said Eide.
Kece and Eide, who both know what it is like to have previously toiled in unstable professions, are in an occupation that is on the rise. According to the U.S. Bureau of Labor Statistics, employment of paralegals and legal assistants is projected to grow 15 percent from 2016 to 2026, much faster than the average for all occupations. Formally trained paralegals with strong computer and database management skills should have the best job prospects.
In the two years prior to enrolling in the program, Kece was laid off from her positions as an administrative secretary for a cardiology practice and a medical biller for a radiology lab. She has always been interested in the law and received hands-on lessons from an attorney who guided her through the immigration process for her husband, who had been a Turkish national. After subsequently handling the immigration documents herself for a few of her husband's relatives, she was ready to embark on some formal education. "I was frustrated about the layoffs and decided it was time for a change," said Kece. "Once I started the program, I knew it was where I belonged and have been doing it ever since."
During the last class, Eide's position in a collections department at a bank was eliminated. What started out as a quest to strengthen her resume by enhancing her ability to read legal documents became the impetus for a new career. "I took my job loss to heart and was offended," said Eide. "The instructors were so encouraging by telling me there is a reason I enrolled in this program, was almost done with it, and my job ended. It was a great opportunity to just step away from banking and see what doors can open up for me."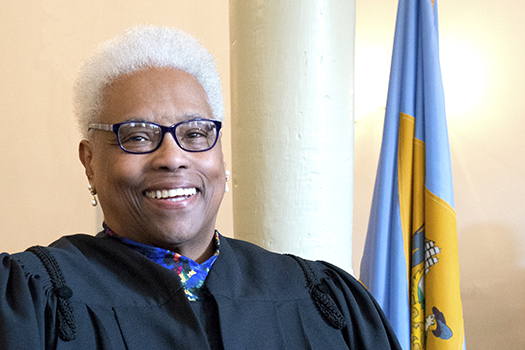 Though private law firms are the largest employer of paralegals, Eide's and Kece's careers are just two examples of other avenues that can be taken with the training. Opportunities exist with corporate legal departments, insurance companies, real estate and title insurance firms, community legal service programs, government agencies and consumer organizations. While several students have utilized the program as a vehicle to prepare for law school, Carmen Jordan-Cox used it to help ready herself for a seat on the bench. Jordan-Cox participated in the paralegal program with an eye toward expanding her involvement in the justice system, and the 2012 graduate has been a magistrate in Delaware's Justice of the Peace Court since 2015. The former college professor has also served as a Court Appointed Special Advocate (CASA) for the Family Court of Delaware.
"For me it made practical sense to enroll in the University of Delaware program to become familiar with legal terminology and concepts of the Delaware legal system," said Jordan-Cox. "Also, I was able to meet members of the bar and gain important contacts in Delaware and the area since the program's teaching attorneys are practicing in Delaware and other nearby states."
Increase in male enrollment
Although about 86 percent of the more than 400,000 paralegals and assistants in the United States are female, UD has been noticing a possible shift in this trend. Over the past year, 11 of the 41 students to enroll in the program have been males. While 2017 graduate Will Simons had an inkling he might be in the minority as a male paralegal, it did not deter him.
"I don't have any ideas of what should be a manly profession or a womanly profession," said Simons. "I thought about being one of the few males in the class and the field, but I didn't really care. I saw it, recognized it, and it has not been a big deal at all."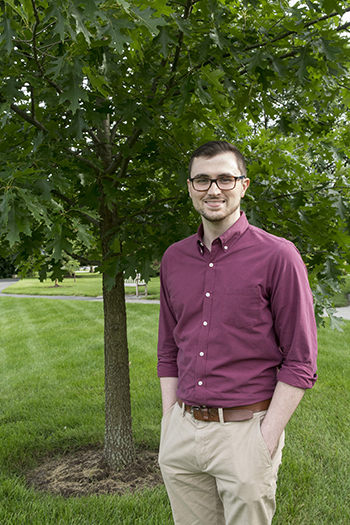 After earning his bachelor's degree from UD in 2016, Simons considered going to law school but was not quite ready to make the commitment, especially financially. At the suggestion of his sister, he decided that being a paralegal would be a great way to dip his toes into the legal world and experience how it operates. "I didn't want to jump into law school right away, incur all this debt, and then realize the profession was not for me," said Simons.
Shortly after completing the program, Simons was hired as a paralegal for Legal Services Corporation of Delaware, a nonprofit law firm in downtown Wilmington that helps low-income families. While law school might still happen for Simons at some point, he is content in his current role and enjoys the variety of tasks, which include researching, writing and client relations as well as other duties that keep him occupied and interested. Simons credits the paralegal program with enabling him to hit the ground running.
"Pretty much everything I learned in the classes has really helped me out in my job on a daily basis," said Simons. "It was a very hands-on, literal program. Our projects were the same type of assignments I am now regularly doing. I really enjoyed that we were learning tangible skills that I would be using in the workplace."
Like many other participants, Simons greatly appreciated the chance to be taught by attorneys. He encourages anybody enrolled in the program to take advantage of this opportunity and to not be afraid to ask questions. "The instructors always emailed me back within a day and were all willing to help," said Simons.
A field for all ages
Whether they are female or male, many of the students who enter the program have been out of school for an extended period but quickly learn to make the adjustment to the classroom and the overall time commitment required to be successful. Kece had not done any official coursework since taking a couple of college classes shortly after her high school graduation in 1979.
"I was terrified and really had to apply myself and study a lot," said Kece. "I worked really hard but it was wonderful and everyone was very welcoming. There were a lot of people my age in the class, which was great. When you get to a certain age, you're thinking, 'Well this is it; I am doomed to be stuck in this field or job forever,' but that is not necessarily true. I advise anyone interested in the paralegal field to go for it no matter what age they are."
Eide graduated from high school in 1999 and fell short of an associate degree after running out of money and not qualifying for a student loan. She describes herself as stubborn and pushed herself to establish a routine that would enable her to review the lessons, do the necessary research, and write her papers. Fueled by the confidence the paralegal classes provided her with, Eide is looking into pursuing her bachelor's degree.
"The paralegal program not only helped me get a job, but it set a fire under me to just continue on," said Eide. "It really helped me look at myself from a different perspective and see how the sacrifices I made paid off tenfold. My salary has increased and I am able to take care of my family. It was such a great experience and it took me out of my shell."
For more information about UD's Paralegal Certificate Program, visit pcs.udel.edu/paralegal, email continuing-ed@udel.edu, or call 302-831-7600.