Leverage telehealth technologies to improve healthcare access and manage the business aspects of telehealth
No telehealth experience necessary
Geared toward professionals and providers from a variety of backgrounds
Next 15-week online course Feb. 7-May 23, 2022 — REGISTER NOW!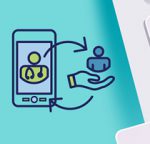 Telehealth initiatives hold exciting potential to address healthcare access issues in Delaware and beyond, whether from shortfalls in critical healthcare specialties, or in under-served geographic locations. Telehealth also provides innovative ways to meet the demands of an aging population, reduce inappropriate use of emergency departments, prevent hospital readmissions, bring care to the most appropriate setting and more.
UD's Advanced Telehealth Coordinator Certificate program highlights the benefits and opportunities of telehealth implementations like:
patient videoconference visits with medical practitioners
virtual mental health and counseling appointments
virtual access to specialists in rural and high-need areas
remote patient monitoring programs
personalized follow-up programs for patient treatment regimens
mHealth (mobile health), eICU (electronic intensive care unit) and more
This certificate program provides the foundations of telehealth for participants interested in utilizing telehealth for the delivery of healthcare, including technology evaluation, business and operational considerations, regulations, ethics, privacy and more.
The Advanced Telehealth Coordinator Certificate program is offered in a flexible online format with some scheduled requirements and assignments.
---
Program details

Advanced Telehealth Coordinator Certificate
LOCATION: ONLINE—This 15-week online course includes some scheduled requirements.
SCHEDULE: February 7 – May 23, 2022
PRICE: $1,495, all materials included. Payment plan, potential discounts available: Early registration, Military, UD student or alum, 2 or more (group).
CEUs: 4.5 (45 contact hours)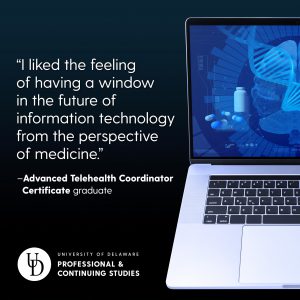 ---
Who should participate?
Clinicians, administrators, managers, health care IT and other professionals from a wide variety of health care disciplines including:
physicians
physician assistants
nurse practitioners
dentists
pharmacists
nurses
psychologists
counselors
social workers
physical therapists
occupational therapists
speech therapists
respiratory therapists
optometrists
dietitians/nutritionists and more
---
Program faculty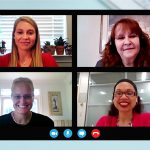 Gemma Lowery, MBA, CATC, ACHE, is the Virtual Health Program Manager for the ChristianaCare healthcare system where she has served in a progression of roles for the past 15 years. Her experience prior to this role was as the operations coordinator for the inpatient eICU and Apache data subject matter expert. She participates in Delaware's telehealth efforts as a steering committee member for the Delaware Telehealth Coalition (DTC). Gemma also serves in an advisory board role with the Mid-Atlantic Telehealth Resource Center (MATRC). Gemma is a University of Delaware alumna as well as an inaugural alumna of the University of Delaware's Advanced Telehealth Coordinator Certificate program.
---
Course outline
The Advanced Telehealth Coordinator course begins by providing participants with the foundation needed to understand the benefits and uses of telehealth as well as the role of the telehealth coordinator. As the curriculum advances, participants dive deeper into the knowledge and skills necessary to support the use of telehealth applications within a health care organization. The course culminates in the exploration of telehealth project and program management.
This 15-week course provides a comprehensive program of instruction, exploration, discussion and practice. While examining the practical, technical and business aspects of telehealth, participants will also explore the creative aspects of utilizing technology to deliver health care in order to prepare for the continued growth of telehealth.
Course sessions include:
Introduction to Telehealth
eICU and Telehealth Resources
Funding and Reimbursement
Policies that Impact Telehealth (Parts 1 and 2)
Telemental Health and Ethics
Quality, Outcomes and Data Collection
Telehealth in the Home and Remote Patient Monitoring
Starting a Chronic Diseases Telehealth Clinic and Unique Applications
Operational Considerations (Parts 1 and 2)
More Successful Uses of Telehealth; Telehealth Program Planning
Introduction to Telehealth Program Management (Parts 1 and 2)
The Advanced Telehealth Coordinator: Tying It All Together
Grading policy — To earn the Advanced Telehealth Coordinator Certificate, you must complete all modules with a passing grade (60% or higher) and earn an overall final grade for the certificate of 70% or above.
Course delivery — The Advanced Telehealth Coordinator Certificate program is offered in a flexible online format with some scheduled requirements and assignments. Online course videos and presentations can be accessed by participants on a self-paced basis within the overall course completion timeframe outlined on the class syllabus. Other course activities include online reading assignments, class discussion via online video chat and discussion threads, and online quizzes and written assignments, most with biweekly completion timeframes. Participants complete a final project exploring telehealth implementation to be shared with the class via live video presentation.
---
Learner outcomes
Upon completion of this course, participants will be able to:
Identify available telehealth technologies and appropriate uses for them
Explain the benefits of and barriers to implementing telehealth
Understand the business and financial aspects of telehealth
Analyze key legislative, regulatory and organizational policies that impact the use of telehealth
Identify data elements to collect to support quality improvement/quality assurance
Identify the roles and responsibilities of the telehealth coordinator
Communicate telehealth concepts to organizational members as well as to health care consumers
Identify elements of a successful telehealth encounter and quality telepresence
Develop efficient clinical telehealth workflows
Identify strategies that support effective telehealth program development
Draft organizational protocols to support telehealth
Identify strategies for measuring and communicating program successes and lessons learned
Consider language, culture and disability in using telehealth technologies
---
Wilmington University elective credit
The University of Delaware's Advanced Telehealth Coordinator Online Certificate Program is an approved Lower Level Health Science elective (3 credits) for Wilmington University's Bachelor of Science degree in Health Sciences. For details, contact Wilmington University at coel@wilmu.edu.
---
Prerequisites
Basic computer skills are required. There are no academic prerequisites to enroll in this program.
---
What our students say
"A window in the future of information technology from the perspective of medicine."
"Interesting content with real life application."
"I liked how the course added a lot of business elements into the lecture and reading material. I feel that I have a good grasp of knowing what it takes to create and implement a telehealth program."
"Available when I had time to get to the assignments. Very encouraging faculty member, went above and beyond when work conflicts required later submission of work. Good blend of assignments – not all tests and not all discussions."
"Thoughtful overview of the topic, each module built well on each other."
"I liked that I was able to take the class on my time. Working full-time and having young children this was very helpful."
"A vast amount of information was presented in a way that was concise, easy to understand, and easy to find later on for reference."
"Very inclusive of different methods of telehealth delivery. There was a nice overview of many ways to use it. Some I had not thought much about before taking the class."
---
---
For more information
---
---
Power Up Your Career—free online seminars
Retooling during a time of change
TOPICS INCLUDE:
Developing a positive mindset for returning to the office
Networking communication skills to enhance your career
Preparing yourself with the most valued skill sets in the marketplace
Taking the leap: Is entrepreneurship for you?
---