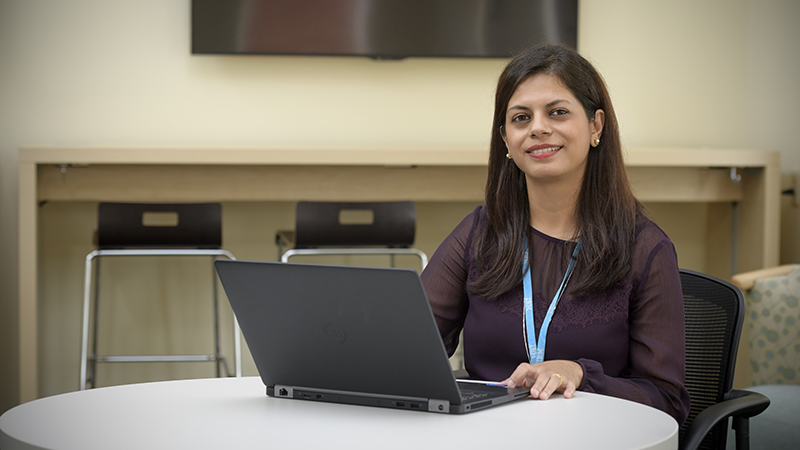 Student lands job as analytics consultant for IBM Watson Health
Not only did Sambhavi Parajuli's project, "Prediction of survivability rate of breast cancer patients," enable her to earn the Analytics: Optimizing Big Data Certificate offered by the University of Delaware's Division of Professional and Continuing Studies (UD PCS) in December 2016, but it played a major role in helping her land a job with Delaware Health and Social Services (DHSS) as an analytics consultant for IBM Watson Health.
Analytics: Optimizing Big Data Certificate

Sept. 13-Dec. 20, 2018
Wilmington, Del.
Acquire the tools needed to analyze large datasets and join the rapidly growing analytics field.
As a final requirement for the certificate, students apply the concepts and techniques learned throughout the course to a case study project, which incorporates the use of a current data problem they would like to solve. Having lost her father to leukemia, Parajuli knew she wanted to work on something related to cancer. "I did not choose leukemia because I didn't want to cry every second I was working on it, so I chose breast cancer," said Parajuli.
She brought a printout of her work to the interview and the hiring team was impressed. When the interviewer asked her why she applied, she responded by saying she is interested in healthcare and gave him her project. He went through the presentation and, although he said she would hear back in a month, Parajuli received a call the next morning and was hired.
"I am enjoying my job because it is all about healthcare data," said Parajuli. "I really enjoy working with data, going deep down and analyzing it."
A native of Nepal, Parajuli came to the United States in 2012 with her husband who was doing postdoctoral work at Washington University in St. Louis. After they relocated to Delaware in 2015, she was ready to re-enter the workforce after taking some time to raise her son and daughter. Seeking to enhance her skills, a Google search took her to CIO.com, which listed UD's program as one of 19 big data certifications that will pay off. "It was close to my home, so I signed up without thinking twice," said Parajuli. "I think I did a good job."
Focusing on the unique combination of computational, analytical and communication proficiencies required by the big data field, UD introduces the tools and techniques needed to analyze large datasets in order to make more informed business decisions. The next 15-week course begins Sept. 13 at Arsht Hall in Wilmington. Topics include importing data into analytics software, performing graphical and data analysis, building analytics models using tools like multiple regression and decision trees, finding the best model to explain correlation among variables, and learning how to control and assess data variability to better meet customer requirements.
The program is directed at business, marketing and operations managers; financial industry professionals; small business owners; and data analysts or professionals in any field who deal with large amounts of data. Though there are not any prerequisites, a basic understanding of statistics and prior experience with data management will be helpful.
Parajuli was previously awarded a bachelor's degree in computer engineering in Nepal and a master's in information technology in Germany. Though she had been out of school for five years, and had only taken one prior statistics course, she quickly adjusted and was able to keep pace with her classmates.
"All three of the instructors were very good, and I really liked them," said Parajuli. "I am definitely implementing what I learned at UD into my work. I have recommended the program to some of my friends."
Potential discounts are available for early registration, UD alumni, Project Management Institute Delaware Valley Chapter (PMI-DVC) members, active military members, veterans and groups of two or more from the same organization. For more information about the Analytics: Optimizing Big Data Certificate, visit pcs.udel.edu/data, email continuing-ed@udel.edu, or call 302-831-7600.