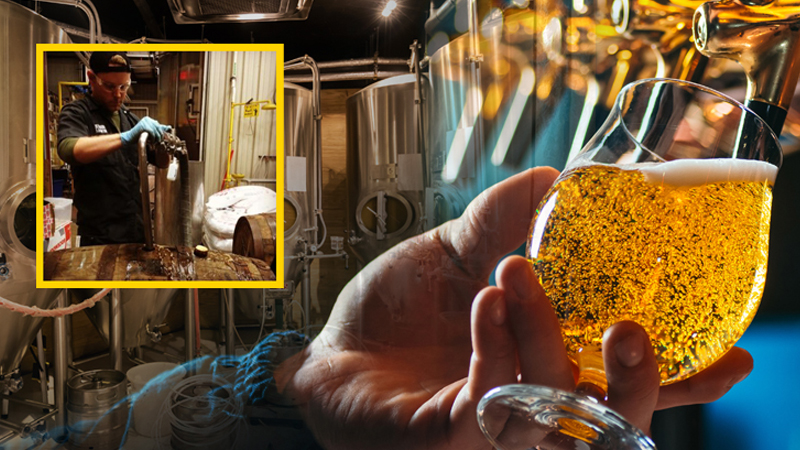 Professional brewmaster shares expertise and passion in new program
LISTEN to Brad Adelson talk about the program on WDEL
Like many people reaching the legal drinking age, Brad Adelson bought beer on his 21st birthday; however, he did not—actually could not—enjoy any of it that day. Rather than ordering a bottle or a draft at a pub or purchasing a six-pack or a case at a store, Adelson and a friend invested in a beer-brewing kit and began the multiday brewing process by mixing the ingredients themselves.
Adelson, who was pursuing a bachelor's degree in art with a concentration in photography from San Jose State University at the time, was instantly taken with brewing, which he equated with his major.
"What I love about photography is that it is such a great blend of art and science," said Adelson. "Beer is not only a great blend of art and science, but it's also a consumable item. Food, science and art all in one, that's what hooked me. The process is so magical."
After spending some time brewing for fun with his brother and catering charity events with their home brew in San Diego, where he moved to after graduating from San Jose State, Adelson was so hooked on the art and science of brewing that he went back to school and earned a second undergraduate degree in food science and technology at Oregon State University. He complemented his classroom studies with a hands-on internship at Ironfire Brewing Company in Temecula, California, and has not looked back.
"The people at Ironfire were super nice," said Adelson. "They let me hang out and brew with them. I learned a lot and essentially was paid in beer. It was great."
For over 15 years, Adelson has worked at various breweries around the country, including Founders Brewing Company in Grand Rapids, Michigan, Victory Brewing Company in Downingtown, Pennsylvania, and 1937 Brewing Company at Delaware Park in Wilmington. Currently the brewmaster for Lost Planet Brewing Company in Royersford, Pennsylvania, he will share his experience, expertise and passion by leading the University of Delaware Division of Professional and Continuing Studies (UD PCS) new Foundations of Brewing Science and Brewery Operations program.
Designed to give participants looking to gain entry into the rapidly growing beer industry, or transition roles within it, practical knowledge and hands-on experience to equip them with an upper hand when pursuing brewery jobs, Foundations of Brewing Science and Brewery Operations is being conducted live-online from 7-9 p.m. on Wednesdays for 10 weeks beginning Sept. 14. Adelson believes the course will be eye-opening for anyone who enrolls.
"People are surprised to learn how much attention to detail and quality goes into brewing beer and how involved the process is," said Adelson. "I have had people tell me they are shocked to find out that when they order a beer, we are not making it then. It takes anywhere from two weeks to a month until it can be enjoyed."
According to the Brewers Association, the record high of 9,118 craft breweries in the United States in 2021 represented a 60% increase from 2016 when there were just 5,713 craft breweries in the country. Adelson attributes this growth to good marketing, quality beer and a nationwide trend to buy local. With the surge of craft breweries showing no signs of slowing down, trained brewers are in high demand.
"We are going to cover the brewing process from start to finish," said Adelson. "The biggest goal is for the participants to learn what they need to be able to show any future boss that they have a pretty good base knowledge of beer. I thought about if I was going to hire somebody who did not need a lot of training, what would I want them to know."
The course also provides an opportunity for hobbyists to elevate their brewing game.
"If you have been homebrewing for a while and you're very passionate about it, even if you do not want to get into the industry, but maybe you are looking to step up your homebrewing operation, this is a great tool for anyone looking to do that," said Adelson.
Whether participants are looking to make brewing a full- or part-time career, transition roles in a brewery, take their hobby to the next level or just increase their knowledge, they will be invited to attend an optional in-person session at 1937 Brewing Company, where they will learn practical, hands-on aspects of the role and familiarize themselves with the brewery space. Scheduled for Oct. 15, 10 a.m.-1 p.m., the in-person session includes an optional instructor-led beer tasting, in which participants will be responsible for the cost of their beer. Attendance at the in-person session and participation in the beer tasting are not required to complete the program.
Participants in the University of Delaware's Foundations of Brewing Science and Brewery Operations program must be at least 21 years old. Enrollment in the initial program is offered at a special launch price of $995, $500 less than the list price. For more information, visit pcs.udel.edu/brewing, email continuing-ed@udel.edu or call 302-831-7600.