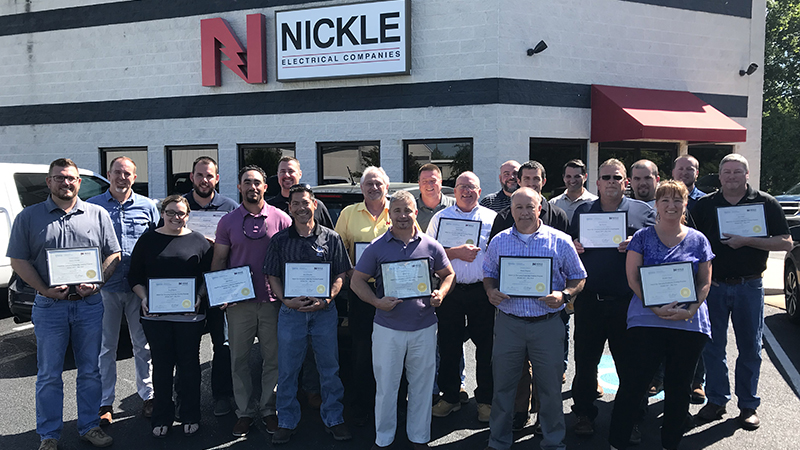 Programs not off the shelf
Though Nickle Electrical Companies and Grain Craft Bar + Kitchen are in very different industries, they faced a similar problem in their attempts to secure training programs for their managers.
"Looking to take our management team to a whole new level, I did a bunch of research, but I just wasn't finding what we wanted," said Heather Shupe, human resources director of Nickle Electrical Companies. "We needed something we can customize and make Nickle's product, that we can replicate and do over again, and that we can put more managers through."
Grain's co-proprietors, Lee Mikles and Jim O'Donoghue, also were not satisfied with the options they were being presented with. "We looked at programs that were kind of off the shelf and partly met our needs and partly didn't," said Mikles.
Flexible scheduling and location
Both organizations turned to the University of Delaware's Division of Professional and Continuing Studies (UD PCS) for customized training programs designed to meet their specific needs. Nickle engaged in a personalized on-site Emerging Leadership Training program that met quarterly over the course of a year, and Grain sent managers from each of its three locations to UD PCS' headquarters on the Newark campus for six consecutive weekly sessions.
"We decided that spreading the program out over four quarters would be the best way to proceed because we could have breaks in between to apply some of the training and then build the next session," said Shupe.
In response to the values it wanted for its managers, Nickle's training topics included communication, mentoring, coaching, accountability, team building, leadership and conflict resolution. Working in conjunction with the instructor and UD PCS' program coordinator, Vic Wang, Shupe requested and received a program that was highly interactive and addressed scenarios that Nickle's managers would experience on the job. She said the role play situations and hands-on activities were well received and evaluations were all positive.
In preparation for Grain's customized training, Wang visited all three establishments and shadowed the employees.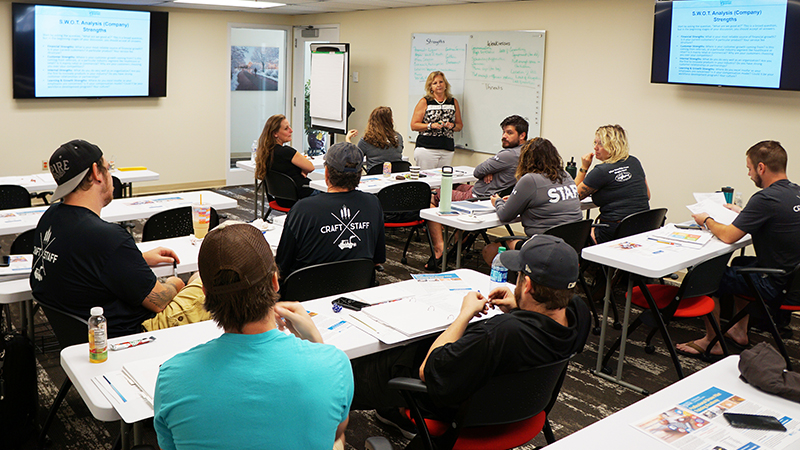 "We talked with a few different providers, but UD was very open to tailoring it to our needs, which was great," said Mikles. "They really made the investment to understand what we truly need and offer us something that was tailored to our group."
Following some icebreakers and team-building exercises, Grain's focus areas included harassment and bullying, emotional intelligence and managing peers. Nancy Chase, Grain human resources and events manager, appreciated how the training was geared specifically to the restaurant business.
"I have been to other manager trainings and this one was more personal," said Chase. "I liked that it was just us."
Paying dividends
Shupe said the development in Nickle's managers is evident, and the lessons and skills are continuing to be reinforced in performance evaluations and subsequent trainings.
"They are able to take that information and build off of it," said Shupe. "Their level of accountability, conflict resolution skills, communication and all of the other items that were addressed are being practiced."
Allowing their employees to express themselves freely, Mikles and O'Donoghue refrained from participating in the sessions and were pleased to hear that their staff opened up quite a bit to each other.
"They don't all know the managers from the other locations very well, but by the end of the class they were all yucking it up together," said O'Donoghue. "I love the fact that they were talking about seeing each other again."
The training has also led to an increased emphasis on "the Grain way," which Mikles said includes how they want to conduct business, how they want to be treated, and how they want to treat people. His business is planning to continue to have UD PCS assist in this effort with additional customized training in 2019.