Become a cybersecurity leader
As more businesses migrate their data and services online, the need for cybersecurity professionals is greater than ever. These courses prepare you to become a cybersecurity leader.
No prior cybersecurity experience required
Start here to learn about the concepts, tools and terminology of the cybersecurity field. Click here to learn more.
Add cybersecurity competencies to your skill set

14-week online program
Hands-on skills and proven techniques for assessing risk and safeguarding data, applying cybersecurity concepts and tools to real-world technical challenges. Click here to learn more.
---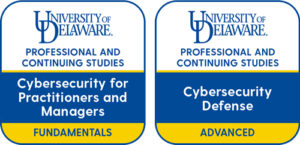 DIGITAL BADGE UPON COURSE COMPLETION — Upon successful completion of Cybersecurity Fundamentals for Practitioners and Managers or Advanced Cybersecurity Defense Certificate, participants earn a digital course badge, which is the completion credential earned for noncredit professional development courses offered through UD's Division of Professional and Continuing Studies. Click here for more details about digital badging.
---
SELF-PACED ONLINE EXAM PREP

Earn CEUs and PDUs while preparing for worldwide-recognized certification exams; participate in online classes anywhere, anytime. Discounts available.