Apply human-centered techniques to solve problems in a creative and innovative way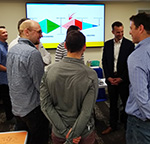 User experience (UX) touches everything. People embrace solutions that reduce their friction of achieving their desired goals. But how do we deliver products and services that provide these memorable and dazzling experiences? In this training, you will learn how to gauge existing problems and experiences via customer immersion, journey and empathy maps, and behavioral economics in order to understand real challenges and create solutions together with the people they are meant for.
Design thinking is an iterative process in which we seek to understand the problem, get to know the user, challenge assumptions and redefine problems in an attempt to identify alternative strategies and solutions that might not be instantly apparent with our initial level of understanding. At the same time, design thinking provides a solution-based approach to solving problems by embracing creativity techniques, customer co-creation and experimental design. It is a way of thinking and working as well as a collection of hands-on methods. With design thinking, we not only solve for unmet customer needs, but we also develop a keen sense of identifying unknown needs through insights development and strategic problem reframing.
Immerse yourself in the value of design thinking with this two-day workshop that covers the framework, the mindsets and proven techniques you can use to achieve superior solutions to the problems of your business. Gain hands-on experience with the tools and templates via a real design thinking challenge that focuses on a common user experience problem. This training is meant for aspiring design thinkers, UX designers and design strategists, as well as existing practitioners and executives seeking to incorporate design- and human-centricity into company strategy in order to optimize customers' and employees' experiences with their company/solution/product/brand.
---
Program details

Design Thinking Workshop
LOCATION: Live-online
SCHEDULE: October 19-20, 2021 — 9 a.m.-4 p.m.
PRICE: $1,495, all materials included. Scholarships and potential discounts available, including: Early registration, Military, UD student or alum, 2 or more (group).
PROJECT MANAGEMENT INSTITUTE PDUs: 7 (Strategic and Business Management); 3.5 (Leadership); 3.5 (Technical Project Management)
---
Who should participate in this program?
Executives
Project managers
Business analysts
Customer experience leaders
IT and solution designers
Operational excellence and Lean Six Sigma personnel
Change managers
Innovators
Marketing managers
Sales managers
Business managers
Startup owners
UX and UI Practitioners
---
Instructors
Edward Kashmere, the founder and president of Efficiencies, Inc., is an outcome-based global consultant who partners with people and organizations to achieve creative and innovative solutions in an accelerated manner.
Kashmere has visited 39 countries and successfully led complex projects across numerous industries, cultures and technologies. His ability to support multiple roles on a project saves cost and time, while providing a detailed understanding of all the items that need to be aligned to provide operational excellence and customer satisfaction.
As a process improvement expert for General Electric's aerospace unit, Kashmere initiated his operational excellence career with the global leader in Lean Six Sigma. With Lockheed Martin's acquisition of GE's aerospace business, he continued to build his experience and credentials, eventually achieving his Lean Six Sigma master black belt. He has served as an adjunct instructor for Penn State University, Villanova University, Temple University and the University of Delaware.
Kashmere has an MBA from Penn State University and is a continuous learner with multiple certifications from Harvard University in design thinking and innovation strategy, as well as from other globally recognized institutions.
Adam Radziszewski is a dynamic, results-driven innovation leader with extensive experience in enterprise innovation practice building and fostering creative and collaborative organizational cultures. Radziszewski delivers innovation and design thinking workshops globally and applies design thinking and creativity to solve clients' business problems resulting in product, service and business model innovations. He has previously been a software developer, a project manager (Project Management Professional) and a programming instructor at Rutgers University and New Jersey Institute of Technology. As an entrepreneur, Radziszewski co-established numerous startups, including the first virtual reality entertainment center on the East Coast.
As part of his innovation consulting firm, InsightsGen.com, and his past employment, Radziszewski has been leading the growth of the design thinking and innovation strategy across a diverse market of industry leaders in technology, insurance, pharmaceutics and beauty. As a speaker at numerous innovation events, including the World Innovation Convention in Berlin, he has presented his approach of combining design thinking with blue ocean strategy to maximize the effectiveness of innovation in large corporations.
Radziszewski holds a bachelor of science degree in computer science from Rutgers University, a master of science in computer science from Binghamton University, an MBA from Walden University and an innovation and entrepreneurship business graduate certificate from Stanford University.
---
Course outline
Learn from expert practitioners
Design thinking framework
User research
Creativity and prototyping
Methods and tools
Templates
Exercises and practice (solving real-life challenge)
Case studies
Free reusable creativity and ideation resources
Next steps to successfully leverage design thinking in your organization
Day 1
Introduction
Warmup/Stoking
Design Thinking Definition and IDEO Framework
Design Thinking Stages Overview
Wicked Problems, Needs vs. Solutions
Traditional vs. DT approach, why is DT becoming so popular now?
Design Thinking, a Framework for Innovation
Design Thinking and Agility
Designing and Thinking Exercise
Design Principles, Design Thinking Mindset
Stage 1: Research and Observation
Design Brief
Stage 1 Tools: Quantitative Methods: Surveys, Statistics
Stage 1 Tools: Qualitative Methods – User Interviews, 5Whys and So What, Immersion, Analogous Empathy
Stage 1 Tools: Persona Definition, Extreme Users, Job to Be Done (JTBD)
Stage 1 Tools: Journey and Empathy Maps/Customer Experience
Stage 1 Tools: Value Chain Analysis
Stage 1 Applied to a Real-life Challenge
Day 1 Summary
Day 2
Day 1 Recap
Warmup
Case Study 1: Product Development/Enhancing Customer Experience
Stage 2: Unpacking, Sensemaking and Insights
Stage 2 Tools: Context Maps, Mind Maps, Key Assumptions
Stage 2 Tools: Point of View, Challenge ('How might we…') and Design Brief
Stage 2 Applied to a Real-life Challenge
Stage 3: Ideation and Selection
Stage 3 Tools: Creativity Frameworks – You are the Product, Reversal/Revolution, Random Stimuli, Related Areas, SCAMPER, Affinity
Maps, 6-3-5 Brainwriting
Stage 3 Applied to a Real-life Challenge
Stage 4: From Ideas to Experiments to Prototypes
Stage 4: Concept Prototyping
Stage 4 Tools: Storytelling and Storyboarding, 3D Mockups, Concept Poster, Wizard-of-Oz, Application prototyping
Stage 4 Applied to a Real-life Challenge
Stage 5: User Feedback and Improving the User Experience
Stage 5 Tools: Feedback Capture Grid, I Like, I Wish, What If (IL/IW/WI)
Business Model Canvas and Value Proposition Canvas
Design Thinking, Systems Thinking, Lean Startup, Design Sprints
Behavioral Economics Intro
Case Study 2: Process Redesign
Day 2 Summary
Next Steps for Innovation and Disruption in Your Organization
---
---
For more information
---
---
Power Up Your Career—free online seminars
Post pandemic — retooling during a time of change
TOPICS INCLUDE:
Developing a positive mindset for returning to the office
Networking communication skills to enhance your career
Preparing yourself with the most valued skill sets in the marketplace
Taking the leap: Is entrepreneurship for you?
---