Display and share your well-earned credential
UD is excited to announce the launch of digital badges and certificates
Digital certificates and badges provide an immediately-delivered credential that users can display electronically on their social media accounts upon successfully completing a course or program, and that potential employers can instantly verify on a vetted, authenticated platform.
UD has chosen Accredible as the issuing platform to deliver UD digital badges and certificates.
About digital badges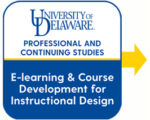 Digital badges are a graphic representation of an individual's accomplishments, skills or earned credentials which can be stored, displayed, accessed and verified online. Digital badges can be earned in a wide variety of environments, such as in-person, online or hybrid education or training formats. Digital badges are part of the larger credentialing ecosystem and are designed to be shared and displayed online, as verifiable documentation of an individual's credentials.
In short, a digital badge serves both as recognition and digital proof of an accomplishment.
At UD Professional and Continuing Studies (UD PCS), we are using digital badges to award a completion credential for noncredit professional development courses. Badges comply with the internationally recognized Open Badges Specification and contain metadata embedded in the unique URLs assigned to each recipient, allowing instant authentication of your credential.
FAQ — Frequently Asked Questions
What can I do with my new badge?
Here are just a few examples of how you can share and display your well-earned badge:
Share it on social media platforms, such as LinkedIn, Twitter, etc.
Insert it on your digital resume or curriculum vita (CV)
Display it on your personal website, online portfolios or blogs
Embed it in your email signature
How will I receive my new badge?
Upon successful completion of most UD PCS noncredit courses, you will receive an email from digitalcredentials@udel.edu with instructions on how to claim and share your new badge. Please be sure to check your junk mail, spam folder or other email filters. For Gmail users, the credential email may be delivered to the Promotions folder if you have Categories set up.
Am I required to create an account with Accredible in order to view and/or share my badge?
No, you are not required to create an account in order to view and/or share your badge. Accredible automatically creates a Credential Wallet account for you when your first credential is published to you. However, you must create a password to access additional features which are available with a password-protected account:
Default Accredible Credential Wallet access

Password creation is optional
View your badge online
Digitally share and display your badge in online environments like LinkedIn

Create a password to access these helpful features

Password creation is required
Request a name change on your badge and/or certificate
Change the privacy settings for your badge and/or certificate
Add to mobile wallet
Additional features within your credential wallet
Please refer to this Accredible Help article if you need any additional support.
My name is misspelled or displayed incorrectly, how do I request a name change?
You can submit a name change request the first time you access your credential through the One-Click Link, or if you have created a password for your Credential Wallet account. To make a name request in your account, click on "MORE," then click on "Request a Name Change," fill out the new name you want on your credential and click on "Request."
I accidentally deleted or can't find the original email containing the link to my badge and/or certificate, what should I do?
Visit the Accredible Credentials Retrieval Tool to retrieve your credentials.
Does my badge/certificate ever expire?
No, your badge and/or certificate does not expire, unless there is an expiration date listed on your credential page.
Will I still receive a printed or emailed certificate when I complete a program?

No, our new digital badge will replace all certificates of completion moving forward.
Are you going to issue badges if I completed a program in the past?
UD's badging and digital credential distribution will not be retroactive to programs completed prior to Fall 2022. Badging efforts began in Fall 2022 with limited UD PCS programs, and will be expanded to most UD PCS noncredit programs in 2023.
What if I have additional questions that are not addressed here?
Please email us at digitalcredentials@udel.edu.