Ready to fly your drone?
Join a rapidly growing industry
Hands-on training on various systems
2-day weekend course in Newark — October 17-18, 2020 — CANCELED
Discounts and scholarships available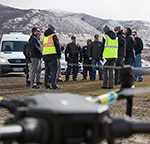 Learn the basics of flying small unmanned aircraft systems (sUAS). Topics include familiarization with various aircraft and system components, basic flight planning, safe flight deck setup and operations, basic flight maneuvers, emergency procedures, autonomous flight mode options, multi-aircraft mission design, and effective programmatic record keeping. Students will become familiar with and receive individual hands-on flight time with a variety of aircraft systems, such as the DJI Mavic, DJI Phantom 4 Pro and DJI Inspire I.
If you do not have an FAA Part 107 remote pilot certificate, please consider registering for our Professional Drone Pilot: Ground School and FAA Part 107 Test Prep program along with this course. Enrolling in this class does not require an FAA Part 107 remote pilot certificate, but it is encouraged. — LEARN MORE
---
Program details

Professional Drone Pilot: Foundations of Flight
LOCATION: 501 S. College Ave., Newark, Delaware
SCHEDULE: October 17-18, 2020 — 8:30 a.m.-5 p.m. — CANCELED
PRICE: $995, all materials included. Scholarships and potential discounts available, including: Early registration, Military, UD student or alum, 2 or more (group).
CONTACT HOURS: 16
---
Who should participate in this program?
First responders (police, fire, rescue personnel)
Investigators
Insurance adjusters and real estate agents
Reporters, film makers, producers, photographers, marketers, web designers
Engineers, construction professionals, roofers
Accident scene investigators
Site and structure inspectors (tower, roofing, building, land surveyor, electrical line, oil and gas fields, agriculture)
Construction estimators and project managers
Aerial photographers
Anyone interested in starting a UAS-based business
UAS freelancers
Emergency management professionals (federal, state and municipal level)
Any other professionals or hobbyists using UAVs
---
Instructor
Adam B. Ringle serves as president, CEO and director of UAS flight operations for Adam Ringle Consulting, which he founded in 2004. Ringle, who has more than 30 years of emergency services experience and 23 years of law enforcement experience, possesses an extensive range and depth of knowledge in law enforcement, security operations, emergency medical services systems and UAS flight operations. He serves as the chief consultant designing custom professional training solutions and emergency response programs for both government and private entities alike, and specializes in workplace violence prevention, custom active shooter mitigation solutions and complex UAS flight program management. A certified level 3 thermographer, licensed fixed wing pilot, and UAS remote pilot and instructor delivering both training and operational support to clients, he provides expert witness services and maintains an array of emergency services certifications and licenses to best serve his client base.
---
Course outline
Day One
Course Welcome and Introductions
Flight Software Application overview
Flight Planning Overview
Flight Deck Set Up and Operations
Hands-On Flight Training Session 1
Day Two
Emergency Procedures
Hands-On Flight Training Session 2
Autonomous Flight Modes Overview
Hands-On Flight Training Session 3
Debriefing and Record Keeping
---
Learner outcomes
Perform basic flight maneuvers.
Operate a variety of aircraft and their associated components.
Utilize a safety management system in all areas of operations.
Troubleshoot equipment issues and perform minor system maintenance.
---
Prerequisites
This program is open to any participant age 18 or older.
---
Notes
All of our drone pilot training courses can be conducted on-site at your place of business. In addition, we can create a customized drone training program based on your needs. For more information or to request a proposal for on-site training, please contact us via the form below.
---
What our students say
"I went in thinking about how I often see kids flying drones and this can be fun to do. The way they presented it showed me there is a lot more to it than I realized." – Tavis Miller
"I had been playing around with a drone for a couple of months and trying to do some self-study, but there are only so many times I can watch a video online." – Brian Wagner
---
---
For more information
---
---
---