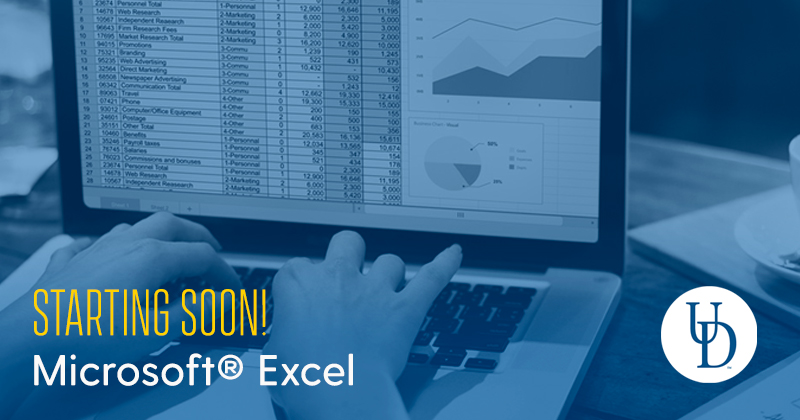 UD PCS Excel classes offered live-online
Fall certificate program helps professionals
gain a competitive advantage
In a world that's swimming in digital data, skillful Microsoft Excel users are always in demand. 
The University of Delaware Division of Professional and Continuing Studies (UD PCS) helps meet that growing need with three live-online courses designed to suit all levels of Excel learners, from beginners to advanced users. Sections of the classes begin in the fall, and registration is now open.  
Proficiency in the popular number-crunching program is recognized as a powerful way for workers to gain a competitive advantage, greater salary potential and even more career opportunities. With more than 2 million recent job postings requiring Excel ability, it has become one of the most highly sought-after occupational skills. 
Each of UD's Excel courses comes with a "digital course badge," which users can display electronically on their social media accounts as a way of validating their credentials to prospective employers. Classes offered by UD PCS are tailored to three learning levels: 
Microsoft Excel Essentials (6-9 p.m. Tuesdays, Sept. 5-Oct. 3): Navigate through Excel with confidence and acquire familiarity with its data management capabilities.  (NOTE: This class has already begun for fall 2023.)
Microsoft Excel Advanced Concepts (6-9 p.m. Tuesdays, Oct. 10-Nov. 7): Work with complex datasets using advanced functions and formulas in Excel. Learn to present data insights using advanced charting techniques. 
Microsoft Excel Advanced Reporting and Analytics (6-9 p.m. Tuesdays, Nov. 14-Dec. 12): Create interactive dashboard reports and data visualizations in Excel by using the capabilities of Power View, Power Pivot and DAX formulas. 
For more information about the UD PCS Microsoft Excel classes, visit www.pcs.udel.edu/ms-excel.