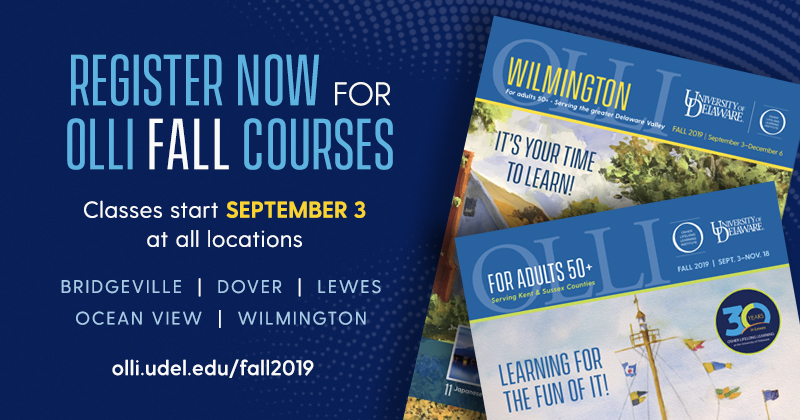 Fall 2019 OLLI course catalogs available now, open houses set
Course catalogs are available, and registration is open now, for fall classes at the University of Delaware's Osher Lifelong Learning Institutes (OLLI). Classes start Sept. 3 at all locations.
Prospective members can visit the programs, and register on the same day if they wish, at an open house on July 23 or 24 in Lewes, Aug. 1 in Wilmington or Aug. 6 in Dover. All are scheduled for 10 a.m.-1 p.m.
UD's lifelong learning programs are membership-based organizations structured as learning cooperatives for adults 50 and over to take and teach classes together with no grades, exams or educational prerequisites. More than 900 courses were offered to over 4,000 members last year.
In New Castle County, OLLI courses take place at UD's Arsht Hall in Wilmington, with a variety of off-site courses hosted by community partners like Delaware Nature Society, Music School of Delaware and Fraim Center for Active Adults.
In Kent and Sussex counties, classes are held in Bridgeville, Dover, Lewes and Ocean View, including community-based locations like Rehoboth Art League, Heritage Shores Community, Ocean View Town Hall and Factory Sports. Participants join the OLLI Dover or OLLI Lewes/Ocean View program as their primary location each semester, then sign up for unlimited classes regardless of Kent or Sussex county location.
The new Bridgeville course offerings take place at the clubhouse within the Heritage Shores 55+ community. "We are excited to be partnering with Heritage Shores to extend UD's lifelong learning program to even more of Delaware and surrounding areas," said Anna Moshier, OLLI program manager. "The Heritage Shores clubhouse is a beautiful facility, and we know it will be a great fit for offering a wide variety of OLLI courses."
Examples of fall offerings include:
Bridgeville (new location) ― Drawing Realistically, Everything Google, Essential Oil Use
Dover ― Tai Chi, Orphan Train History, California Rock 'n' Roll
Lewes ― Science of the Delaware Coast, Folk Dance, Cybersecurity
Ocean View ― Presidential Seminar, Fraud Prevention, Foreign Films
Wilmington ― Chinese Calligraphy, Home Brewing Beer, Genealogy, Medical/Health Lectures
Financial assistance options are available at all locations.
For more details or to receive a catalog, contact the Kent/Sussex program at 302-645-4111 or LLL-lewes@udel.edu, or the Wilmington program at 302-573-4417 or LLL-wilm@udel.edu, or visit https://www.olli.udel.edu/fall2019/.