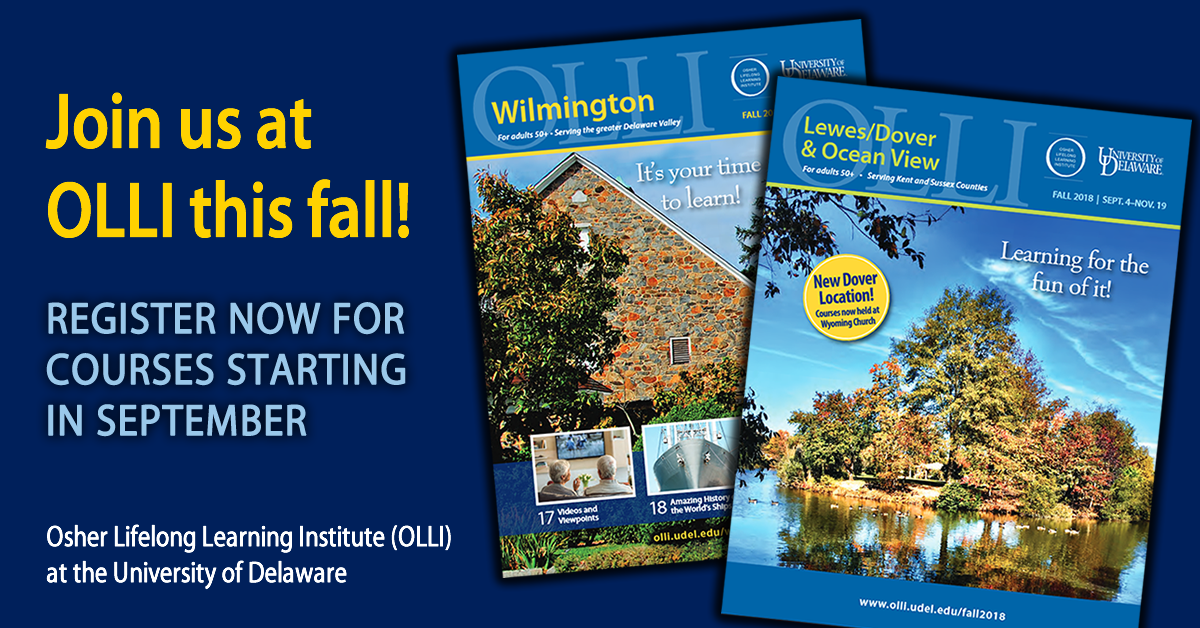 Join us at OLLI this fall!
Registration is open now for fall classes at the University of Delaware's Osher Lifelong Learning Institutes (OLLI) with classes scheduled for Sept. 4-Nov. 19 in Dover, Lewes and Ocean View, and Sept. 4-Dec. 7 in Wilmington.
Affectionately nicknamed "OLLI," UD's lifelong learning programs are membership-based organizations structured as learning cooperatives for adults 50 and over to take and teach classes together with no grades, exams or educational prerequisites.
Featured offerings this semester include "Media and Public Opinion" taught by Ralph Begleiter, former CNN world affairs correspondent and founder of UD's Center for Political Communication (offered in Lewes and Ocean View), and a World War I lecture series "The War That Never Ended" presented by Ray Callahan, popular UD professor emeritus of history (offered in Wilmington).
At OLLI this fall, the more than 460 offerings include:
Dover — Computer Users' Workshop, Fraud Issues for Seniors, Hamilton: The Man and the Musical, History of the Texas Rangers, Appreciating Museum Art
Lewes — Delaware Inland Bays, Elder Law, Investing Workshop, Memoir Writing, Songs from Broadway Musicals, Tree Identification
Ocean View — Art of the Ancient World, Cybersecurity and How to Protect Yourself, Genealogy Workshop, Media and Public Opinion, Medicare Options
Wilmington — Chinese Painting and Calligraphy, WWI Poets, Hitchcock Movies, Cultural History of Food, Digital Photo Editing, Aging in Place
In Kent and Sussex counties, participants become OLLI members for the entire semester with one fall membership fee of $175 and can sign up for unlimited courses at Dover, Lewes and Ocean View or a combination. OLLI Dover classes are held at Wyoming Church, 216 Wyoming Road; Lewes classes at the Fred Thomas Building, 520 Dupont Avenue; and Ocean View classes at Ocean View Town Hall and Community Center, 32 West Avenue. Pre-registration is available through August 16. For details visit the OLLI website, call 302-645-4111 or email LLL-lewes@udel.edu.
Wilmington classes take place at UD's Arsht Hall, 2700 Pennsylvania Ave., Wilmington. Members can sign up for five courses and unlimited extracurricular activities for a fall membership fee of $260. Pre-registration is open through August 3. For details call 302-573-4486, write to LLL-wilm@udel.edu or visit the OLLI Wilmington website.
Financial assistance options are available at all locations. Prospective members can visit the programs, and register on the same day if they wish, at an upcoming open house:
July 23 – OLLI Dover Open House, 10 a.m.-1 p.m., Wyoming Church, 216 Wyoming Rd., Dover
July 24-25 – OLLI Lewes Open House, 10 a.m.-1 p.m., Fred Thomas Building, 520 Dupont Ave., Lewes
Aug. 2 – OLLI Wilmington Open House, 10 a.m.-1 p.m., Arsht Hall, 2700 Pennsylvania Ave., Wilmington
During all semesters, OLLI gift certificates are available for purchase as gifts for retirements, birthdays, anniversaries and holidays. For details, visit https://www.olli.udel.edu/gift-certificate/.
The University of Delaware is proud of its history as one of the oldest and largest lifelong learning programs in the country. Participation in UD's OLLI programs totals nearly 4,000 members statewide, hailing from different educational backgrounds and all walks of life, attending from all parts of Delaware, as well as Pennsylvania, New Jersey and Maryland. Across all locations, members participated in over 900 classes offered in fall, spring and summer sessions last year. The OLLI program is part of UD's Division of Professional and Continuing Studies.
For more information about UD's OLLI programs, visit https://www.olli.udel.edu/.