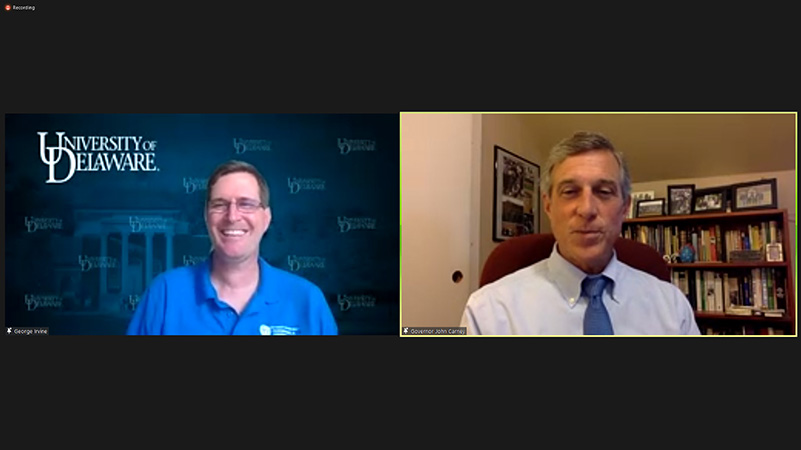 Students encouraged to find their passion and get involved
Speaking with the participants in the 42nd annual Delaware Governor's School for Excellence, held virtually for the first time this year, Delaware Gov. John Carney explained how he almost spent his career implementing a different type of game plan than he does as the leader of the state.
A former St. Mark's High School standout football player who proceeded to shine on the gridiron at Dartmouth College, Carney returned home from New Hampshire to continue his education at the University of Delaware. While pursuing his master's degree in public administration, he coached freshman football for the Blue Hens with thoughts of having a coaching career at the high school or college level.
Also fortunate to be selected for a legislative fellows program when he was enrolled at UD, Carney found himself being drawn to public service as well. He found the subject matter very appealing and enjoyed learning about relevant issues and working with constituents needing assistance with various challenges.
Raised by two teachers in Claymont, Carney's parents inspired in him the notion that the most important thing he can do in life is something that can help other people. Knowing he can achieve this through both of his interests, he made a decision and has no regrets.
"I haven't really looked back," said Carney, who began his second term as governor of Delaware in January. "A career in public service is a noble calling. It's difficult and challenging but incredibly rewarding. Every day there is something new and exciting, and you're making an impact on your community and the people you serve."
Sponsored by the Office of the Governor of the State of Delaware in cooperation with the Delaware Department of Education and the University of Delaware's Division of Professional and Continuing Studies (UD PCS), Governor's School for Excellence is a one-week summer program that brings together academically and artistically talented Delaware high school students who have completed their sophomore year.
Governor's School is comprised of an academic program and a visual and performing arts program for participants selected via a competitive application process after being nominated by their schools. Students interact with each other in the exploration of leadership, diversity, teamwork and creativity. The program, which includes lodging and meals when it is offered on campus, is provided at no cost to the participants, courtesy of the Office of the Governor.
Governor's School for Excellence has welcomed more than 4,000 students over the last 42 years, including Delaware Lt. Gov. Bethany Hall-Long who was a member of the inaugural class in 1979. Approximately half of Governor's School participants enroll at the University of Delaware. Jason Thompson, Governor's School for Excellence coordinator, told this year's 92 students how pleased he was with how they responded to the live-online format.
"You were actively engaged during our first-ever virtual program," said Thompson. "Although we were not able to bring you to campus, I hope you were able to make some lasting connections and friendships."
Established when Pete du Pont was governor of Delaware, Carney reflected on du Pont's recent death and his role in the creation of Governor's School.
"One of the things that I know he [du Pont] thought was important was to cultivate young leaders and to cultivate high achievers in our elementary secondary school system, which is probably the most important thing that we do in government," said Carney. "And as a result and part of the rationale behind creating the Governor's School for Excellence was to do just that."
Fielding questions submitted by the students and relayed by George Irvine, associate vice provost, Division of Professional and Continuing Studies at the University of Delaware, Carney addressed a variety of topics and gave advice to the rising high school juniors. Though he decided not to be a football coach, his prior experience still influenced his career.
"My advice to young people is find what your passion is because if you do what you love you don't work a day in your life," said Carney. "I found that in public service. My own motivation for hard work and attention to detail came in part from my involvement in athletics in elementary school, high school and in college as well."
Carney spoke about the challenges he was presented with by COVID-19 and how important it was for the people of Delaware to trust the decisions he was making even if they were not sure what he was telling them was the right thing to do. He said it was critical for him to stay in contact with the people he was leading during the crisis.
When asked what young people should do to achieve progress as a community, Carney had two words of advice, "get involved." Once again, he encouraged the students to find their passion, such as performing arts or visual arts, and promote nonprofit organizations that support those opportunities. He said there is always some sort of connection with the government in areas like regulation or funding, and this type of advocacy can be used as an entrée to get involved with volunteering for candidates.
"You call up my office and say 'I want to volunteer on your campaign,' we are not going to say no," said Carney. "We are going to say 'absolutely, when can you report?' It really is not hard. You just call the county or the state Democratic or Republican party and say you want to volunteer. We are always looking for volunteers, particularly very capable, very talented and very motivated young people."
Carney also talked about his path to being governor, his interest in building a premier, destination, indoor track in Delaware and the importance of the arts as both something that can be enjoyed by the patrons and provide the state with economic competitiveness.
"We need to have the best and most talented people coming to Delaware for economic opportunities, for job opportunities, for research opportunities," said Carney. "They want other things too. They want arts and culture. They are not just looking for a job. They are looking for a way of life, and increasingly that is how we compete for jobs and business to our state, so the arts are a critical part of that."
In response to what his favorite beach in Delaware is, Carney was less definitive. After explaining that he was attracted to the party scene of Dewey Beach when he was younger and drawn to a quiet place like Lewes Beach today, he diplomatically said, "My favorite beach in Delaware is all of them."
Summarizing Carney's message to the Governor's School students, Irvine said, "Find your passion, pursue it, get joy out of it, get engaged in the community in a public servant or volunteer way and you'll find a good path, a good life that does good for others too."