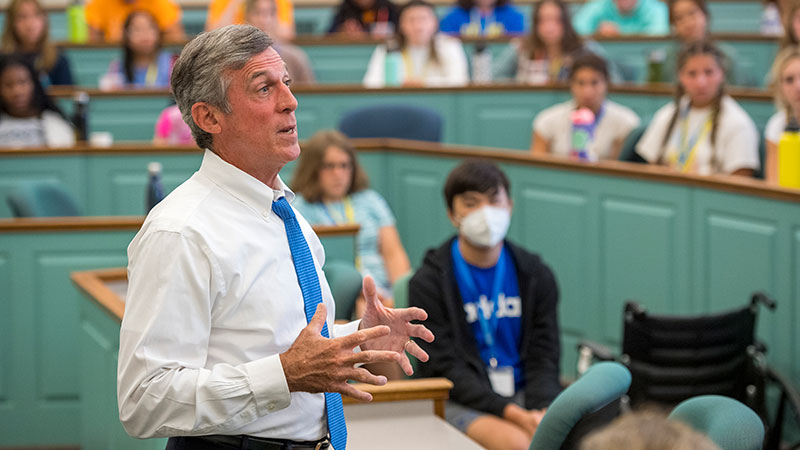 Students offer advice on crucial issues
If the 43rd annual Delaware Governor's School for Excellence students are asked to report on what they did on their summer vacation when they return to their respective high schools throughout the state, they will likely gain the attention of their teachers and classmates when they say they gave advice to Delaware Gov. John Carney on important issues like climate change, school safety, mental health and abortion rights.
Carney, who earned a master's degree in public administration from the University of Delaware, returned to his alma mater to spend about 90 minutes in Memorial Hall interacting with the participants in the one-week program that brings together academically and artistically talented Delaware high school students who have completed their sophomore year. Sponsored by the Office of the Governor of the State of Delaware in cooperation with the Delaware Department of Education and UD's Division of Professional and Continuing Studies (UD PCS), the program, which includes lodging and meals, is provided at no cost to the participants, courtesy of the Office of the Governor.
"This is a really great program for all of you," said Carney. "You have been selected because you are leaders in your school right now. You're the kind of people we need to keep our state strong, our economy strong. We are relying on you in the future to provide the brainpower to keep us going to solve problems."
Carney, who was welcomed to campus by University of Delaware Provost Laura Carlson and Associate Vice Provost for Professional and Continuing Studies George Irvine, said a legislative fellowship program he was chosen for while pursuing his master's degree was a transformational experience that convinced him to change his career plans from football coaching to public service.
"It's a great privilege to be able to serve as an elected official, but with that privilege comes a tremendous responsibility to work with the people that you represent to try to help them reach their own hopes and aspirations for themselves and their children," said Carney. "The biggest challenge we face in my view is how are we going to prepare students like all of you to do the jobs of the future."
To address the many challenges he is faced with, Carney seeks input from others like the Governor's School students who were in front of him.
"I take advice," said Carney. "The best thing you can do for me is give me some good advice about a whole range of issues that are important to all of you."
Luckily for Carney, the students were eager, ready and willing to share their thoughts with him after being prepped for his visit by UD Joseph R. Biden, Jr. School of Public Policy and Administration faculty members Andrea Pierce, Casey Taylor, Philip J. Barnes and Timothy J. Shaffer who conducted a condensed version of a process followed in their public policy courses. In this process, students work through a problem-solving procedure to research problems, causes and consequences, and develop a policy proposal for a public official.
Following a kickoff discussion with Pierce, Taylor, Barnes and Shaffer to identify issues the students care about, the topics were quickly narrowed down to climate change, school safety, mental health and abortion rights with minimal direction from the professors. After breaking into groups to discuss the topics, formulate their conception of the underlying problems, consider their goals, identify possible solutions and select a solution that they wanted to pitch to Carney, the instructors helped them think critically through the process but mostly left them on their own to develop ideas. After practicing their pitches and receiving feedback, the students' final pitches were refined in preparation for the governor's arrival.
Climate change
The students presented several recommendations to address climate change, including increasing subsidies for purchasing electric vehicles and for homeowners who practice efficient energy use in their homes, establishing a requirement for an environmental education course in schools, and providing more greenery and vegetation protection via marshes and trees.
Carney credited the students with going right to the two sources of carbon dioxide, electricity generation and transportation, and said the state is doing well with electricity generation but not as stellar with transportation. He said Delaware does not have the population density for a lot of mass transit but did point out that buses are being converted to electric vehicles.
Carney told the students that he tries to stay away from mandating what school districts need to provide and let it come from the local school boards instead. Regarding greenery and vegetation protection, he cited the A Tree for Every Delawarean program, which calls for planting a million trees, and the Prime Hook National Wildlife Refuge marsh restoration initiative.
"It's important that we do a better job at reducing carbon emissions, and your ideas for green infrastructure are really good ones," said Carney. "You probably don't know it, but you just endorsed two of our big programs."
School safety and mental health
Mental health was a repeated theme that came up in the workgroups as both its own topic as well as a way to increase school safety. Concerned about school shootings, the students proposed in-school therapy sessions to normalize and reduce the stigma of therapy and a mental health class to teach how to cope with feelings. While Carney acknowledged the issue of school safety and credited the students for having great ideas, he reminded them about his hesitancy to mandate school curriculum and credited recent legislation to support mental health in schools in other ways.
House Bill 300 lowers ratios of students to counselors and increases access to mental health services for middle school students. House Bill 301 increases student awareness of mental health by requiring the Department of Education, with the approval of the State Board of Education, to establish and implement statewide mental health educational programs for each grade, K-12, in each school district and charter school in Delaware. He also praised the importance of the Beau Biden Gun Violence Protection Act, which helps restrict access to firearms for those who mental health professionals believe present a danger to themselves or others.
"It's a terrible thing the torment young people face, and we've seen a lot more of it," said Carney. "We've seen it not just in schools but in public places as well."
Citing a lack of accessibility to mental health resources provided by the state, including an existing website that does not list all of the services available, the students proposed a free searchable, centralized database that would allow anyone to have access to all of the resources available in place of the current site. Their proposal to fund the website by reallocating funds from the current site was enthusiastically welcomed by Carney.
"That is a great idea and one that we should follow up on," said Carney. "One thing that we do not do well in government is stop doing things that don't work. It's hard to figure out what's working unless you do the analysis, which we don't often do."
Abortion rights
Noting that Delaware does not meet the nationally recognized standards for sexual education, and in light of recent events, the students proposed a requirement for education on sexual health, including all forms of contraception that are available for any gender and medical/surgical abortion options. Their intent was to reduce stigma around abortion, prevent the need for abortion in some situations and provide a better understanding for future generations.
"You picked one of the most controversial issues and one that is really on the front burner," said Carney. "It is also one of the more difficult issues I have had to deal with as a practicing Catholic. For me, it comes down to being a liberty issue for women. I think women should be able to make that decision with themselves and their doctor and their spiritual leader. It's not a decision for me or the government to make."
Governor's School is comprised of an academic program and a visual and performing arts program for participants selected via a competitive application process after being nominated by their schools. Throughout the week, students interact with each other in the exploration of leadership, diversity, teamwork and creativity.
Governor's School for Excellence has welcomed more than 4,000 students over the last 43 years, including Delaware Lt. Gov. Bethany Hall-Long who was a member of the inaugural class in 1979. Approximately half of Governor's School participants enroll at the University of Delaware.
"When you have the opportunity to stand in the front of the future of our state and have an interaction like we have had today, that is really pretty special," said Carney.