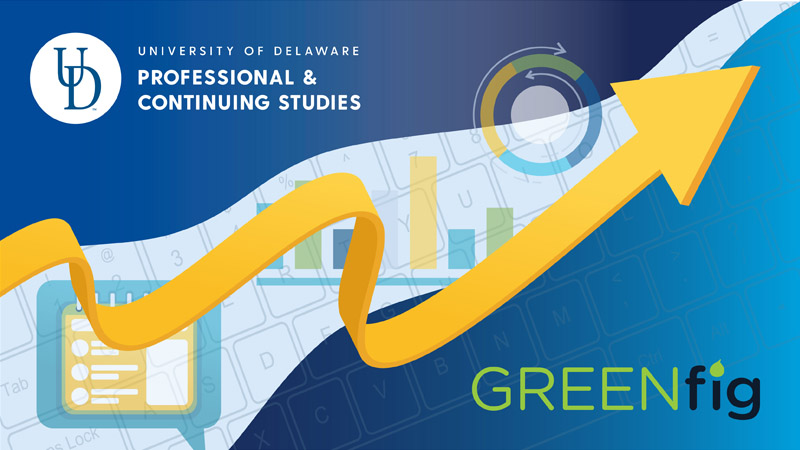 Innovative online courses start monthly

The University of Delaware Division of Professional and Continuing Studies (UD PCS) is adding Business Analytics Science Certificate and Sales Development Science Certificate programs through a collaboration with GreenFig that has included a Sales Operations Science Certificate program for several years.
Delivering innovative programs that prepare learners for the digital workforce, GreenFig combines experiential learning from industry experts with business application software and provides practical work experience for students to apply their newly acquired skills.
"When we design our programs, we use labor market data in combination with qualitative research from job-specific hiring managers to understand the specific skills needed in each career discipline," said GreenFig CEO Sara Leoni. "We don't just look at what was required a year ago or two years ago, but more importantly what's needed as we move forward. Our approach is always in collaboration with our university partners, and we are very excited to be working with the University of Delaware to be able to bring these programs to its students."
Each of the 10-week online courses have monthly start dates and provide concepts and strategies delivered via videos featuring industry professionals and structured content, hands-on practice to master the concepts with real-world projects and feedback, and weekly, optional, live-online sessions that allow participants to connect and engage with their instructors and classmates. Students in the Sales Development Science and Sales Operations Science programs gain Salesforce Trailhead badges, and students in the Business Analytics Science program are prepared to take the Tableau Desktop Specialist Certification exam.
"Our goal is to help individuals gain the business context and really bring it in alignment with the tools and technology that are available today," said Leoni. "We're big believers in the application, so it's not just about learning. We want to make sure that we're using that learning to apply it in a real-world situation or scenario."
Business Analytics Science Certificate
Business analytics refers to the skills, technologies and practices for continuous iterative exploration and investigation of past business performance to gain insight and drive business planning. The Business Analytics Science Certificate program covers the key areas required to be effective at utilizing data to help an organization optimize its business processes by making better, more informed decisions.
In 2021, LinkedIn ranked business analytics as one of the top 10 skills most needed by U.S. companies. The world was expected to produce 50 times more data than in the last decade combined.
"Business analytics is all about those skills and technologies that really help us explore data and investigate past performances, use data to understand what happened and why, build learnings, and then drive insights and actionable optimization as part of your business planning," said Leoni. "Our goal is to help prepare students to leverage that data to make data-informed actionable decisions."
Sales Development Science Certificate
Sales development is the field, process or team that focuses on the early stages of the sales cycle, including customer research, prospecting, initial engagement and lead qualification. The explosion of new technologies has transformed selling activities within any sales team. Tools, data, analytics, protocols and processes now play as big a role as persuasion and persistence. The Sales Development Science Certificate explores the science behind these activities and the data-driven strategies for developing, managing and converting sales leads and pipeline into revenue.
"Sales development is really all about how we think about growth for our organization, how we really build the process team that focuses on the early part of the sales cycle," said Leoni.
With more than 1 million sales jobs in the United States focused on technology-related products, at an average estimated annual income of $80,000, Leoni said sales offers an excellent chance to enter the technology world.
"Sales is a great opportunity to get your foot in the door to an organization, really learn the products, the market and basic foundations of the company and then be able to use that knowledge and experience as you go into other areas," said Leoni.
Sales Operations Science Certificate
Sales operations refers to the activities and processes that support, enable and drive front-line sales teams to sell better, faster and more efficiently. From 2018 to 2020, Leoni said the number of sales operations professionals in the United States increased by 38%, which equates to a growth rate that was 4.8 times faster than the sales function overall.
The Sales Operations Science Certificate program is designed to cover the key areas required to be effective at driving the productivity and capacity of a company's selling resources.
"This course is meant to give students pretty in-depth insights in terms of how some of the most effective sales operations leaders have really built the right strategies for their organizations," said Leoni. "We spend a lot of time on the technology side thinking about CRM [customer relationship management] and how it can support the world of sales operations."
Discounts are available for the University of Delaware's Business Analytics Science Certificate, Sales Development Science Certificate and Sales Operations Science Certificate courses. For more information, visit ba.pcs.udel.edu, salesdev.pcs.udel.edu and salesops.pcs.udel.edu or call 302-831-7600.