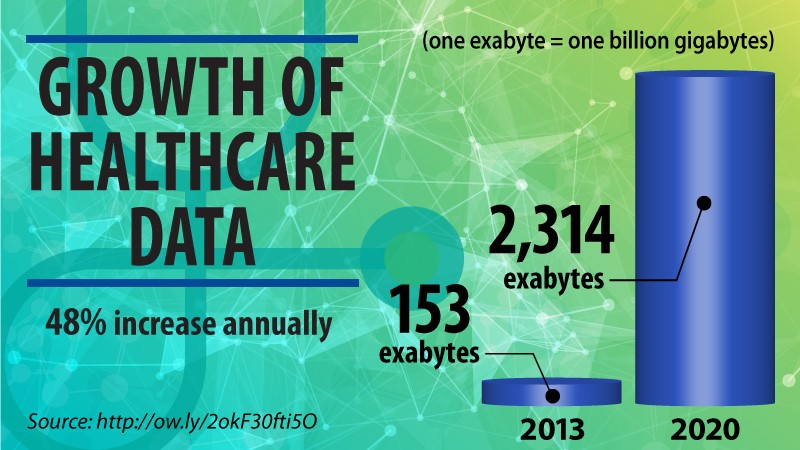 Understanding healthcare big data: Oct. 17-18 Population Health Informatics Seminar
September 27, 2017
By 2020, the amount of patient health data is expected to total 2,314 exabytes. That's the data equivalent of the entire Library of Congress more than a million times over.
Expected to grow about 48 percent annually from a myriad of data sources, the healthcare industry faces both challenges and opportunities in leveraging that data in such areas as medical research, patient experience, population health and preventive care.
"With data coming from many sources — clinicians, healthcare facilities, wearable sensors, home monitoring and more — health IT systems are working to develop strong analytic capabilities that will significantly advance the patient's and clinician's ability to use that data to improve healthcare decision making," said Susan Conaty-Buck, health information technology researcher and assistant professor of nursing in the University of Delaware's College of Health Sciences.
"One area receiving great attention is the need to help manage the large amounts of data and the tasks required to use the data effectively, especially by clinicians," added Conaty-Buck, who is also a family nurse practitioner in UD's Nurse Managed Primary Care Center. "Additional administrative work is contributing to burnout of talented healthcare professionals, and clinicians are looking for ways to spend more time with patients which ultimately improves patient and clinician satisfaction."
Participants at UD's recent Health and Big Data Forum, Conaty-Buck among them, echoed the need for clinicians and other healthcare professionals to better understand the applications and implications of healthcare data, analytics, data management and assessment.
A new two-day University of Delaware seminar, Population Health Informatics for Healthcare Leaders, aims to address this critical need by providing a foundation for understanding how big data can be leveraged to improve patient care, reduce costs and manage population health.
"With unparalleled change going on in healthcare, organizations must understand the types of data available to them and how to use that data to gain insights into their business practices and care delivery," explained Lisa Moon, a health informatics expert and lead instructor for the program, which emphasizes practical applications, tools and strategies.
"There is a knowledge gap that healthcare leaders are experiencing as the demand for data-driven practices increases," added Moon. "Understanding the practical implications is important, especially as new models of care and alternative payment are creating tensions in an already stressed environment."
Offered through UD's Division of Professional and Continuing Studies, Population Health Informatics for Healthcare Leaders takes place Oct. 17-18 in Newark. An enrollment discount is currently available by using the code UDDISC upon registration.
The program has been approved for continuing medical education credits through the Medical Society of Delaware.
For more information about Population Health Informatics for Healthcare Leaders, visit https://www.pcs.udel.edu/health, write to continuing-ed@udel.edu or call 302-831-7600.