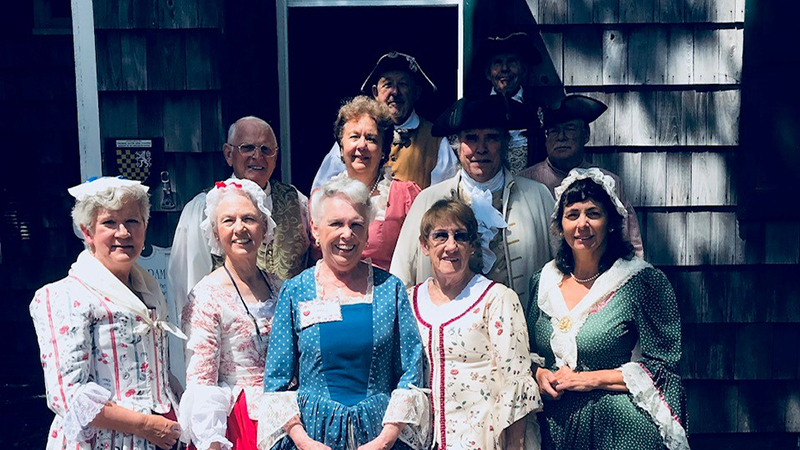 Neighboring organizations enjoy intergenerational experience
A pair of neighboring nonprofit organizations teamed up for an intergenerational experience when 12 members of the University of Delaware's Osher Lifelong Learning Institute (OLLI) in Lewes' English Country Dance class made the short trek to the Burton-Ingram House to spend an afternoon with kids from the Lewes Historical Society's Maritime Adventurers Camp.
Outfitted in Colonial attire, the OLLI representatives presented a program of 18th century dance, history, etiquette, style, fashion and culture for 17 campers ranging in age from 7 to 13 in the parlor of the historic home.
"Fortunately for us seniors, we have two members with extensive experience working with children," said Katherine Henn." Jackie McCabe teaches English country dance to kids in Dover, Delaware, and Sallie Ridgway teaches English country dance at her Colonial summer camp in Princess Anne, Maryland."
Following Ridgway's introduction to the importance of dance in Colonial society and the place of it in education, she read aloud a letter that a Colonial mother had written about the daily summer dance education she had planned for her young son and daughter. The OLLI members then demonstrated a dance and triggered some apprehension when they invited the campers to join them.
"The girls, who had dressed themselves in lace tablecloths over their clothes, informed us they were not dancing with the boys, and the boys, from their opposite corner of the room, indicated they were not inclined to dance with girls," said Henn. "But they began to get comfortable and experience the fun by first dancing with us seniors as partners. By the end of the session, Jackie had them dancing together to a child-friendly version of the Virginia reel."
J. Marcos Salaverria, Lewes Historical Society director of education, also deemed the visiting program a success and sees the potential for it to grow exponentially.
"At first, the campers were difficult to engage and keep entertained since the style was very foreign to the varied age group," said Salaverria. "But then the Virginia reel kept them all very active and moving together as a group."
Fueled by the experience with the campers, the OLLI dancers are branching out to other parts of the community. They recently conducted a demonstration and workshop at the Lewes Public Library's Shakespeare Festival and also plan to have members dancing at the Celtic Festival in Snow Hill, Maryland, Oct. 6-7, and Dover Market Days during the first weekend in November.
UD's Osher Lifelong Learning Institute in Lewes is a membership organization for adults 50 and over to exchange ideas, take classes, teach and travel in the company of their peers. The program is a learning cooperative whose members are its students, planners, instructors, committee members and facilitators. In addition to Lewes, UD offers OLLI programs in Wilmington, Dover and Ocean View.
The English Country Dance class is led by Ted Mason and Carol West. Henn said Mason and West do an excellent job choosing dances, finding the music and calling the steps.
"Everyone welcomes beginners to the classes and they are always paired with seasoned dancers who can guide them through the steps and patterns," said Henn. "As it says in our guide, 'If you can walk and smile, you can do this kind of dance.' Partners are normally changed for every dance, and nobody has to bring a partner."
For more information about the University of Delaware's OLLI Institute in Lewes, visit www.olli.udel.edu/lewes, email LLL-lewes@udel.edu or call 302-645-4111.