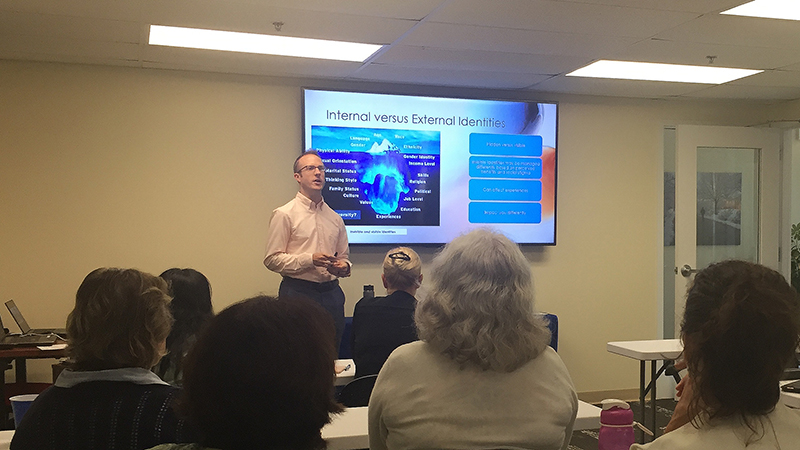 OEI conducts lunch and learn diversity workshop series for staff
University of Delaware's Division of Professional and Continuing Studies (UD PCS) staff members recently discussed various aspects of their identities and how they intersect. Along with reflecting on their own identities, they addressed identities that can wrongly be viewed as superior or inferior such as race, class, gender, ethnicity, sexual orientation, religion, age, immigrant status and language spoken.
Focusing on a holistic view of how one's various identities affect them and the people around them, the exercises were part of a workshop, "Who am I? Identity and Intersectionality," presented by Adam Foley, associate director of diversity and inclusion, of UD's Office of Equity and Inclusion (OEI).
"Just as we are not a product of one aspect of our identity, those pieces of our identity overlap on top of each other to make up our lens," said Foley.
Significant conversation was devoted to the concept of intersectionality, the interconnected nature of social categorizations such as race, class and gender as they apply to a given individual or group. Multi-dimensional and rooted in systems of power and oppression, Foley said intersectionality means people can be both privileged and marginalized. The bottom-up approach includes everyone, moves beyond single identities and group-specific concerns, and allows for more effective, efficient responses to injustice as opposed to a one-size-fits-all approach.
"When intersectionality is supported in the workplace, employees are respected and valued for all of their differences," said Foley. "Once we not only understand the many nuanced layers of our own identities, but remember that everyone we encounter has their own layers of which we are likely unaware, we can begin to interact with them in more open, empathetic and genuine ways and work to avoid some of the biases that often disrupt our encounters."
In support of the University's ongoing diversity-, equity- and inclusion-focused efforts, "Who am I? Identity and Intersectionality" was the first of nine monthly lunch and learn sessions being conducted by Foley for the UD PCS staff. Future workshops include "Dialogues on Diversity," "Unintentional Bias: The Context of Discrimination," "Keys to Intercultural Communication," "Wrestling with the P-Word Part 1," "Wrestling with the P-Word Part 2," "Understanding White Privilege," "Understanding Male Privilege," and "Understanding Heterosexual Privilege."
Classes may count toward UD's LEAD (Leveraging Equity and Diversity) Ally Certificate. The LEAD Certificate Program is a tiered series of workshops deigned to encourage participation in foundational and advanced educational offerings focused on equity and diversity.
UD PCS' efforts to align its division with the University's goal to achieve inclusive excellence have also included the formation of a Diversity Committee, which established short- and long-term goals for the division. The main purpose of the committee is to facilitate and monitor UD PCS' work toward meeting the University's six primary action items outlined in the Diversity Action Plan: recruiting, developing, retaining and promoting a diverse faculty and staff; continuing to create and retain a diverse student body; transforming learning experiences to include diversity; creating diversity-focused professional development opportunities; building community and improving the campus climate; and strengthening collaborative efforts with communities outside of UD.
"Equity and inclusion are not simply theoretical terms left to be debated in the ivory tower," said Foley. "The real-life implications of our understanding or lack thereof of human diversity surrounds us and confronts us each and every day. Diversity is not simply something we learn in a workshop and check a box to acknowledge our understanding of, but rather an overarching approach to how we live our lives and interact with the world around us. It's thus imperative that we not only understand the concepts but recognize how those ideas play out in our daily lives as we seek to better our own lives and the lives of those around us."