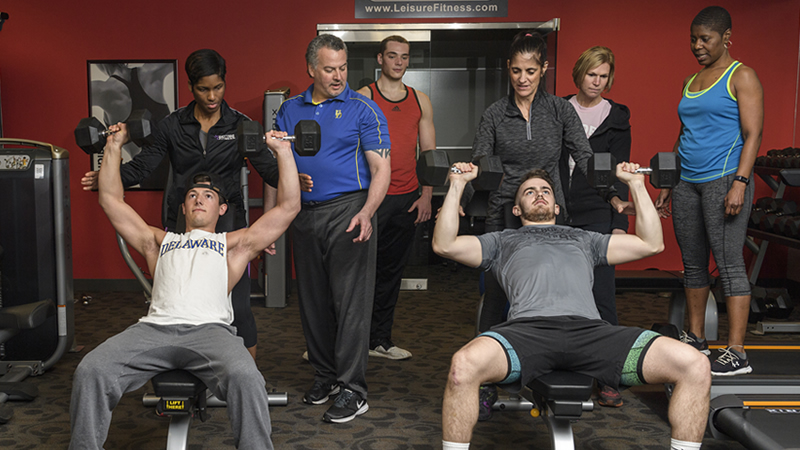 Become a personal trainer in this 15-week program
The Personal Fitness Trainer Course offered by the University of Delaware's Professional and Continuing Studies is aimed at fitness enthusiasts and other individuals who wish to enter the field as personal trainers.
The curriculum is aligned with the nationally-recognized Certified Personal Trainer (CPT) exam administered by the American College of Sports Medicine (ACSM), making the program of particular interest to those seeking a personal trainer credential. No previous experience or degree is required.
"The American College of Sports Medicine's CPT credential is one of the most widely-recognized certifications in the industry," says fitness expert Jim Menz, lead faculty member and program director for this course. "We wanted this program aligned with a credential that opens opportunity anywhere in the country, and this one does."
"The course is designed to welcome everyone and begins with the basic concepts needed to understand exercise and training, making it ideal for those seeking a rewarding career change or a new career in helping others achieve their fitness goals," added Menz, a certified strength and conditioning specialist and corrective exercise specialist with over 20 years' experience.
Fitness instructor and recent program graduate Serita Porter is currently pursuing Certified Personal Trainer certification. "Since becoming a fitness instructor, I've received many requests from people who want specialized training on an individual basis, so the personal trainer skill set and the Certified Personal Trainer (CPT) designation through the American College of Sports Medicine (ACSM) is extremely relevant," Porter said.
The 15-week program takes place at Leisure Fitness in Newark, Del., and combines classroom instruction with hands-on learning in a state-of-the-art fitness facility. Classes meet 6-9 p.m. on Monday and Wednesday evenings from Aug. 28 to Dec. 13.
The curriculum includes a detailed foundation in exercise science; anatomy and physiology; and health, medical and exercise considerations for individuals of all ages. There are no academic prerequisites to enroll in this program.
This noncredit program is offered through the University of Delaware's Division of Professional and Continuing Studies. The American College of Sports Medicine's Professional Education committee certifies that the University of Delaware is an approved ACSM education provider.
UD students and UD alumni are eligible for a discount when enrolling in this program. Other discounts include a military/veterans discount, and a group discount when two or more individuals from one business or organization register for the program. For more information, visit https://www.pcs.udel.edu/personal-trainer/, write to continuing-ed@udel.edu or call 302-831-7600.
Photo by Kathy Atkinson