University of Delaware photographers are in attendance at selected UD events, courses and programs, and their photos or videos may be used as part of future University of Delaware communication or publicity efforts, to include print, electronic and all other media, for illustration, promotion, art, publicity, advertising or other purposes.
Online class recording
The University of Delaware may record online classes and other sessions held via videoconferencing, such as Zoom, so they can be available to students who may not be able to attend the class or who may need to review for their own educational purposes. Participants' image or voice may be captured as a part of the recording. Only the host of the videoconferencing sessions will have access to the recordings. Only the host will be able to grant further access, which will be limited to those students registered in the class who have a legitimate purpose for viewing the recording. The recording will be deleted at the end of the semester. By registering for the class, you consent to being recorded and for the recordings to be viewed as described here.
In-person event photography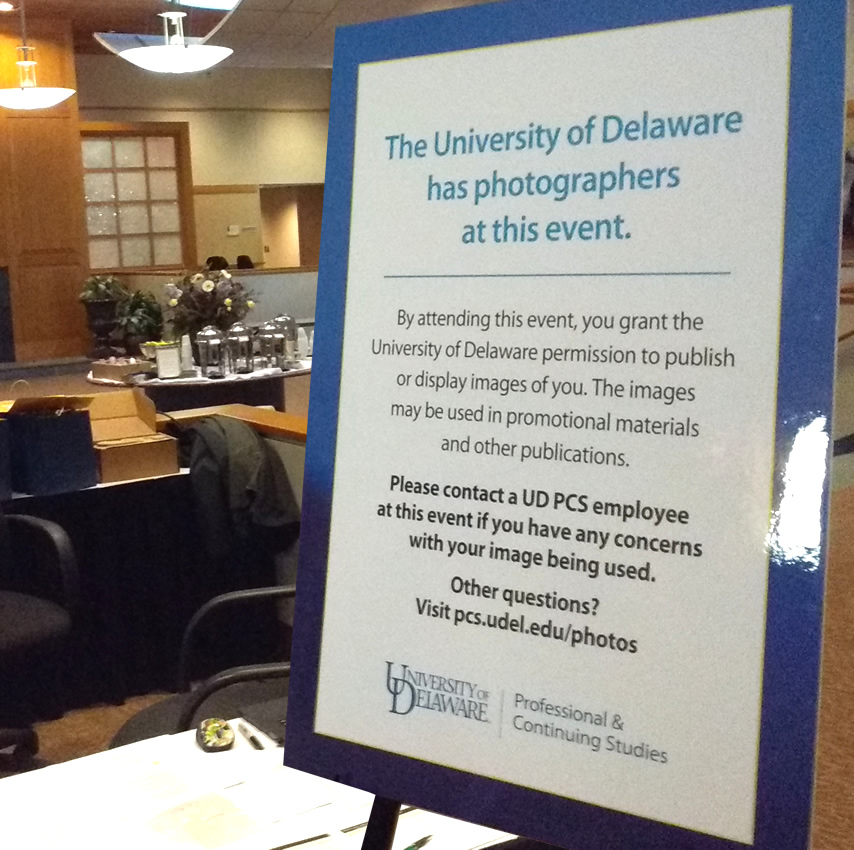 A sign indicating the presence of UD photographers is displayed at most UD events. By attending, participants acknowledge that UD photographers may be present, and authorize the University of Delaware to record or photograph their image/voice as follows:
For valuable consideration received, I hereby give the University of Delaware the absolute and irrevocable right and permission, with respect to the video, social media and/or photographs that they have taken of me or in which I may be included with others. To copyright the same in their own name or any other name they may choose. To use, re-use, publish and re-publish the same, in whole or in part, individually or in conjunction with other photographs, in any medium and for any purpose whatsoever, including (but not by way of limitation) illustration, promotion and advertising and trade and to use my name in connection therewith if they so choose. I hereby release and discharge the University of Delaware from any and all claims and demands arising out of, or in connection with, the use of the photographs, including any and all claims for libel. This authorization and release shall also ensure to the benefit of the legal representatives, licensees and assigns of the University of Delaware as well as the person(s) for whom they took the photographs, video or posted social media. I am over the age of eighteen. I have read the foregoing and I fully understand the contents thereof.
If attendees wish to decline permission, they may personally inform the event photographer, event staff, program instructor or other program staff as listed in their course syllabus or program information.