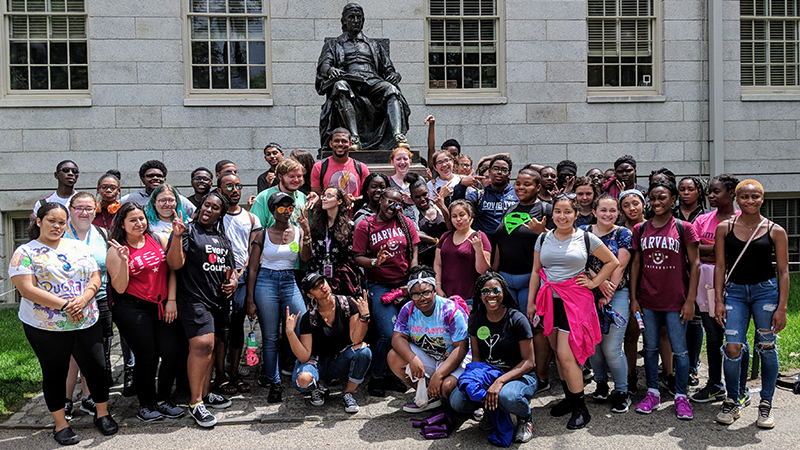 SAT Summer Institute scholarships awarded to 20 students
The University of Delaware's Upward Bound Classic program added structured SAT prep to its already intensive curriculum by utilizing 20 SAT Summer Institute scholarships contributed by UD's Division of Professional and Continuing Studies (UD PCS) and Educational Testing Consultants (ETC). The scholarships are valued at nearly $10,000.
Providing tutoring and academic support to 69 eligible high school students at target high schools in New Castle County, Upward Bound Classic students meet two evenings per week for tutoring and one Saturday a month for a variety of academic workshops, college tours and cultural trips during the academic year. The six-week residential summer program is held on UD's Newark campus and consists of English, math, science and Latin courses.
"The Upward Bound Classic program was truly honored to receive the SAT Summer Institute scholarships," said John France, academic program director. "Our students were undoubtedly grateful for this opportunity and understood it did not come to them by chance, rather from sponsors that believed in their success."
With a mission statement of "To promote each young scholar's learning experience by providing a series of specialized college preparatory services," the University of Delaware's Upward Bound Classic program is part of the federal TRIO family of programs for equality in educational opportunity for students from low-income and first-generation college backgrounds. Funded by the U.S. Department of Education, Upward Bound is free to eligible applicants.
"We were aware of the important work being done here by Dr. France and his colleagues and saw an opportunity to utilize our scholarship program to help Upward Bound further its mission," said Patricia Allen, UD PCS program coordinator. "To reach students of low income and high aspiration, the two programs seemed like a perfect fit."
The SAT Summer Institute, as well as all of UD PCS' test prep programs, are offered in partnership with Educational Testing Consultants. UD PCS and ETC have established a scholarship program to award need-based financial aid to students enrolling in the classes.
"The scholarship program enables us to reach underserved students, including those who will benefit from SAT prep and the expanded college scholarship opportunities that come with a higher score," said Allen. "Often it is the student least able to afford the course who benefits from it the most."
France said while the students have been presented with financial and academic challenges by growing up in less privileged communities, this has also helped to them to appreciate the value of a college education.
"By participating in this course, they gained the opportunity to show the colleges or universities of their choosing how far they've come academically, even if their GPA is a little lower than expected or wanted," said France. "Committed to their education and one step closer to their dreams, their educational pursuits would not be possible without generous support from scholarship sponsors like UD PCS and ETC."