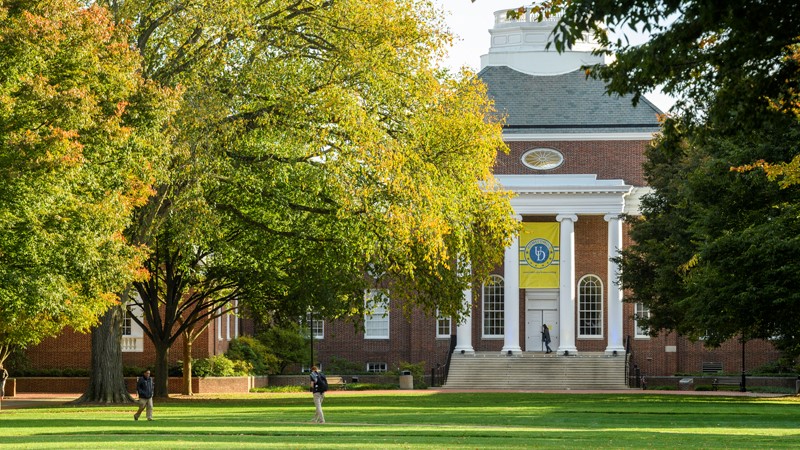 Through the Early College Credit Program, high school juniors and seniors can experience the variety of academic subjects the University of Delaware has to offer by taking introductory courses in the arts, social sciences and science free of charge. This is a great opportunity get a head start on college by enrolling in UD courses that fulfill high school and college requirements.
Coronavirus policy: As a student in a fully online program, you are exempt from University of Delaware's COVID-19 Vaccination and Booster mandates. If you plan to physically access any UD facilities while UD's COVID-19 Vaccination and Booster mandates are in effect, you must fully comply with the mandates. For additional information about UD's COVID-19 policies, see udel.edu/coronavirus.

---
How it works
Academically qualified juniors and seniors from participating Delaware public, charter and private high schools may take UD general education courses offered through the ECC program. Students may take a maximum of two courses per semester, provided they maintain good academic standing.
Upon successful completion of courses, students are awarded college credit. If admitted to UD, these credits will decrease the time to completion and cost of a UD bachelor's degree. Students can also apply UD credit toward degrees at other universities and colleges, pending approval by the receiving institutions.
Courses are taught at the introductory level by outstanding UD faculty who are leaders in their fields.
Classes include both UD undergraduates and high school students, giving students a genuine college experience before they attend college.
The ECC courses are taught asynchronously online to high school and UD campus students through Canvas (UD's learning management system). Asynchronous online courses allow students to log in and complete coursework at a time that is convenient for them each week, without live or real-time video components. Even though students have flexibility when they access the courses, there are required assignments and assessments with deadlines that the professors will list on the course syllabi.
---
Courses
The courses fulfill University of Delaware general education requirements and may be utilized toward completion of a UD undergraduate degree.
View the course schedule and descriptions here.
---
Who may participate
Academically qualified juniors and seniors at participating Delaware public and private high schools can concurrently earn University of Delaware and high school credit. Students need the recommendation of a high school official who will coordinate registration with UD through its Division of Professional and Continuing Studies.
---
Cost
There is no cost for high school students to take courses in this unique program. Courses are designed with open educational resources, which are available for free, as well as materials available through the University of Delaware Library, Museums and Press. (Note: UD has other dual enrollment programs that may include fees.)
---
Recommended qualifications to participate
UD recommends that interested students meet these academic readiness requirements in order to succeed in our college-level classes:
a high school grade point average of 3.6 or above
a minimum SAT or PSAT score of 600 verbal and 600 math
successful completion of rigorous high school classes, such as advanced placement, honors or international baccalaureate classes.
---
College credit information
Course expectations – Typically, students should expect to spend two to three hours per credit every week on work for each course. Since most University courses are three credit hours, this translates to at least six hours of study time per week in addition to time spent viewing lectures. Professors will provide students with a course syllabus that details course expectations, due dates for assignments and assessments, and the grading scale for each course.
Course credit – If a course is taken for a grade, it counts as college-level credit, and the earned credits and the grade will be reflected on the student's University of Delaware transcript. Final grades are part of the student's University of Delaware record and count toward the University GPA. If admitted to UD, the student's GPA as an incoming student will reflect these grades. Consult the University's Grading Policy for further details.
Each institution has its own policies regarding transfer credit and how it may apply toward a degree. The University of Delaware cannot guarantee that another college or university will accept these credits, although they are typically accepted with a grade of C or better. It is recommended students check with any institutions they plan to attend regarding their transfer credit policies and procedures.
---
How Delaware high schools can participate
Participating high schools are responsible for providing:
a school representative to coordinate registration and student services with the Professional and Continuing Studies ACCESS Center
a signed Early College Credit agreement with UD
---
Technical requirements to participate
Access to email and web browsing is required for all courses. Students will need access to a computer and high-speed internet to view lectures and complete assignments/assessments.
Additional software requirements may be indicated for specific courses.
---
Students needing accommodations
Students may request accommodations for courses by registering with the University's Office of Disability Support Services (DSS) prior to the start of the semester they will be enrolled in courses.
Accommodations for UD courses must be approved by DSS. High school accommodations will not automatically transfer to the University of Delaware.
---
Registration information
Students register through their school's representative and will be provided with instructions for establishing their student records and completing the registration process.
---
Code of Conduct
Once enrolled in UD courses, students are subject to University of Delaware policies and procedures. Please visit www1.udel.edu/stuguide/21-22/index.html for further information regarding the University's Code of Conduct.
---
Academic dates and deadlines

Please refer to the University's Academic Calendar for the most up-to-date information.
Spring 2022 semester: Feb. 7-May 17 (final exams: May 19-26)
Drop/Add Period: Feb. 7-18

Courses dropped during this time will not show up on the academic record (transcript). Students may also change grading status to pass/fail or listener/audit.
Withdraw/Change of Registration Period: Feb. 19-May 2

Courses withdrawn will receive a withdrawal (W) on the transcript. A withdrawal will not negatively affect the academic record or grade point average. Students may also change grading status to pass/fail or listener/audit.
Late Withdraw/Change of Grading Status: May 3-17

Changes to the academic record at this point typically require extenuating circumstances. Please contact Michelle Parnell at mparnell@udel.edu to discuss this further.
---
To change registration/grading status
Contact Michelle Parnell at mparnell@udel.edu to request a change of registration/grading status.
It is the responsibility of students to initiate this process. Failure to drop/withdraw from courses within the designated time frame may result in receiving a failing grade on the UD academic record.
It is recommended that students also alert their schools to any change in their registration/grading status.
Further information regarding grading and options are in the Undergraduate Catalog.
---
Learning management system
Students will have access to course materials via UD's learning management system, Canvas. Students can access Canvas by logging in with their UD credentials at www.udel.edu/canvas.
View an orientation for Canvas. If using a smartphone or tablet to navigate the site, please launch it in either Chrome or Safari.
---
Academic advising
Academic advisors in the Division of Professional and Continuing Studies ACCESS Center are available to discuss course options and answer questions. For assistance, email the ACCESS Center at access-advise@udel.edu or call 302-831-8843
---
Transcripts of final grades
University of Delaware students access their records to view and print unofficial grade reports (transcripts) and request official transcripts, as the University does not send this information to students. Upon completion of courses, students should refer to the information below to access their final grades.
---
For more information
Contact Michelle Parnell, director, student services, at mparnell@udel.edu.
---
UD faculty – interested in teaching in the ECC program?
Contact the Center for Teaching & Assessment of Learning (CTAL), for more information.