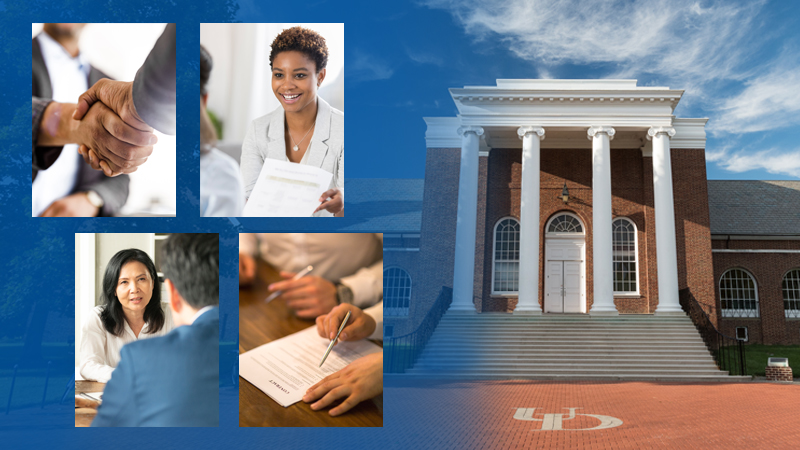 Career support for certificate program students
UD PCS expands career resources for noncredit certificate program students
The University of Delaware's Division of Professional and Continuing Studies (UD PCS) is gearing up to offer an expanded suite of career-focused resources to UD PCS certificate program participants this spring.
Starting this semester, participants enrolled in designated noncredit professional development programs will have access to resources and tools like resume review, career path coaching and mock interviewing sessions as well as access to selected career resources through the UD Career Center.
"This initiative has been in the works for some time, as it's been a recurring request from both prospective and current students as well as UD PCS graduates and faculty," said Vic Wang, director of UD PCS noncredit professional programs. "They've asked us about extra career resources to help navigate a career change, optimize their job search and maximize potential opportunities that may come with adding a new credential to their resumes," added Wang. "With the launch of this initiative, we hope to address this important need at a time when many professionals continue to experience career transition and economic disruption."
"It's an exciting development," said UD's Debra Fields, the new program manager for career services at the Division of Professional and Continuing Studies. "In addition to directly providing some great career services to our certificate program students, we've also collaborated with UD Career Center to enable students' access to important resources that historically have been available primarily to matriculated UD students and alumni."
With a background in human services counseling and executive leadership, Fields will work with certificate program students to help assess their career goals and career paths, providing one-on-one coaching and support while they're enrolled in the UD PCS program, as well as for a follow-up period after program completion.
Students will also be able to attend UD career and networking events – both in-person and virtual – as well as participate in the Handshake network, a database of thousands of internships and jobs posted specifically for UD students and alumni.
In addition to the resources and support offered through the new UD PCS career services initiative, students can take advantage of free academic advisement and career exploration provided by the UD PCS ACCESS Center. ACCESS Center services include academic advisement, educational planning and career exploration, all offered at no cost to prospective and existing continuing education students, as well as the larger community.
The new UD PCS career services initiative will focus on students in nine UD PCS certificate programs: Advanced Social Media Marketing, Advanced Telehealth Coordinator, Business Analysis, Clinical Trials Management, Foundations of R for Data Analysis, Fundamentals of Social Media Marketing, Paralegal, Predictive Analytics and Data Mining, and Project Management.
All are short-term professional development programs enabling professionals to add relevant credentials or skills to their resumes. Most programs are currently offered online in a live videoconferencing or self-paced format and can be completed in about three months. Additional details are available at upcoming UD PCS virtual information sessions.