Learn project management best practices and theories
LEARN MORE about the program by watching a presentation from our fall 2020 virtual information session.
Understand the roles and functions of the project manager
Take the first step to attaining the Project Management Institute's (PMI®) Project Management Professional (PMP®) designation
10-week live-online course — September 14-November 16 or October 7-December 9 — REGISTER NOW!
Discounts, payment plan, scholarships available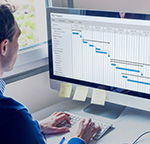 Successful companies and organizations in all fields use project management to achieve breakthrough results. The powerful and versatile tools of project management are transferable to any work environment around the world and can be used to manage any project, no matter how complex. In addition, project managers earn excellent salaries.
To be a successful project manager, you need to understand business requirements and also know how to effectively plan, organize, control and lead a project through its entire life cycle. This certificate gives you hands-on experience with practical tools, including the use of software, risk assessment and team techniques that support effective project management. It is also a great starting place to fulfill the requirement of project management education hours for the Project Management Institute's (PMI®) Project Management Professional (PMP®) designation.
Check out our online project management Self-Paced Programs, which include a large selection of Agile, exam prep and strategy, Microsoft® Project, and PDU bundle classes. — LEARN MORE
We also have a new IT Project Management Certificate program that is geared toward professionals from a variety of project management and IT backgrounds and focuses on Waterfall, Agile and Hybrid methodologies. — LEARN MORE
---
Program details

Project Management Certificate
LOCATION: Live-online
SCHEDULE: September 14-November 16, 2020 — Mondays, 6-9:30 p.m.
or
October 7-December 9, 2020 — Wednesdays, 6-9:30 p.m.
PRICE: $2,595, optional textbook not included. Payment plan, scholarships and potential discounts available, including: Early registration, Military, UD student or alum, 2 or more (group).
OPTIONAL TEXTBOOK: The following textbook, which is available from multiple online vendors but not required for this program, can be purchased or rented: Project Management Theory and Practice, Gary L. Richardson and Brad M. Jackson, Third Edition, ISBN-13: 978-0815360711; ISBN-10: 0815360711.
CONTACT HOURS: 35
---
Who should participate in this program?
Newly appointed or aspiring project managers
Experienced project leaders who want to take their management skills to the next level
Managers who want to apply the discipline of project management to make their organizations more effective and more competitive
Business and management professionals who want to enhance their planning and resource management knowledge
Project managers seeking an entry into the Project Management Institute's PMP® (Project Management Professional) certification process
---
Instructors
Glenn Kmecz is a registered professional engineer (PE) and a certified Project Management Professional (PMP). Kmecz received both his B.S. and M.S. degrees in mechanical engineering from the University of Missouri and recently completed a 40-year career with DuPont. As the engineering director for one of the company's business units, he was responsible for the development and management of its strategic capital investment portfolio. During his career, he managed several large projects in Europe, Asia and the Americas.
Kmecz, who teaches project management at several institutions, served as the director of education for the Project Management Institute-Delaware Valley Chapter (PMI-DVC). He started his own consulting firm, Sustainable Project Solutions, in 2013 and has provided project management consultation for numerous multinational companies. His volunteer activities include leadership positions with the Boy Scouts of America and Junior Achievement of Delaware.
Ron DeLuca, MCPM (Master Certified Construction Project Manager) and PMP (Project Management Professional), is the director of UD's Project Management Certificate Program and has served on the board of directors of the Project Management Institute–Delaware Valley Chapter (PMI-DVC) as vice president of education and development.
For several years, DeLuca has taught corporate outreach project management training programs for pharmaceutical, informational technology, government and nonprofit organizations. He also teaches project management at the Temple University Fox School of Business and for the National Association of Home Builders, including the American National Standards Institute (ANSI) courses, sanctioned by the American Institute of Architects (AIA). He is a licensed instructor for the Pennsylvania, New Jersey and Delaware real estate commissions and the Pennsylvania Board of Certified State Appraisers.
DeLuca is president and founder of DeLuca Project Management & Associates, Inc., a company specializing in project and construction management. After securing financing at 21.99%, he completed his first speculative major building project in 1983. Since then, his projects have been showcased in publications, including a front cover story in Builder+Architect magazine. He has been a featured guest on radio and television, and consults as an expert witness concerning construction liability cases for the TASA Group. He was elected president of the Builders Association of Chester and Delaware Counties in Pennsylvania and has served on the board of directors at both the state and national levels.
---
Course outline
UD's Project Management Certificate program has been updated to align with PMBOK® Guide – Sixth Edition
Module 1: Project Management Framework, Initiating and Planning
This module provides an introduction to project management concepts and the terminology commonly encountered in the world of project management. Further, it describes the constraints and benefits of project management and then presents an overview of project management standards and related disciplines. After forming project teams, students begin to identify a problem or opportunity that needs to be solved. This leads to the process of selecting and prioritizing projects. Topics include:
Project Management Foundational Concepts
Standards for Project Management
Project Management Knowledge Areas
Project Management Processes
Defining Organizations and Matrixes
Determining Project Life Cycles
Selecting and Prioritizing Projects
Project teams initiate a project by completing a project charter. After completing the project charter, the project teams identify project stakeholders and develop a stakeholder register. The project teams begin the process of planning a project in earnest by conducting a risk analysis, creating a communication plan, developing a work breakdown structure and defining the required tasks. Students then estimate the duration and work for all tasks in the project. Topics include:
Summarizing Project Objectives
Project Strategy and Business Case
Developing a Project Charter
Identifying Project Stakeholders
Developing a Project Management Plan
Defining the Project Scope
Creating the Work Breakdown Structure
Identifying and Managing Project Resources
Estimating Activity Resources and Durations
Developing a Project Schedule
Cost Analysis and Budgeting
Developing a Communication Management Plan
Identifying and Assessing Project Risk
Module 2: Scheduling, Execution, Monitoring and Controlling, and Closing
This module includes planning the work involved in the project and determining the project schedule. After finalizing the project plan, the project baseline is set against which progress is tracked and performance is measured so that corrective action can be taken when necessary to meet project objectives. Topics include:
Procuring Project Resources
Refining Your Project Schedule
Tracking Progress against the Project Management Plan
Viewing Variances with Graphical Indicators
Controlling Variances
Measuring Performance and Projecting Forecast with Earned Value Analysis
Team Development and Leadership
Quality Management
Status Reporting
Closing a project formalizes acceptance of the product, service or result and brings the project or a project phase to an orderly end. As the final requirement for completion of the certificate, students present their capstone project and share lessons learned. Topics include:
Lessons Learned
Closing a Project or Phase
Archiving Historical Information
Capstone Project Presentations
Grading policy — To earn the Project Management Certificate, students must complete each module with a passing grade and earn a "C" or above as the course grade.
---
Learner outcomes
Upon completion of this course, participants will be able to:
Understand the role and functions of the project manager
Plan and manage projects using tools such as Work Breakdown Structures, Gantt charts, and PERT charts
Manage your time, budget and project team more effectively
Apply these tools immediately by completing a project plan and budget as part of the course of study
Meet the education requirements for the Project Management Institute (PMI®) credential.
Acquire practical, use-it-next-day skills to manage any project, large or small.
Gain hands-on experience using powerful, versatile tools to keep projects on track, on time and on budget.
Earn the required project management education hours toward a Project Management Institute (PMI®) certification
Earn PDUs (Professional Development Units) for recertification purpose through the Project Management Institute (PMI®)
---
About PMP® and PMI®
The Project Management Professional (PMP®) credential is the most important industry-recognized certification for project managers. Globally recognized and demanded, the PMP® demonstrates one has the experience, education and competency to lead and direct projects. The PMP® credential is offered through the Project Management Institute (PMI®). This program is an excellent starting place to attain the Project Management Institute's (PMI®) Project Management Professional (PMP®) designation, which remains the global standard for professional project managers.
The Project Management Institute was the first organization to offer a credential specifically for project managers, and continues to be one of the world's largest professional membership associations. With half a million members and credential holders in more than 185 countries, it seeks to advance the project management profession through globally recognized standards and certifications, collaborative communities, an extensive research program, and professional development opportunities.
---
Technology requirements
A laptop or desktop computer (PC or Mac) is required to participate in this class.
---
Prerequisites
There are no academic prerequisites for this program. Project managers can come from virtually any educational or experience background.
Project managers have to be able to understand and communicate both the technical and business cases for a project.
Access to a computer (PC or MAC) with internet access is required for this course. A laptop is preferred.
---
What our students say
"It was the most eclectic collection of students I've ever seen, which was great because we had a lot of diversity in terms of goals, work experience and professional backgrounds." – Tom Nesterak
"Since completing the program, I have moved into a new role managing large scale global projects." – Shams Naim
"This course introduced me to Microsoft Project, which I find to be a very useful tool."
– Ginny Kucharski
"I pursued the Project Management Certificate in order to increase my value as an employee with my company." – Randy Huber
---
---
For more information
---
---
Power Up Your Career—free online seminars
Career and personal strategies to help you navigate the current economy
TOPICS INCLUDE:
Why Writing Email Is a Skill and Why It Matters
Resiliency in Personal and Professional Setbacks
How to Speak Up in Meetings and When to Hold Back
Building Relationships through Storytelling
---