Advance your organization via social media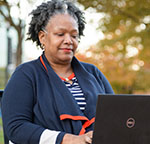 In today's ever-changing landscape, organizations need effective social media marketing strategies to reach their full potential. This program introduces students to leveraging social media to build and extend brand awareness, increase visibility, engage current and potential customers, cultivate brand ambassadors, gain new customers, promote growth and support organizational goals.
Students will learn the fundamentals and best practices—monitoring and listening, audience engagement, content curation, campaign planning and execution, tools and resources, and measuring results— for using social media for marketing on current, new and emerging platforms, including Facebook, Twitter, LinkedIn, Instagram, Snapchat, YouTube and Pinterest.
As they explore utilizing social media to support organizational goals, students will view presentations and materials at their convenience and receive detailed feedback on assigned knowledge checks throughout the self-paced course. They can also schedule a time to meet with the instructor for further discussion.
---
We also have a self-paced, online Foundations of Digital Marketing program that can be started anytime. — LEARN MORE
---
Program details

Fundamentals of Social Media Marketing Certificate – Noncredit Certificate
LOCATION: ONLINE
SCHEDULE: Self-paced class can be started anytime.
PRICE: $495, all materials included. Potential discounts available, including: Elevate Delaware funding, Military, UD student or alum, 2 or more (group).
---
Who should participate in this program?
Business owners wanting to utilize or optimize social media marketing to reach their clients
Aspiring social media managers
Marketing and communication professionals
Consultants
Nonprofit employees and volunteers
Sales professionals
Anyone looking to start a social media marketing business
---
Instructor
Nancy Dibert is the program director and chief instructor for the University of Delaware's Fundamentals of Social Media Marketing Certificate and Advanced Social Media Marketing for Business Certificate programs and a customized learning facilitator with UD's Division of Professional and Continuing Studies (UD PCS). A nationally-recognized and well-respected social media marketing expert, Dibert has developed award-winning social media campaigns for clients in government, education and private industry environments and has reached millions of people through her innovative social engagement strategies.
Dibert graduated from high school at 14 and received her first advanced degree at 17. She earned a bachelor of science in business from the State University of New York at Albany, a master of science in business administration from Penn State University and a master of science in marketing from University of Maryland University College. Dibert continues to make education a priority and is a longtime member of Mensa International.
She enjoys meeting people and sharing what she knows, both locally and on the road. Dibert has lectured on social media, strategic marketing, cross-selling, advertising, branding and other topics. A Constant Contact Authorized Local Expert and an Authorized Business Partner, she is also Google AdWords certified and HTML-certified by the HTML Writers Guild.
---
Course outline
Recorded lessons
Class 1: Introduction

Introduction to class and learning objectives
Discuss course outline as it pertains to individual organizations
Overview of course documents and tools
Class 2: Introduction to Social Media Marketing
History of social media marketing
Inbound vs. outbound marketing
Social technographics ladder
How social networks spread and shape information and influence
Rules of engagement: best practices for professional and ethical social media marketing
Introduction to social media analytics and reporting to measure the results and impact of social media marketing efforts
Classes 3, 4, and 5: Social Media Platforms
Marketing platforms, audience demographics
Platform terms, concepts, use, profiles and channel tactics to stimulate engagement and grow audience
Branding and image guidelines
Channel etiquette
Classes 6 and 7: Campaign Planning
Define social media goals and strategy
Identifying target audiences
Engaging content: planning, calendaring, creation and curation
Purpose of written, photos, video, audio and shared content
Planning, developing, executing and monitoring social media marketing campaigns
Class 8: Social Media Toolkit
Social media tools, software and resources for discovering shareable content and scheduling posts
Social listening and monitoring
Engage the audience, participate in online conversations, and outreach to current and potential customers
Creating brand evangelists
Introduction to social media paid ads and boosted posts
---
Learner outcomes
Upon completion of this course, participants will be able to:
Demonstrate an understanding of the fundamentals of content marketing and how to leverage social influence to support organizational goals for communications, marketing, public relations, customer service, lead generation, sales and human resources.
Discern and evaluate different social media platforms' scope, audiences and organizational usage benefits and risks, and which to include in the marketing mix to support organizational goals.
Utilize features on different social media platforms.
Participate effectively and ethically on different social media platforms using current compliance, regulations and legal best practices.
Identify best practices for managing social media platforms and tactics for increasing audience engagement.
Employ social media specific writing tactics to create concise, persuasive content that supports organizational, communications and marketing objectives.
Evaluate and employ social media tools and software to schedule content distribution and curation, and monitor social media conversations, mentions and current trends.
---
Technology requirements
A laptop or desktop computer (PC or Mac) is required to participate in this class.
---
Prerequisites
Students are expected to have personal social media accounts on Facebook, Twitter, LinkedIn, Instagram, Snapchat, YouTube and Pinterest.
A mobile device and access to a computer with internet connectivity is required for this course.
---
What our students say
"I walked away with tools that are going to benefit me but didn't feel so stressed because I needed to have a certain grade on a test. As long as you are engaged and attempting to participate, you are going to learn something that is going to benefit others." – Thonnia Lee
"If you are really wanting to take your business to a new level, these are the classes to take. There is a lot of work involved, but I enjoyed all of it and it was definitely worth it for me." – Ann Manley
"UD's social media classes have redeveloped my confidence in myself and my ability to interact with people. I have learned that I am not completely out of touch with millennials and Gen Zers." – Tony Powell
---
---
For more information
---
---
Power Up Your Career — free online seminars
New "Power Up Your Career" topics coming soon! We are working on the Fall 2023 line-up of our Power Up Your Career seminar series. This professional development mini-program is open to anyone looking for practical and immediately applicable career tips and resources. Click here for details!
---