Telehealth certificate faculty recognized
Program creator Carolyn Morris receives UPCEA Excellence in Teaching award
With telehealth solutions taking center stage during the coronavirus pandemic, UD's Advanced Telehealth Coordinator Online Certificate program experienced more than double the usual enrollment in 2020, and telehealth facilitators and professionals are finding their skill sets and knowledge base in high demand.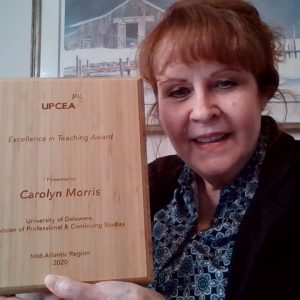 So it was especially timely this year when Carolyn Morris, UD adjunct instructor and program director of the Advanced Telehealth Coordinator Online Certificate program, earned the 2020 Excellence in Teaching Award from the University Professional and Continuing Education Association (UPCEA) Mid-Atlantic Region.
Recognized for the development, creation and leadership of the program since its launch five years ago through UD's Division of Professional and Continuing Studies, the timing underscores the relevance of telehealth expansion during the coronavirus pandemic, when Morris as well as many of the program's graduates have played a critical role in the launch and support of telehealth initiatives in Delaware and worldwide.
Morris is the former director of telehealth planning and development with Delaware Health and Social Services (DHSS) and co-chair of the Delaware Telehealth Coalition, and previously served as a planner with the Division of Services for Aging and Adults with Physical Disabilities, spending a large portion of her time developing and coordinating the activities of the Delaware Telehealth Coalition and managing DHSS telehealth projects. She also represents Delaware on the Mid-Atlantic Telehealth Resource Center's Advisory Board. Morris currently serves as manager, quality control, for DHSS.
As outgoing faculty director, Morris and incoming director Gemma Lowery are collaborating for a seamless transition.
UD alumna Gemma Lowery, telehealth program manager for ChristianaCare, recently joined UD's certificate program as lead instructor and program director. Responsible for leading and expanding telemedicine initiatives for the state's largest health system as well as one of the certificate program's first graduates, Lowery is an advocate for the use of telehealth to address a wide variety of healthcare access issues and believes the COVID-19 crisis "has shined a bright light on the value of telehealth as a significant part of our medical treatment toolkit."
Now in its fifth year, UD's Advanced Telehealth Coordinator Certificate program is focused on providing the foundations of telehealth for the delivery of healthcare, including technology evaluation, business and operational considerations, regulations, ethics, privacy and more.
Advanced Telehealth Coordinator Online Course

Starts Sept. 12, 2022
ONLINE
Leverage telehealth technologies to improve access to healthcare and manage the business aspects of telehealth. Register now or learn more.
First offered in 2016 as an on-campus class, the program was initially developed in partnership with Delaware Health and Social Services (DHSS), partly in response to the need expressed in the wake of UD's successful 2015 regional telehealth conference. Input from other Delaware telehealth initiatives such as the Delaware Telehealth Coalition, Delaware Telehealth Roundtable and Delaware's State Health Care Innovation Plan, among others, helped reinforce the need for telehealth training.
The program's present all-online format was quickly developed in response to demand from Delaware and the region.
"We knew from the start that our program would be addressing a real need within the healthcare industry to provide the training and education that would help facilitate the wider adoption of telehealth," said Lynn Fishlock, program manager for noncredit and professional development healthcare-focused programs for UD's Division of Professional and Continuing Studies.
Fishlock said, "It's extremely gratifying to see that the program and its graduates are providing some of the knowledge base that's fueling the adoption of telehealth solutions in the current healthcare environment."