Prepare to enter a rapidly growing industry
Course begins September 20
Gain practical knowledge and hands-on experience
Elevate brewing knowledge to the professional level
Optional in-person session and beer tasting at a working brewery
10-week live-online course, sessions recorded — September 20 – November 29, 2023

Discounts, scholarships available
LEARN MORE — view info session presentation
LISTEN to Brad Adelson talk about the program on WDEL
According to the Brewers Association, the record high of 9,118 craft breweries in the United States in 2021 represented a 60% increase from 2016 when there were just 5,713 craft breweries in the country. With the surge of craft breweries showing no signs of slowing down, trained brewers are in high demand.

Foundations of Brewing Science and Brewery Operations is designed to give participants looking to gain entry into the rapidly growing beer brewing industry, or transition roles within it, practical knowledge and hands-on experience to equip them with an upper hand when pursuing brewery jobs. In addition, this course provides a scientific, yet fun-filled, opportunity for homebrewing hobbyists to elevate their brewing knowledge to the professional level. Topics include beer styles and guidelines, raw materials (hops, malted barley, yeast, water), hot-side and cold-side brewing operations (with a focus on cellar operations and entry-level work), brewery safety and chemical use, brewing equipment (brewhouse, fermenters, filters), packaging, and quality.
There is also an optional in-person session at a working brewery, where participants will learn practical, hands-on aspects of the role and familiarize themselves with the brewery space. The in-person session includes an optional instructor-led beer tasting, in which participants will be responsible for the cost of their beer. Attendance at the in-person session and participation in the beer tasting are not required to complete this program.
Participants in Foundations of Brewing Science and Brewery Operations must be at least 21 years old.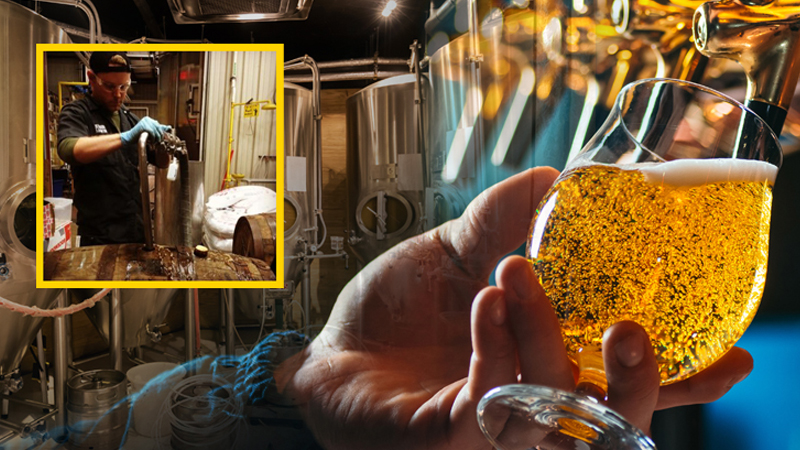 Brad Adelson was so hooked on the art and science of brewing that he went back to school and earned a second undergraduate degree in food science and technology at Oregon State University. Adelson will share his experience, expertise and passion by leading our new program. – LEARN MORE
---
Program details

Foundations of Brewing Science and Brewery Operations
LOCATION: Live-Online
SCHEDULE: September 20 – November 29, 2023 — Wednesdays, 7-9 p.m.; optional in-person session October 14, 9 a.m.-1 p.m., at 1937 Brewing Company, 777 Delaware Park Blvd., Wilmington, Del.; no class November 22 (day before Thanksgiving).
PRICE: $1,150. Scholarships and potential discounts available, including: Elevate Delaware funding, Early registration, Military, UD student or alum, 2 or more (group).
---
Who should participate in this program?
Anyone looking to make brewing a career
Anyone looking to transition roles in a brewery
Anyone looking to take their hobby/career to the next level
---
Instructor
Brad Adelson graduated from the Food Science Department at Oregon State University. With over 15 years of diverse brewing experience, Adelson has had the privilege of filling critical roles at world-class breweries around the country, such as Founders Brewing Company in Grand Rapids, Michigan, and Victory Brewing Company in Downingtown, Pennsylvania. He is currently the brewmaster for Lost Planet Brewing Company in Royersford, Pennsylvania.
---
Learner outcomes
Upon completion of this course, participants will be able to understand:
Beer styles and the differences among beer types.
The broad scope of brewing operations.
The cellarman's role and impact on quality.
Brewery chemical use and safety.
Quality aspects of beer, including off flavors and sensory impact.
How beer is packaged for consumption.
Principles of fermentation.
---
---
For more information
---
---
---