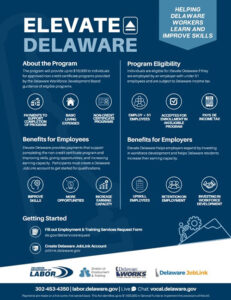 Great News! The Delaware legislature established the Elevate Delaware program to provide up to $10,000 to individuals for approved noncredit programs.
$1,500,000 in funds have been allocated for Elevate Delaware, and payments are made on a first-come, first-served basis.
If you meet program eligibility requirements, you could complete a professional development noncredit program from the University of Delaware at no cost to you!
Elevate Delaware will provide up to $10,000 to support:
Payments for noncredit professional development/training programs
Basic living expenses (if eligible)
Eligibility
You are eligible for Elevate Delaware if:
You are employed in Delaware
Your employer employs less than 51 employees
You or your employer is subject to Delaware income tax
You are accepted for enrollment in an approved noncredit program
Getting Started
To participate in Elevate Delaware:
1. Identify the noncredit program(s) in which you wish to enroll:
2. Notify your employer of your intentions to participate in Elevate Delaware.
3. Submit the Employment & Training Services Request form at de.gov/detservicesrequest.
4. Create a Delaware JobLink account at joblink.delaware.gov.
For more information, contact Elevate Delaware:
Also Applies to Customized Learning Programs!
Elevate Delaware funds can also be used for customized learning programs created specifically for eligible organizations! If you or your employer are interested in working with the University of Delaware's Division of Professional and Continuing to create and/or host a customized learning program, contact us today at continuing-ed@udel.edu.