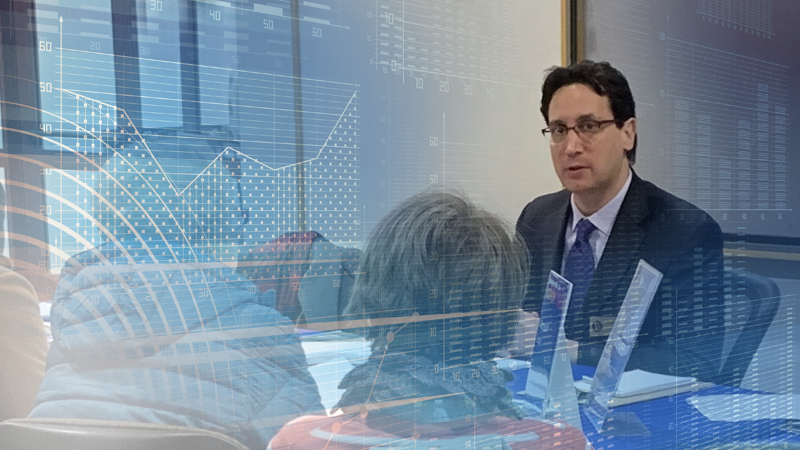 Fall essentials and advanced classes offered
Microsoft Excel instructor Mike Morris has designed his three live-online University of Delaware Division of Professional and Continuing Studies (UD PCS) courses to meet the needs of his students. As a result, participants in Microsoft Excel Advanced Concepts (Thursdays, Oct. 13-Nov. 10) learn the 10 most important functions used in the workplace:
Microsoft Excel Essentials
LIVE-ONLINE
Navigate through the Microsoft Excel application with confidence, and acquire familiarity with Excel's data management capabilities.
Microsoft Excel Advanced Concepts
LIVE-ONLINE
Work with complex datasets using advanced functions and formulas in Microsoft Excel
Microsoft Excel Advanced Reporting and Analytics
LIVE-ONLINE
Create interactive dashboard reports and data visualizations in Microsoft Excel
CONCATENATE, SUBSTITUTE
LEN, TRIM
CELL, LEFT, MID, RIGHT
UPPER, LOWER, PROPER
MIN/MAX
VLOOKUP/HLOOKUP
INDEX/MATCH
ROUND, ROUNDUP, ROUNDDOWN
CONVERT, VALUE, TEXT
Flash Fill, Auto Fill
"I have been working with Excel for many years and always seem to find that there are certain formulas and functions that people come to me with questions about," said Morris. "The top 10 most important functions are the ones, no matter where you are working, you really need to learn and use."
Morris, who holds the Microsoft Excel 2016 Expert Certification, also teaches the UD PCS Microsoft Excel Essentials (Tuesdays, Sept. 6-Oct. 4) and Microsoft Excel Advanced Reporting and Analytics (Wednesdays, Nov. 16-Dec. 21) classes. Depending on their needs and familiarity with Excel, students can enroll in any or all of the three classes and benefit from the lessons.
"Excel skills are marketable across industries," said Morris. "No matter what industry you work in, you are probably going to find yourself using Excel."
After the material is presented in each session of the hands-on courses, students are given the opportunity to immediately apply the lessons by working on related exercises. For further reinforcement, additional, optional exercises are provided for independent practice. Along with being given a reference guide summarizing the major topics and additional resources, Morris is happy to continue to provide assistance following the end of his classes.
"Students can call me with questions after the course has been completed," said Morris. "I live Excel all the time and am happy to help people out."
Discounts for the University of Delaware's Microsoft Excel courses are available. To register, or for more information, visit pcs.udel.edu/ms-excel, email continuing-ed@udel.edu or call 302-831-7600.