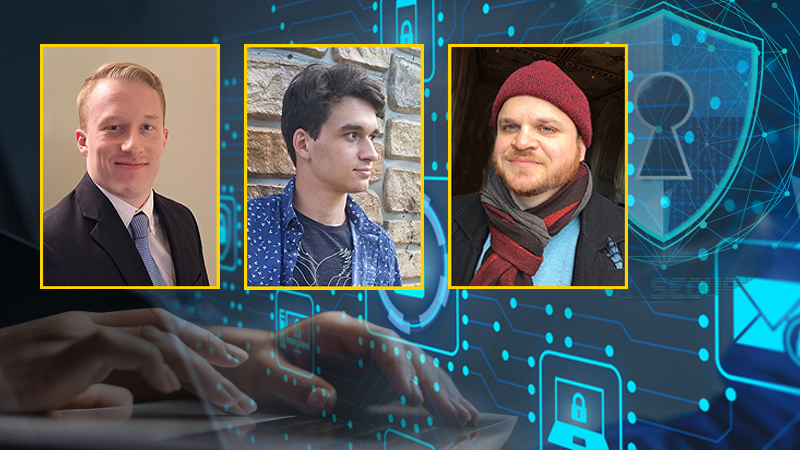 Cybersecurity fundamentals class starts March 9
New cybersecurity training leverages award-winning platform and instructors' industry expertise
What started out as a winning University of Delaware Hen Hatch entry by three recent UD undergraduates has become an integral part of a new cybersecurity training program offered through UD's Division of Professional and Continuing Studies (UD PCS).
UD alumni Jason Reynolds, Casey Rock and Dylan Martin initially created their CyberSecLab virtual network simulation platform as a research project. "As students learning in a computer engineering or cybersecurity curriculum, we mostly were learning concepts," said Rock. "At the time, there really weren't extensive opportunities to face a realistic virtual network, and practice what we were learning."
Working together, and with mentorship from UD's Hen Hatch startup competition in the Horn Entrepreneurship program, the three students were motivated to develop a cloud-based virtual environment that simulates real computer networks for use in cybersecurity training and practice activities. They eventually perfected the CyberSecLab platform and founded their Ukantu cybersecurity education business together, rechristening the practice platform as Ukantu Academy.
The main differentiator of their platform is its browser-based, cloud environment, ready for users to log in and immediately start using the platform for hands-on learning tasks. Similar software-based teaching tools require users to install and configure software on their own devices, sometimes facing issues with device and operating system compatibility.
Launching on March 9, the new UD PCS Cybersecurity Fundamentals for Practitioners and Managers developed and taught by Reynolds, Rock and Martin provides an introduction to key cybersecurity concepts and terminology, and is the first in a two-course series. Their follow-up course, the Advanced Cybersecurity Defense Certificate, in which hands-on practice in the cybersecurity training platform will be a central feature, will be offered in the fall semester.
Varied and increasing opportunities in the field
While completing their undergraduate degrees at UD, the trio were involved in multiple cybersecurity initiatives and activities. Rock worked on a team that provided security audits to small businesses; Martin led a penetration testing and offensive cyber VIP team; and Reynolds led UD's Hacking Club, helped develop a student-run penetration testing team, and was a senior member of the Blue Hens cybersecurity Capture the Flag team, which was ranked in the top 1.4% worldwide at the time.
Fast forward just a few years, and Reynolds, Rock and Martin are now all full-time computer scientists or software engineers working as cybersecurity specialists in the defense industry or in government agencies. Reynolds is also completing doctoral studies in electrical and computer engineering at UD.
And it was on the industry side of their experiences where they saw firsthand the dramatically increasing demand for professionals with cybersecurity skills at all levels.
"Cybersecurity risks, threats and challenges are increasing every day. The number of devices on the internet increases every day, with new technologies and new platforms, especially since the explosion of telehealth, telework and remote business during the pandemic," explained Rock. "Coming from a football background, I always say it's like playing defense against a hundred offenses," he added.
As a result, the industry holds opportunities at all levels, and not just at the advanced level of programmers and software engineers with specialized degrees.
The need includes a wide variety of roles and positions, from management or leadership roles where a knowledge of cybersecurity issues, and familiarity with the risks and challenges of the field, is becoming a rapid requirement for many professionals, not just cybersecurity engineers.
"There are so many avenues you can go with cybersecurity," said Rock. "Of course there are many roles that are very technical and engineering-based, but there are also significant roles involved in compliance, risk evaluation, policy, management, policies and procedures, detection and testing."
For that reason, the broader field holds opportunities for career changers from a variety of backgrounds, said Rock.
That's borne out by a 2022 report from the International Information System Security Certification Consortium, citing a worldwide gap of 3.4 million cybersecurity workers. In fact, their industry survey revealed that one important avenue for addressing the shortfall in cybersecurity professionals may be to train professionals from outside the IT or cybersecurity field.
Leveraging the virtual network platform for cybersecurity training
Rock, Martin and Reynolds came to realize that they had an opportunity to create a course around their virtual training platform, combined with their knowledge, education and experience in the industry.
At the same time, they were convinced that the right training could provide opportunities for career changers, or anyone who wanted to add this timely skillset and knowledge to their resume.
"With the Ukantu Academy platform, we realized we had a critical hands-on component that would allow us to create a unique advantage for our teaching, with a fun and realistic way to learn skills to defeat hackers," said Rock.
The virtual practice platform will be an integral part of the second course in the UD PCS cybersecurity training series, Advanced Cybersecurity Defense, planned for the fall semester. The practice platform plays a key role, providing a realistic network environment for virtual lab assignments and virtual "capture the flag" activities and hacking challenges.
Cybersecurity fundamentals class launches March 9
The first course in the training series, Cybersecurity Fundamentals for Practitioners and Managers, takes place March 9-April 27. This self-paced, online class is designed for those with little to no prior cybersecurity experience or knowledge. The self-paced content created by Rock, Reynolds and Martin is supplemented with optional weekly live-online, instructor-led sessions to discuss the virtual assignments and share knowledge between instructors and participants.
The fundamentals class covers important cybersecurity concepts, tools and terminology, and is intended as an introduction to the industry and as a steppingstone for further training in the field. For details about the upcoming course, visit https://www.pcs.udel.edu/cybersecurity-fundamentals/.