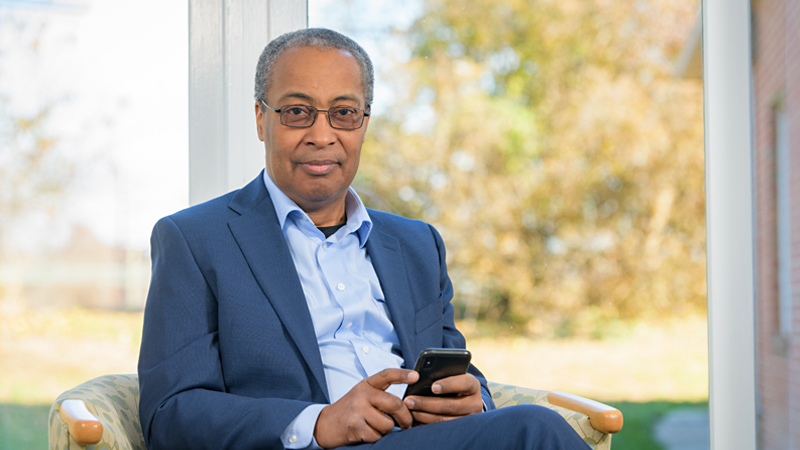 Baby boomer leads younger students
Although Tony Powell was used to being the oldest person in the classroom, the former high school English teacher did not know what it felt like to be the oldest student until his first day of the Fundamentals of Social Media Marketing program offered by the University of Delaware's Division of Professional and Continuing Studies (UD PCS).
After settling into a seat facing the front of the room, rather than standing in his more customary position at the head of the class, the 62-year-old Powell estimated that there was at least a 20-year gap between him and his next oldest classmate.
"I was intimidated and stayed silent for the first couple of classes," said Powell. "After that, I said, 'No, what I am doing? This is me; I'm a gregarious person.'''
Instructor Nancy Dibert, the founder and CEO of Epic Marketing Consultants Corporation, recognized Powell's initial uneasiness but commended him for his rapid turnaround.
"Tony looked like he felt like a fish out of water at the beginning of the fundamentals class, but as soon as we began our group project he jumped in with both feet and immediately became a team leader," said Dibert. "It's not like he tried to grab the control; it was just that he was so passionate about it and committed to it."
Students benefit from multigenerational classes
Realizing he had much more to offer than he initially thought, Powell carried that mindset into Advanced Social Media Marketing for Business and said he came out swinging in the second course. He eagerly took advantage of his knowledge from the fundamentals class, as well as his life's experiences, and embraced the chance to make connections with his younger classmates.
"UD's social media classes have redeveloped my confidence in myself and my ability to interact with people," said Powell. "I have learned that I am not completely out of touch with millennials and Gen Zers."
Though there was a wide age difference between Powell and his fellow learners, this is not the norm for UD PCS classes. In 2019, 47% of all UD PCS students were 45 or older and 17% were at least 55. Dibert appreciates the value of a multigenerational learning environment and the perspectives brought to the classroom by someone like Powell.
"As marketers, we have to get out of just our own myopic vision," said Dibert. "Tony has had many life experiences that someone in their 20s can't even imagine. He brings a whole different history and sees the world through another lens. In turn, the younger students bring insights that he may not have."
Personal social media is different than business social media
Powell describes his time in the two classes as a fascinating journey and said he has increased his social media marketing ability exponentially. An avid social media user who was embracing his passion for rhythm and blues music with a blog and a couple of Facebook pages, he was looking to do something different after retiring from his teaching career. He read the descriptions for UD's fundamentals and advanced social media marketing courses, as well as firsthand accounts provided by previous students, and was intrigued by the prospect of turning his hobby into a profession.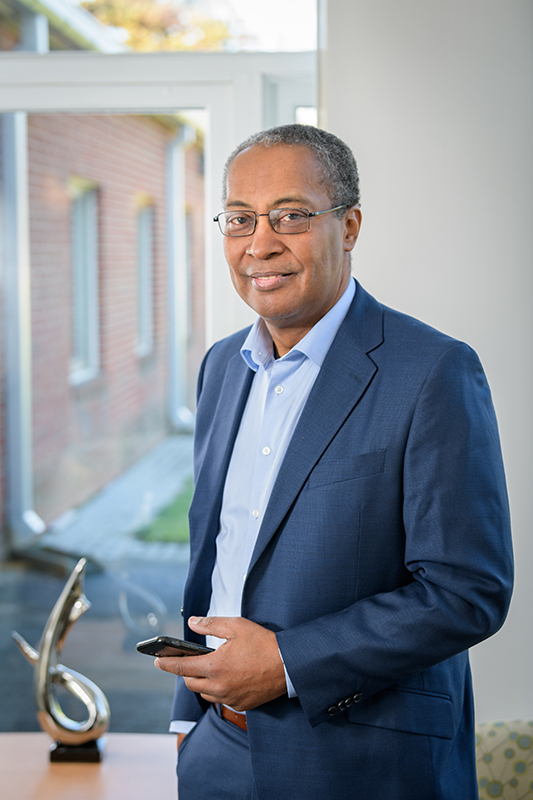 "Social media marketing is a wide open field," said Powell, who will turn 63 in February. "All you have to do is pull up Indeed and see the tons of open jobs. I said, 'Wouldn't that be crazy to start my own agency at my age.'''
Like many of the billions of social media users out there, Powell thought he knew a lot about Facebook and the other platforms available to anyone with a computer, tablet or smartphone. He quickly recognized there is a big difference between personal and business social media use and acknowledges that he had plenty to learn before assisting others.
"Every fundamentals class was a revelation," said Powell. "Prior to learning that photos and videos were really what is driving engagement on social media, I was doing a lot of updates that were text-based."
Fundamentals of Social Media Marketing focuses on leveraging a variety of social media platforms to build and extend awareness, increase visibility, converse with prospects and customers, cultivate brand ambassadors, gain market share, and support organizational goals. Powell was also especially impacted by lessons on using metrics, the importance of social listening to manage and prevent crises, and the need for hashtags.
In-person and online classes
Previously offered in a hybrid format of online and classroom sessions, Fundamentals of Social Media Marketing (beginning Feb. 18) is one of three Digital Marketing short courses being presented entirely in person over four evenings apiece on UD's Newark campus. Designed for anyone involved in the planning, implementation or measurement of digital strategies, or who would like to pursue a career in these areas, students can enroll in any of the digital marketing modules as needed or desired for professional development purposes. Fundamentals of Social Media Marketing is being followed by Search Engine Optimization (beginning March 25) and Pay Per Click Digital Advertising (beginning May 6).
Shortly after completing the fundamentals class, Powell posted his certificate on Facebook and promptly received several inquiries from organizations looking for assistance with their social media initiatives. With the support of the Delaware Small Business Development Center, he started a business and was hired by a local church as his first client.
Powell then continued his education by enrolling in Advanced Social Media Marketing for Business, which digs deeper by researching, planning, developing, integrating and executing comprehensive social media marketing strategies, integrated campaigns, targeted content and paid placement, and then measuring success. He relished the opportunity for further immersion into the platforms covered in the fundamentals class and appreciated the great emphasis placed on what needs to be done to successfully manage social media accounts.
Digital ad spending continues to rise
"The fundamentals class taught me how to build and engage an audience organically," said Powell. "You can do a lot organically, but in the advanced class we learned that you need to use advertising to get the numbers you need."
According to eMarketer's latest forecast, a major milestone will be achieved in the U.S. in 2019 when digital ad spending exceeds traditional ad spending for the first time. Digital ad spending for the year is expected to rise to $129.34 billion, which would be 54.2% of the nation's total. Concurrently, it is anticipated that traditional ad spending's share in the U.S. will dip from 51.4% in 2018 to 45.8%.
Adapting to a new learning format
Striving to accommodate more students while expanding the geographical reach of the program, Advanced Social Media Marketing for Business is conducted completely online. Consisting of 60 contact hours, the next session runs Feb. 10–May 18. Each week, participants have until Sunday to complete their assignments while continuously collaborating and working on a group project.
Powell admits that he had to adjust to the online learning format, which he had not previously experienced, especially since the advanced class includes group projects. He addressed the absence of face-to-face contact by initiating weekly video conferencing calls with his classmates.
"An online class allows you to work at your own pace," said Powell. "Because my days off fluctuate, I am not always available to attend class on a certain day. The asynchronicity is definitely an advantage."
Discounts are available for both Advanced Social Media Marketing for Business and the Digital Marketing short courses. Advanced Social Media Marketing for Business students can also participate in a payment plan. For more information, visit pcs.udel.edu/socialmedia or pcs.udel.edu/digital-marketing, email continuing-ed@udel.edu, or call 302-831-7600.