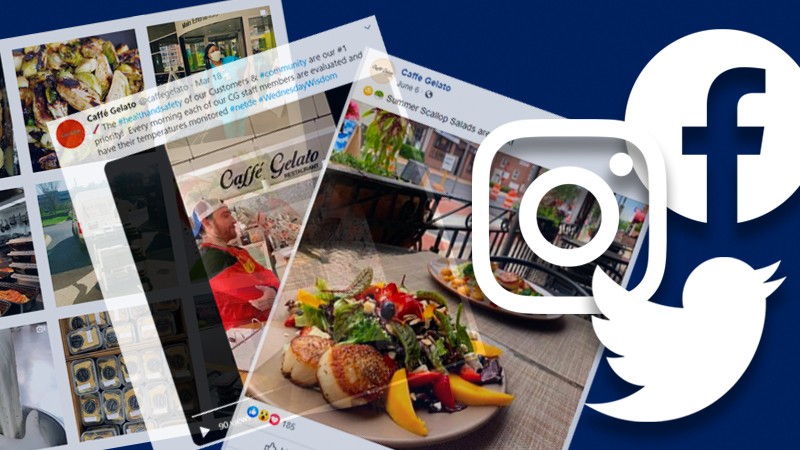 Immediately applicable lessons implemented during COVID-19 crisis
When Caffé Gelato owner Ryan German enrolled employee Kiran Wiker in the Advanced Social Media Marketing for Business Certificate program offered by the University of Delaware's Division of Professional and Continuing Studies (UD PCS), he was hoping his investment would enable Wiker to utilize the training to serve as an online voice for his restaurant on Newark's Main Street and bring more customers in the door.
Advanced Social Media Marketing for Business Certificate
Aug. 24-Dec. 6, 2020
ONLINE
Fundamentals of Social Media Marketing Certificate
Sept. 14-Nov. 8, 2020
ONLINE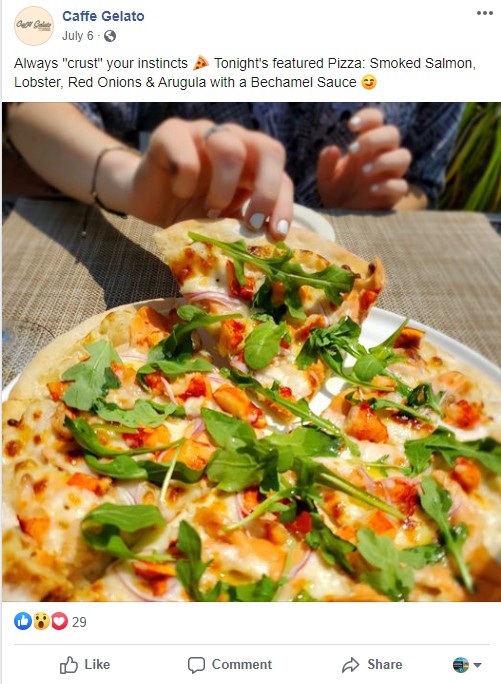 As the 15-week, online class commenced in the second week of February, neither German nor Wiker could have envisioned how the escalating COVID-19 crisis would propel Wiker's voice to the forefront of Caffé Gelato's business. Rather than using her newly acquired skills to help the business grow, Wiker was charged with doing all she could to enable her coworkers to continue to be paid, without having any patrons come through the door.
According to German, Delaware has been the third hardest hit state for restaurant layoffs during the pandemic with 60% of all staff members being let go at some point. He felt a duty not to lay off any of his staff and opted to stay open during the quarantine period. This required Caffé Gelato to rapidly pivot from being a fine dining restaurant and catering business to one that was now operating solely as a full-service takeout business. To get the word out, Wiker turned to social media and was guided by her instructor, Nancy Dibert, the founder and CEO of EPIC Marketing Consultants.
"Every lesson, lecture and piece of reading material was crucial to getting us through quarantine because I had to apply it that second," said Wiker. "I couldn't learn fast enough and was astounded by how much of the material I was able to put into practice."
Bringing followers behind the scenes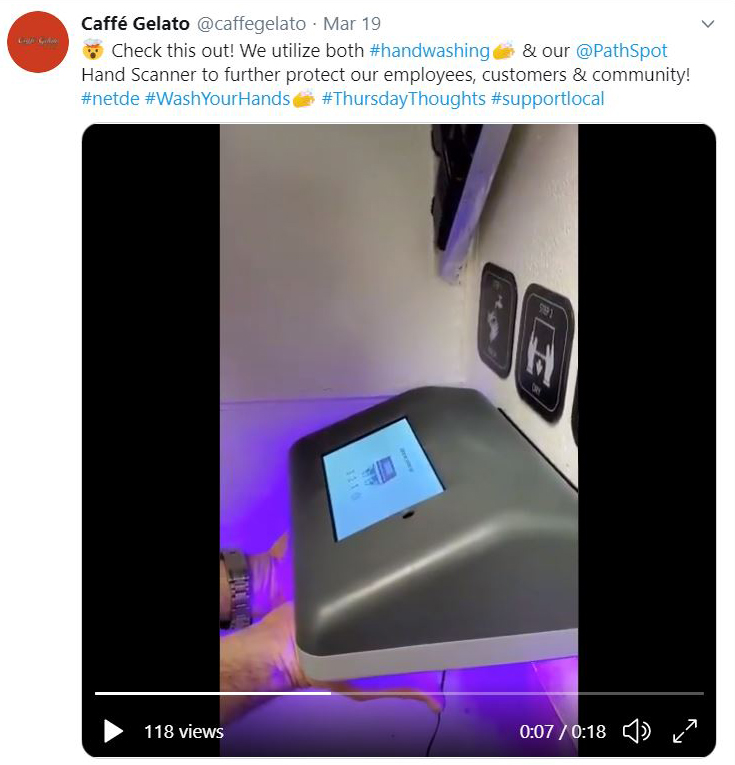 Drawing on a curriculum that includes crisis communications, decision trees and the importance of listening—along with numerous other topics—Wiker embarked on a multi-pronged approach, which included kitchen footage of the chefs making everything from scratch to let people know they can still get good, healthy food. Strategic postings, such as late afternoon visuals of dinner specials, frequently lead to numerous orders being placed for the respective selections shortly thereafter.
While it may seem obvious to post pictures of tasty dishes, which she has done plenty of, she realized that probably was not enough to convince people their meals were being safely prepared. Wiker continued to take followers behind the scenes and showed them her masked coworkers utilizing hand sanitizer and handwashing stations along with scanners that check the cleanliness of their hands. Although people could not dine in the restaurant, they were still shown what was happening on the other side of the door.
"I did not realize how much more engagement we would get by simply being present consistently and posting from the inside," said German. "If we were not doing social media, we would not have sold so many home meals. Through March, April and the early part of May, many Delaware restaurants were at 15 to 20 percent of their sales compared to a year ago. We were able to sustain quite a bit more and have not laid anyone off."
Social media is more than posting pictures
In addition to images and videos depicting what is happening in the restaurant, Wiker has kept busy engaging with social media followers and responding to requests. Many people have used the extra time at home to do more of their own cooking, and the Caffé Gelato marketplace has provided numerous ingredients, including yeast for the suddenly popular activity of baking bread, as well as eggs, artisan cheeses, Kalamata olives and numerous other items.
"Social media isn't just posting pictures," said Wiker. "You are also doing online customer service, and you have to be fast. If you take care of problems, are pleasant and communicate well, you get return customers."
Supporting the community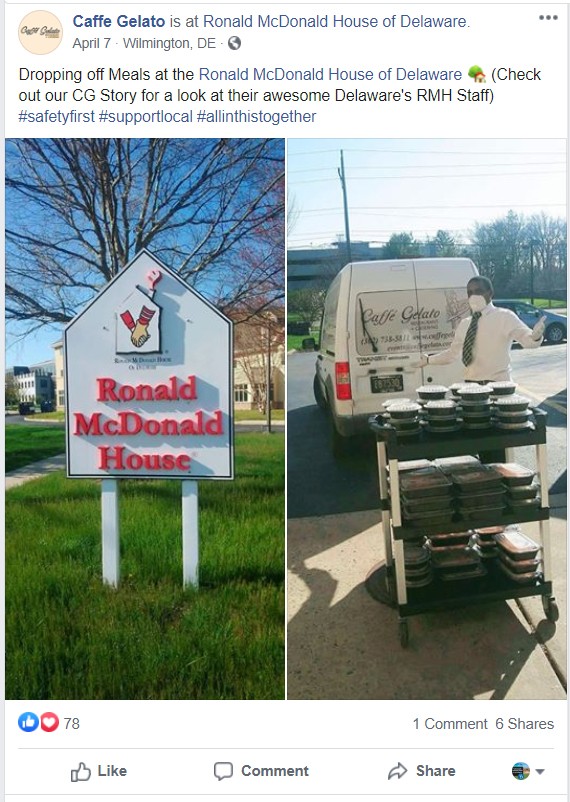 Wiker has also used Caffé Gelato's social media platforms to help the community. Beneficiaries of a campaign featuring the donation of one free meal for every takeout order placed at the restaurant have included workers at ChristianaCare, Ronald McDonald House and the Limen House.
The Delaware Restaurant Association predicted that 20% to 30% of the restaurants in the state would likely close permanently due to financial hardships. Noticing that many restaurants had gone silent and were not doing any social media, Wiker wanted to help the neighboring establishments continue to remain open. In conjunction with the Takeout Tuesday program launched by the Delaware Division of Small Business, Caffé Gelato staff members have ordered from different eateries on Main Street and posted images of the meals on social media.
Throughout the month of May, Wiker aggressively promoted Mental Health Awareness Month by sharing numerous messages from heath organizations throughout the state. She has also spread the word about the Food Bank of Delaware's needs.
"If you can offer people information, public education and other news they might not be receiving, they can pass it along to someone who might need it," said Wiker.
Expert instruction pays dividends
Wiker, a UD graduate with a bachelor's degree in political science, greatly credits Dibert for putting her in position to succeed.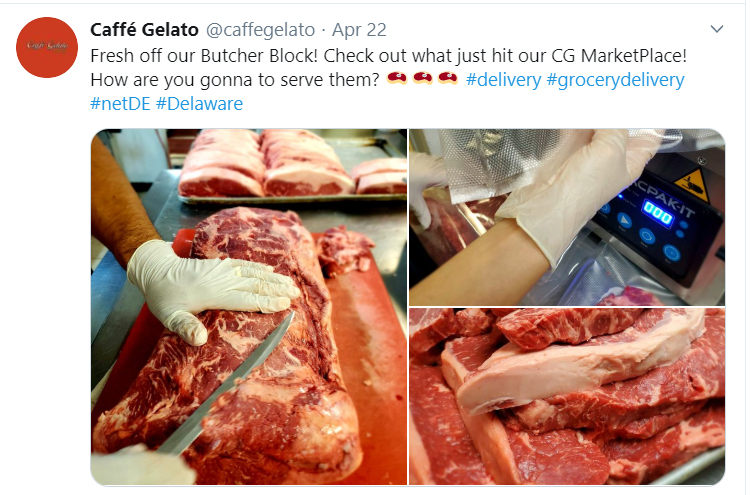 "Nancy is one of the best instructors I have ever had," said Wiker. "Her lectures and class lessons became gospel to me. There were nights I would leave the restaurant after putting in a 12-hour day, feed my kids and put them to sleep, and study until 1 or 2 a.m. because I knew how important it was."
German describes the improvement in his restaurant's social media as night and day and can clearly see how well Wiker has grasped the lessons.
"The class has worked out even better than I expected, and my investment is paying dividends," said German. "Through her social media marketing, Kiran has been able to make sure that we have not laid off any workers at Caffé Gelato."
The next session of Advanced Social Media Marketing for Business Certificate begins Aug. 24. For those seeking introductory level education, UD PCS also has an eight-week, online Fundamentals of Social Media Marketing Certificate class starting Sept. 14. Students interested in UD's Social Media Marketing program are encouraged to find out which course best fits their needs by completing the self-assessment questionnaire at pcs.udel.edu/socialmedia.
Discounts and payment plans are available for both courses. For more information, visit pcs.udel.edu/socialmedia, email continuing-ed@udel.edu or call 302-831-7600.