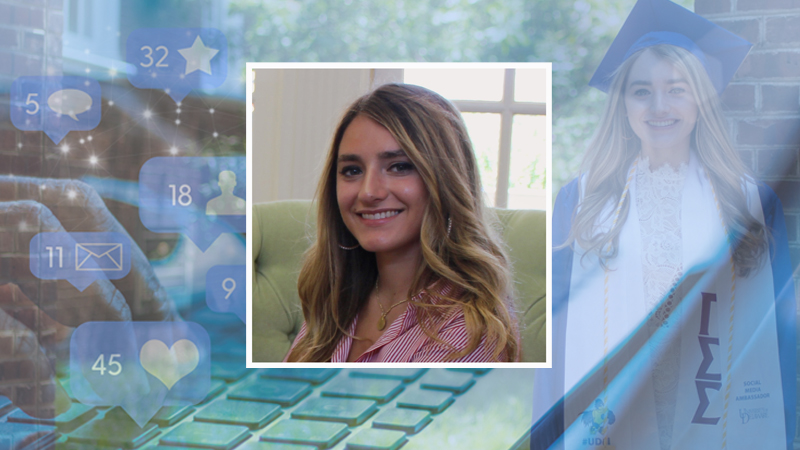 Social media training helps student excel professionally
Not knowing what she wanted to do with her life was a key factor in Lauren Conforti's decision to enroll at the University of Delaware as an undergraduate in 2015. Five years later, she reenrolled at UD as a continuing education student because she knew exactly what she wanted to do, how she wanted to do it and what provider she wanted to do it with.
Advanced Social Media Marketing for Business Certificate
ONLINE
Fundamentals of Social Media Marketing Certificate
ONLINE
A native of East Hanover, New Jersey, Conforti said she was aware of the University's strong reputation and found it to have an attractive campus with friendly people when she visited as a high school student.
"It is a nice starting place for people who might not know exactly what they want to pursue because there are so many options and avenues you can explore," said Conforti. "I am glad that I chose the University of Delaware. It was a good playing ground for taking different classes."
Conforti's classes led her to a bachelor's degree in English in 2019. As an undergraduate, she gained valuable experience outside the classroom by participating in a variety of activities, including serving as a University of Delaware social media ambassador. In this role, which she was honored to be chosen for, she shared her experiences at UD with fellow and prospective students on Twitter and Instagram.
Returning to UD from afar
Following her graduation, Conforti moved back to New Jersey and continued to increase her social media proficiency through several part-time jobs. Looking to further develop her skill set and beef up her credentials in an online program, she "returned" to her alma mater in fall 2020 as a virtual student in the Fundamentals of Social Media Marketing Certificate program offered by the University of Delaware Division of Professional and Continuing Studies (UD PCS). The course introduces utilizing social media to build and extend brand awareness, increase visibility, engage current and potential customers, cultivate brand ambassadors, gain new customers, promote growth, and support organizational goals.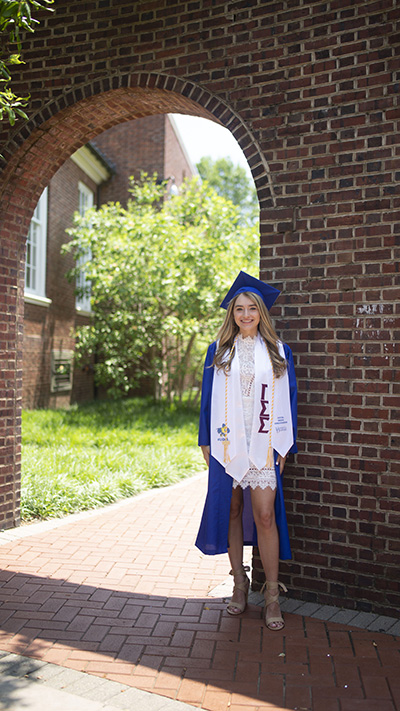 "The virtual format was great, and I couldn't have imagined it being in person because the nature of social media work is all online," said Conforti. "It was still personal and focused, and I always joined the Zoom office hours."
UD's name recognition
Though there were many organizations offering social media training to choose from, it did not take long for her to decide that the University of Delaware would be the best option for her.
"Some people tout professional development from places I never heard of," said Conforti. "If there is going to be time, money and energy involved, I want it to be at the school that I trust."
Class paves way for full-time job
Shortly after completing the Fundamentals of Social Media Marketing Certificate program, Conforti began a full-time position at 240 Tutoring, a Texas-based company that offers online study guides to help teachers prepare for certification exams. Initially hired as a customer care agent, she quickly leveraged her newly acquired knowledge from the UD PCS fundamentals class to transition to 240 Tutoring's first position devoted solely to social media. Her title of social media coordinator was recently changed to social media and community manager to more accurately reflect the scope of her role. Working remotely from New Jersey for 240 Tutoring, she creates content for Facebook, Instagram, LinkedIn, Pinterest, TikTok and Twitter and oversees five exam-specific Facebook groups.
Expert instruction
Boosted by the confidence she obtained from the fundamentals class and the desire to excel at her new job, Conforti participated in the spring 2022 offering of the UD PCS Advanced Social Media Marketing for Business Certificate program. She was eager to take a second class taught by Nancy Dibert, program director and instructor for the UD PCS Social Media Marketing program and CEO of EPIC Marketing Consultants.
"Nancy was great and always available," said Conforti. "We spoke on the phone multiple times, and she was a big selling point for me to do the second program."
Immediately applicable skills
Participants in the advanced, online class master skills to drive engagement through targeted, innovative social media marketing campaigns, gaining firsthand experience with industry standard tools such as Sprout Social and Rival IQ. Whereas the fundamentals class made Conforti a stronger candidate for employment, the advanced class enabled her to immediately apply what she was learning to benefit her employer.
"For my assignments, I was sending Nancy posts for my company's real-live social channels," said Conforti. "This was real-life. I took her honest feedback and worked it into my current role. There is no price tag on that. She was a mentor who helped me not only better my professional development but also the development of my company."
Committed to lifelong learning
Rather than waiting until she was established professionally, Conforti felt it was important to engage in lifelong learning throughout her career and has no plans to slow down.
"That's kind of who I am; I am always learning," said Conforti. "I am very adamant about lifelong learning for everyone, regardless of what field they are in and what interests they have. The second you stop learning about new features, updates and industry news, you are out of the game essentially. You have to keep learning and keep on moving, and UD helped me continue after I graduated."
Classes open for registration
The fall session of the University of Delaware's Advanced Social Media Marketing for Business Certificate program begins Sept. 6. Fundamentals of Social Media Marketing Certificate is in the process of being converted to a self-paced program that students can start anytime. Discounts are available for both courses. For more information, visit pcs.udel.edu/socialmedia, email continuing-ed@udel.edu or call 302-831-7600.