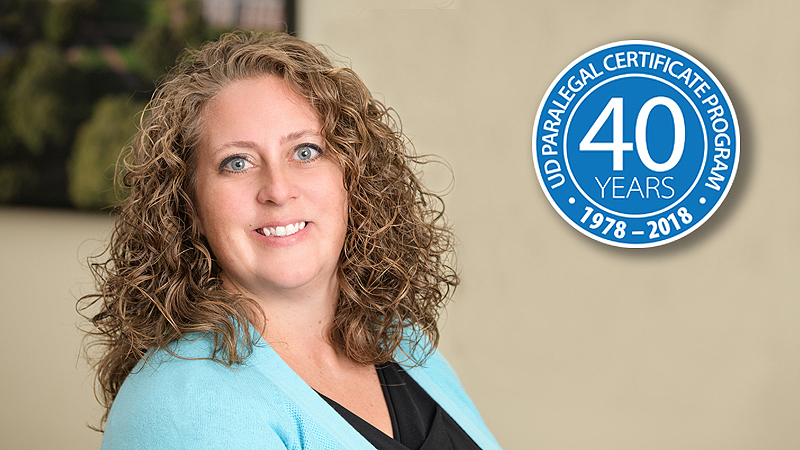 The National Association of Legal Assistants traces the development of the paralegal career to the late 1960s, when law firms and individual practitioners were seeking to improve the efficient and cost-effective delivery of legal services. Assisting lawyers in this role, paralegals' duties often include conducting legal research, preparing presentations, interviewing clients, drafting legal documents, and guiding law office administration. The first paralegal training programs were established in the early 1970s, and the University of Delaware was near the forefront with the introduction of its curriculum in 1978.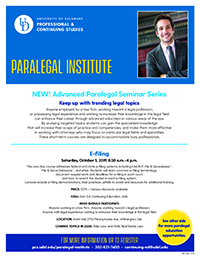 Complementing its long-running Paralegal Certificate Program, the University of Delaware's Division of Professional and Continuing Studies (UD PCS) is introducing the Advanced Paralegal Seminar Series.
Prepare for a career as a paralegal or legal assistant
Mondays and Wednesdays, 6-9 p.m.
September 4, 2019 – July 22, 2020
Working with attorneys or under permission granted by statutes, paralegals fill a vital role in the legal community. The American Bar Association has recognized the position of paralegal as an important factor in helping the legal profession meet the increasing demand for legal services. Taught by a faculty of experienced attorneys, the program covers the American system of law, court systems and procedures, and legal research and writing, and introduces the major branches of law.
$3,650 – Various discounts available
Advanced Paralegal Seminar Series
Keep up with trending legal topics
Anyone employed by a law firm, working toward a legal profession, or possessing legal experience and wishing to increase their knowledge in the legal field can enhance their career through advanced education in various areas of the law. By studying targeted topics, students can gain the specialized knowledge that will increase their scope of practice and competencies, and make them more effective in working with attorneys who may focus on particular legal fields and specialties. Designed to accommodate busy professionals, these short-term courses consist of 12 hours of classroom instruction.
Advanced Paralegal Seminar Series: Intellectual Property Law

Trademarks, copyrights, patents and more
Mondays, 6-9 p.m.
March 18 – April 8, 2019
This course offers an introduction to the various types of intellectual property, such as trademarks, copyrights, patents and trade secrets. Students will be provided with a greater understanding of what constitutes intellectual property as well as the legal steps that may be required to create, protect and defend it. Discussion topics include how each type of intellectual property is created, how protection may be granted, how rights in intellectual property may be enforced, and how intellectual property may be utilized in business.
$475 – Various discounts available
Interested? Please fill out the questionnaire below.
Advanced Paralegal Seminar Series: Family Law
Apply legal concepts to actual scenarios
Wednesdays, 6-9 p.m.
June 5-26, 2019
Premarital and postmarital agreements, domestic violence, divorce, child custody, child support, spousal support, and division of marital property are covered in this introduction to family law. In addition, students will learn about the overall process in family court, including initiating a divorce, custody or support case in the appropriate jurisdiction. Lectures address the theoretical concepts in family law and the practical application of family law to actual scenarios.
$475 – Various discounts available
Interested? Please fill out the questionnaire below.
Advanced Paralegal Seminar Series: E-filing
Get brought up to speed on electronic filing in one day
Saturday, 8:30 a.m.-4 p.m.
Fall 2019 – Date TBA
This one-day course addresses federal and state e-filing systems, e-filing terminology, document requirements, court deadlines and searching dockets.
$375 – Various discounts available
Interested? Please fill out the questionnaire below.
Future Advanced Paralegal Seminar Series topics
Elder Law and Wills
Real Estate Law