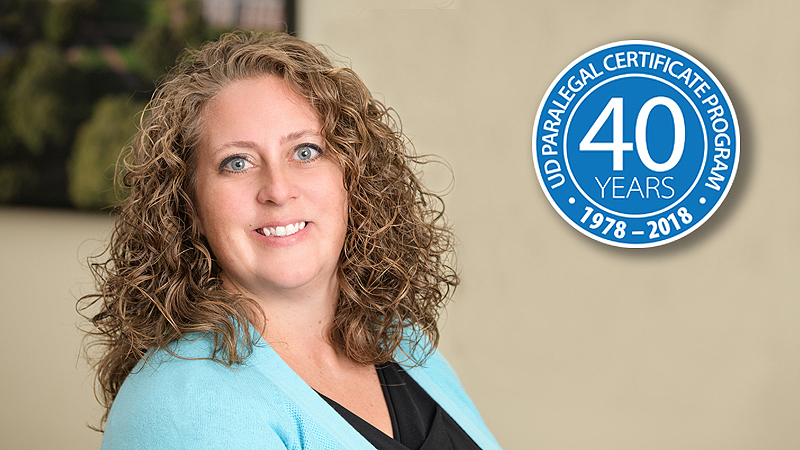 The National Association of Legal Assistants traces the development of the paralegal career to the late 1960s, when law firms and individual practitioners were seeking to improve the efficient and cost-effective delivery of legal services. Assisting lawyers in this role, paralegals' duties often include conducting legal research, preparing presentations, interviewing clients, drafting legal documents, and guiding law office administration. The first paralegal training programs were established in the early 1970s, and the University of Delaware was near the forefront with the introduction of its curriculum in 1978.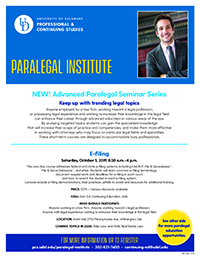 Complementing its long-running Paralegal Certificate Program, the University of Delaware's Division of Professional and Continuing Studies (UD PCS) has introduced the Advanced Paralegal Seminar Series.
Prepare for a career as a paralegal or legal assistant
Mondays and Wednesdays, 6-9 p.m.
Aug. 31, 2020-July 21, 2021
Working with attorneys or under permission granted by statutes, paralegals fill a vital role in the legal community. The American Bar Association has recognized the position of paralegal as an important factor in helping the legal profession meet the increasing demand for legal services. Taught by a faculty of experienced attorneys, the program covers the American system of law, court systems and procedures, and legal research and writing, and introduces the major branches of law.
$3,800 – Various discounts available
Advanced Paralegal Seminar Series
Keep up with trending legal topics
Anyone employed by a law firm, working toward a legal profession, or possessing legal experience and wishing to increase their knowledge in the legal field can enhance their career through advanced education in various areas of the law. By studying targeted topics, students can gain the specialized knowledge that will increase their scope of practice and competencies, and make them more effective in working with attorneys who may focus on particular legal fields and specialties. These short-term courses are designed to accommodate busy professionals.
Advanced Paralegal Seminar Series: Real Estate Law

Mondays, 6-9 p.m.
March 9-30, 2020
Assisting students in mastering the elements of real property, topics include preparation and recording of deeds, rights associated with real estate ownership, elements of a real estate contract, mortgages and the financing of real estate, restrictions on land use, title insurance and title examination, real estate closing process, and tax implications of real estate transactions.
$475 – Various discounts available
Interested? Please fill out the questionnaire below.
Advanced Paralegal Seminar Series: Elder Law and Wills

Wednesdays, 6-9 p.m.
June 3-24, 2020
There are two aspects to elder law, one of the fastest growing segments in the profession: helping clients age with grace and dignity, and planning with them for the protection of their estate upon their passing. Providing paralegals with legal concepts, as well as the practical application to real-life scenarios, this course delves into both aspects by addressing keys topics and examining recent trends.
$475 – Various discounts available
Interested? Please fill out the questionnaire below.
Advanced Paralegal Seminar Series: Advanced Legal Research and Writing

Wednesdays, 6-9 p.m.
Sept. 23-Oct. 21, 2020
Whether professionals regularly conduct legal research or have not done so in a long time, this hands-on course helps develop the essential skills needed to become more effective in the process by addressing the latest advancements. Topics include the use and identification of primary and secondary sources, including case law and statutory law, and the use of authority validation to expand research and data analytics to target the most beneficial results.
$595 – Various discounts available
Interested? Please fill out the questionnaire below.