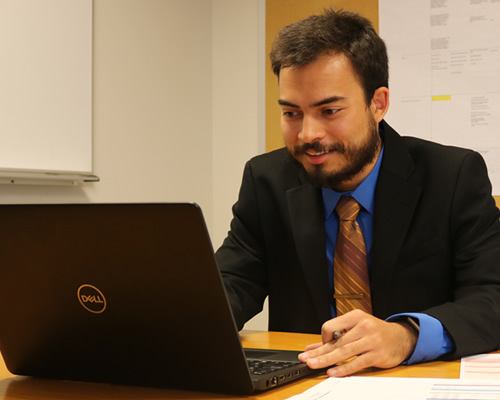 Alex Lindstrom is an IT Security Analyst II with UD's IT Security group who completed multiple certificate programs through UD Professional and Continuing Studies. He will be sharing his experiences at this year's UD Employee Education Open House on Nov. 15, 2018, along with other UD staff who will be on hand to answer questions and discuss education opportunities for UD employees.
Lindstrom offers some great insights about professional training, career advancement and lifelong learning. Here's our full Q & A.
What motivates you to pursue extra training like certificate programs or other continuing education?
"I started looking for training and certificate programs because I wanted to develop myself in the areas of my job in which I had responsibilities but not necessarily formal training. Professional advancement and professional development are closely related, and they drive each other in this symbiotic sort of way. You learn, and as you learn, you become more qualified to advance, which exposes you to new responsibilities and opportunities, for which you need to keep learning."
How would you answer fellow UD employees who might wonder: "How do you find time to do the extra work in addition to your job, and is it worth it?"
"I realize everyone is different, but for me, in general, finding time is a matter of prioritization. I pursued these programs out of interest, fully intending to absorb as much as possible; it was a priority for me to focus on my studies."
"PCS's programs are opportunities to both diversify and deepen your skill sets and to gain valuable insight about how to apply these skills. Having access to practitioners and peers from all fields creates a great learning environment where theory and application come together; not all training or certificate programs really create that kind of space."
"It also helps if you don't think of it as work. Sure, there are assignments that need to be completed and readings to finish, but, ultimately, you enroll because you have an interest in developing yourself in some way. Viewing these programs as the opportunities they are is a great way to motivate yourself to commit. In that light, it's absolutely worth it."
What have been some valuable takeaways from your training experiences?
"On a professional level, I use these experiences every day. The business analysis, project management and IT service management programs help me look at challenges and opportunities from a variety of angles. I'm better able to understand, plan for, and manage the high degree of complexity inherent in a lot of the work I do. Having the right vocabulary to translate business needs to project or solution requirements to a concrete plan of action is a huge advantage. Most importantly, these programs give you enough foundational understanding to know not just what to do but which questions to ask, most importantly, 'why?' You're not guaranteed to simply have all the answers, but you'll be able to identify a path to find them."
"On a personal level, I use the techniques I honed to think about and organize personal projects with much greater effectiveness. I built connections with instructors and classmates."
Anything else to share about your career path, the instructors, using your UD education benefits?
"I think the programs are a great value as is; the option to use UD's education benefits to enroll at a discount makes them too good to pass up. I've met some incredible instructors and inspired learners through PCS, and they've challenged me and the way I think about my own career."
"I fully intend to continue pursuing developmental opportunities, including those offered by PCS. I firmly believe we're lifelong learners, and that pursuing your own development is a fulfilling and worthwhile endeavor."