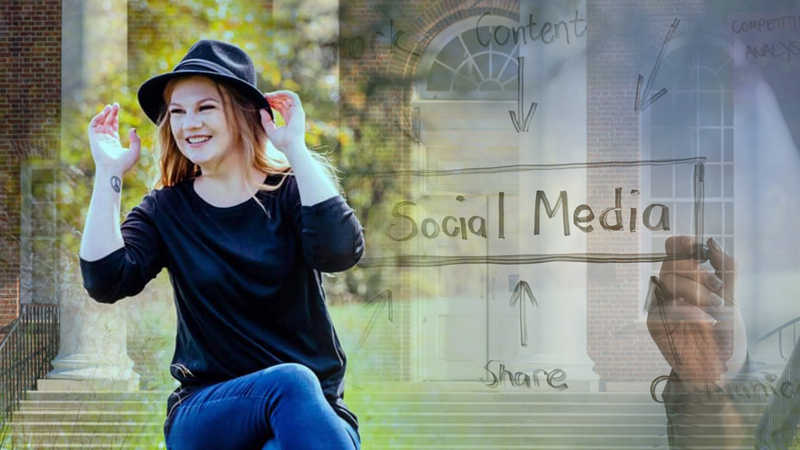 Program elevates social media and web design business
While serving as an intern for a Delaware financial company in 2007, Heather Cox took on the unassigned project of creating a Facebook page for the business. Though the social media platform had been founded just three years earlier for the use of college students, Cox sensed something big was on the horizon.
Advanced Social Media Marketing for Business Certificate
Feb. 7-May 22, 2022
ONLINE
Fundamentals of Social Media Marketing Certificate
March 14-May 8, 2022
ONLINE
"I saw the potential for Facebook and the direct marketing capabilities it can bring to businesses across the world," said Cox. "I saw the writing on the wall of how much can be achieved by directly communicating with and selling to the consumer."
Despite being told to take the page down, not only was she was not deterred, but she was inspired by her convictions to take her career in another direction and has not looked back. Having grown up with a mother who owned a gift boutique, Cox inherited that entrepreneurial spirit and founded a social media and web design business that has gone several rebrands over the last 14 years and is currently known as #heathercoxcodes.
PCS program pays dividends
Although she was doing well and had developed a large client list, including Delaware's Maile Deli and Salumeria, V&M Bistro, and Two Stones Pub, Cox was looking to elevate her business by increasing her skillset and credentials. Largely self-taught to that point, she completed the Advanced Social Media Marketing for Business Certificate program offered by the University of Delaware Division of Professional and Continuing (UD PCS) in 2018.
"My business has increased considerably since taking the class," said Cox. "Along with everything I learned, having a certificate behind me gave me more confidence, which in turn increased my business, my worth and my work ethic because of the belief it gave me in myself."
While there were plenty of social media training classes offered by various providers to choose from, Cox approached her decision to enroll at the University of Delaware like a marketer.
"Earning a certificate from a reputable university is a better marketing strategy than getting a certificate from some place people are not familiar with," said Cox. "There are so many different learning platforms out there, but this makes it so much more credible."
Expert instruction
Cox gives great credit to the knowledge and confidence she gained and the ensuing spike in business to Nancy Dibert, program director and instructor for the UD PCS Social Media Marketing program and CEO of EPIC Marketing Consultants.
"Nancy is a fantastic teacher who I knew in other circles as the owner of a wonderful company," said Cox. "She is relatable, down to earth, really knows what she is talking about and is passionate. I loved the content she presented, and it definitely helped me elevate my business."
Cox, who had previously mostly concentrated on free ("organic") social media posting, greatly benefited from the lessons on paid advertising that showed her how to increase engagement and produce more sales. Along with utilizing many other topics covered, she has applied the teachings on how to handle online bullies — known as trolls — to the social media platforms of both her business and the organizations she runs online campaigns for.
Motivated by family
Having been out of the classroom since completing a certified nursing assistant program at Delaware County Community College in 2008, Cox was fearful about returning to formal education and not being able to fit in. However, the single mother had some extra motivation.
"I was so nervous and was definitely stepping out of my comfort zone," said Cox. "At the same time I knew I needed to do it because I had a 1-year-old daughter who lit a fire under me to better myself and show her that it is never too late to improve yourself either personally or educationally. I had never met any of the other students before the class began, but I quickly knew I was surrounded by people who were kind of striving for the same thing I was."
Delaware proud
While Cox has clients in other parts of the country, most of her work is conducted for local companies. When many businesses stopped using her services after the COVID-19 pandemic hit this region, she drew on the lessons from the course as she provided free website design and social media posts for her clients.
"I was born and raised Delawarean, and we are all in this together," said Cox. "My clients are my friends and I was not going to let them down. I was able to take the social media skills I learned to help them pivot and market accordingly about the new services they were offering, such as curbside pickup, takeout or a marketplace."
Having seen the power of social media and a website during the health crisis, most of her clients have rehired her, and she has added some new customers as well. Her dedication and service have been recognized by being named to the lists of Top Women in Business 2020 by Delaware Today and the Delaware Business Times and Most Influential Delawareans 2020 by Delaware Online and The News Journal.
"I did not even know I was nominated for either of those awards until I found out I was selected," said Cox. "I still get emotional about it and am thankful to be recognized. Having my own business has been awesome, and I love this industry."
Classes begin in February and March
The next session of the University of Delaware's online Advanced Social Media Marketing for Business Certificate begins Feb. 7. For those seeking introductory level education, UD PCS also has an online Fundamentals of Social Media Marketing Certificate course starting March 14. Discounts and payment plans are available for both courses. For more information, visit pcs.udel.edu/socialmedia, email continuing-ed@udel.edu or call 302-831-7600.
This article has been updated to reflect the spring 2022 Social Media Marketing program schedule.