UD cybersecurity training focuses on high-demand field
Cybersecurity classes start Sept. 6, Sept. 18
Two cybersecurity professional development online courses are offered this fall through the University of Delaware's Division of Professional and Continuing Studies (UD PCS). Cybersecurity Fundamentals for Practitioners and Managers and Advanced Cybersecurity Defense Certificate start Sept. 18 and Sept. 6, respectively.
Developed and taught by UD alumni and cybersecurity experts Jason Reynolds, Casey Rock and Dylan Martin, the two courses provide an introduction to key cybersecurity concepts and terminology, followed up by hands-on practice in a unique cybersecurity training platform created by the instructors.
"Cybersecurity risks, threats and challenges are increasing every day," Rock said. "The number of devices on the internet increases every day, with new technologies and new platforms, especially since the explosion of telehealth, telework and remote business during the pandemic. Coming from a football background, I always say it's like playing defense against a hundred offenses."
As a result, the industry holds opportunities at all levels, and not just at the advanced level of programmers and software engineers with specialized degrees. "There are so many avenues you can go with cybersecurity," said Rock. "Of course there are many roles that are very technical and engineering-based, but there are also significant roles involved in compliance, risk evaluation, policy, management, policies and procedures, detection and testing."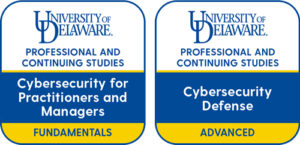 For the first time this semester, participants earn a digital course badge upon completion of Cybersecurity Fundamentals for Practitioners and Managers or Advanced Cybersecurity Defense Certificate. Digital badges are the completion credential earned for noncredit professional development courses offered through UD's Division of Professional and Continuing Studies. Click here for more details about digital badging.
Also offered through UD PCS are two self-paced online exam preparation classes, focused on the CISSP® (Certified Information Systems Security Professional) and CompTIA Security+® certification exams.
For details about the upcoming courses, visit the website at https://www.pcs.udel.edu/cybersecurity/.