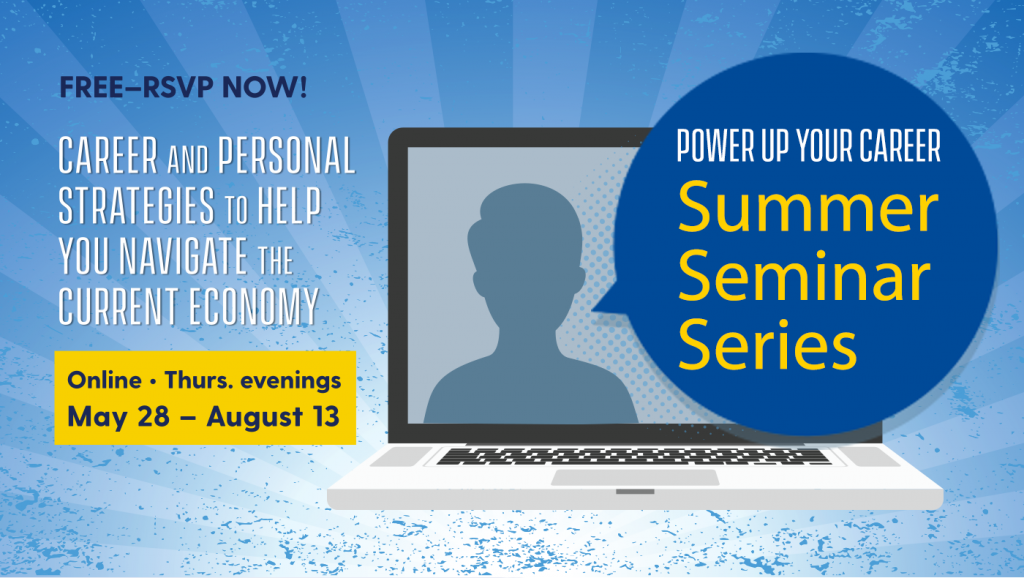 Power Up Your Career Seminar Series
ONLINE

— Free and open to the public (RSVP required)
SUMMER 2020
Thursday evenings, May 28-August 13
Career and personal strategies to help you navigate the current economy
FALL 2020
Saturdays, 10-11:30 a.m.
---
May 28, June 18, July 16, August 13, 6-7 p.m.—ONLINE
Gearing Up for a Potential Job/Career Shift Due to the Coronavirus (COVID-19) Pandemic
Presenters: Andrea Abernethy and Gay Lynch
The coronavirus (COVID-19) pandemic has significantly impacted the global economy and how we work. If you currently have a job, most likely you're working from home. While many companies have found it necessary to lay off, furlough or cut staff hours, some have implemented hiring freezes, and others are actively hiring and posting new jobs. If the uncertainty of your work situation, or that of someone you care about, is weighing on you, you may not know exactly how to respond. Join this webinar to learn how you can stay positive, feel better-prepared and less vulnerable, and take steps to find new opportunities when and if you need to.
Offered four times, this introductory session provides an overview of current career and personal strategies. Each offering is paired with another timely, career development-focused topic. We recommend that participants attend the introductory "Gearing Up for a Potential Job/Career Shift Due to the Pandemic" prior to attending one of the remaining individual sessions.
May 28, 7:15-8:15 p.m.—ONLINE
Updating Your Resume and Online Profiles
Presenters: Andrea Abernethy and Gay Lynch
If you've been happily employed at the same job for several years, there's a good chance your resume has been gathering virtual cobwebs. Take the time to refresh, revamp and reorganize your resume and online profiles to highlight your current career accomplishments, education and skills. Update your resume using current formats and make yourself really stand out.
June 18, 7:15-8:15 p.m.—ONLINE
Establishing Your Social Media Presence
Presenters: Andrea Abernethy and Gay Lynch
You know you should have a LinkedIn profile, but you may not actually use it once you create it. Now is the time to actually use it and maximize its potential for reconnecting with people who are already in your network, exploring job boards and establishing your professional brand. Where else can employers find you on the internet—Facebook, Instagram, Twitter? Will they like what they see? Learn how to make sure your online presence is putting your best foot forward.
July 16, 7:15-8:15 p.m.—ONLINE
Networking, Locating and Applying for Positions
Presenters: Andrea Abernethy and Gay Lynch
As our current job market is shifting to combat the coronavirus (COVID-19) pandemic, those who need or want to change jobs may be wondering, "How do I search for a new job during this uncertain time?" Important strategies include thinking virtually, strengthening your connections and identifying businesses that are able to adapt to the new normal. Many companies are hiring, and demand is growing in important sectors. Learn how to network and identify resources and strategies for your job or career shift.
August 13, 7:15-8:15 p.m.—ONLINE
Acing the Virtual Interview
Presenter: Suprawee Tepsuporn
New to virtual interviews? You are not alone! Join us in this workshop to learn strategies to prepare for phone and video interviews. We will discuss the nuts and bolts of setting up your technology and how to effectively articulate your fit for the role and organization.
September 12, 10-11:30 a.m.—ONLINE
Why Writing Email Is a Skill and Why Learning It Matters
Presenter: Gay Lynch
Isn't writing email something everyone knows how to do? After all, in today's world, most of us know how to read and write. But just because a person can write doesn't mean they can write a good email. Think of all the poorly written emails you've received in your life. Some have grammatical or spelling errors. Some don't seem to make a point. Some are downright offensive. Being able to communicate effectively is a critical life skill, and as your career progresses, the importance of communication skills increases. Since email is how we spend much of our time communicating, it's our greatest opportunity to demonstrate our ability to represent ourselves in a clear, compelling and professional manner. Writing effective emails is a skill, and it's one you can learn.
October 10, 10-11:30 a.m.—ONLINE
Resiliency in Personal and Professional Setbacks
Presenter: Andrea Abernethy
Bouncing back from a difficult experience is something we all need to do at some point in our lives. In this webinar you will learn techniques and tips to help cope and adapt in the face of adversity, trauma, tragedy or significant sources of stress.
November 14, 10-11:30 a.m.—ONLINE
How to Speak Up in Meetings and When to Hold Back
Presenter: Gay Lynch
Speaking up is hard to do. Maybe you've observed something ethically questionable, or disagreed with an opinion that all too quickly becomes consensus. Or it may be that you want to contribute a different idea to the decision-making process, or you've observed someone being excluded. While we'd all like to think that if we saw something, we'd say something in these situations, it can be incredibly difficult to speak up in the moment. In fact, research suggests that most people tend to not act, and then rationalize their inaction. But are you really doing your job — as a diligent employee, compassionate colleague, or thoughtful leader — if you don't lend your voice to the conversation? In many organizations, leadership readiness is measured in part by our willingness to speak up in meetings. Join this webinar to learn three keys to speaking up with respect and impact.
December 12, 10-11:30 a.m.—ONLINE
Building Relationships through Storytelling
Presenter: Andrea Abernethy
Cultivating strong relationships is important in growing your network for career transition, building your brand awareness, for educators, for sales and marketing professionals and personal and professional development. In fact, human connections have been built through storytelling throughout history, and stories are key to building real human connections. During this webinar, we will discuss and explore storytelling techniques to help enhance human connections.
---
Presenters
Andrea Abernethy is an experienced senior career consultant with CareerMinds whose expertise includes coaching, mentoring, empowering, building confidence and inspiring clients to discover their strengths. She focuses on strong communication skills, public speaking/teaching, relationship building, resume review and writing, interviewing techniques and preparation, networking, LinkedIn and career marketing.
Gay Lynch is CEO of Thought Partners, Inc., a consulting firm whose mission is to assist clients in forward thinking, developing skills and perspective, and achieving their goals. She teaches and coaches others in developing personal success strategies, diagnosing strengths and blind spots, and formulating "you at your best" personal branding.
Suprawee Tepsuporn joined the University of Delaware's Graduate College as assistant dean for graduate professional development in 2019 with a mission is to create data- and outcome-driven, integrated, and holistic graduate professional development resources and initiatives that empower graduate students and postdoctoral trainees to translate their education into meaningful careers. Before transitioning to advocating for and supporting graduate students, Tepsuporn spent many years in biomedical sciences research. She completed her postdoctoral training in oncology at AstraZeneca Pharmaceuticals, and earned her doctorate in immunology from Harvard University and B.A. from Mount Holyoke College.